News

Yankee-kun to Megane-chan's Yoshikawa Starts New Manga

posted on

2012-01-22

19:00 EST
---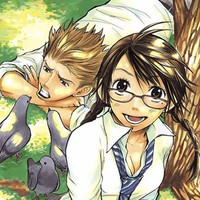 Manga creator Miki Yoshikawa (Yankee-kun to Megane-chan) posted on her Twitter account on Wednesday that she will start a new manga in this year's 12th issue of Kodansha's Monthly Shonen Magazine on February 22. Yoshikawa has not yet provided any details regarding the new manga's plot or title.
Yoshikawa ended her Yankee-kun to Megane-chan school comedy manga (pictured at right) in Kodansha's Weekly Shōnen Magazine in May after five years and 211 chapters. That manga inspired a live-action television series with Hiroki Narimiya (Gokusen, Akihabara @ DEEP, NANA) as Daichi and Riisa Naka (The Girl Who Leapt Through Time, Kami no Shizuku) as Hana. The television series ran from April to June of 2010.
Yoshikawa previously published a one-shot "fantastic grade-school student life" manga called Maō no Kyōshitsu (The Devil's Classroom) in the October issue of Kodansha's Bessatsu Shōnen Magazine last September.
Source: Manga-News
---
It might be hard to believe it, but this is the final episode of Naruto Shippuden! The show's creative team rallies for the big finish - find out how it all wraps up before Boruto arrives.
As the top and bottom of the list solidify, it's a race to fill in the great gap between Rakugo Shinjuu and Hand Shakers. Find out how your favorite shows stack up this week!
― Our team of reviewers are following 27 anime series of the Winter 2017 season and readers are rating each episode as the reviews go up. So let's have a look at what ANN readers consider the best (and worst) of the season. Kee...
Dustin dives into the monster-slaying open world of Toukiden 2, which some say is "Monster Hunter for people who can't get in to Monster Hunter". PLUS: Bloodstained and much more!
― I did not finish Zelda this weekend. Instead, I played through Nine Hours, Nine Persons, Nine Doors in its entirety. That wasn't my intention—I'd started it purely to say a few words on the soon-to-be-released PC port—but...
The pacing is rushed as Assassination Classroom hustles towards its endgame, but even that can't really bring this series down.
― With the March deadline for Koro-sensei's assassination looming ever-closer, the stakes are getting higher for Class E. But what does that mean, exactly? Yes, they're running out of time to kill their tentacled teacher, but they're also going to have to somehow make a chan...
How much do Japanese fans care about what Western fans love? Justin gets into it.
― Will asks: Do Japanese citizens pay much attention to the trends, adaptations and popularity of their media exports or is this just a particular case where they are out of the loop? Do they talk about how anime, manga, tokusatsu, etc do overseas at all? Japanese consumers generally don't care very much what goes on i...
Ghost in the Shell was adapted into a film radically different from the source material once before - so what makes that adaptation work, and which version of the character is the 'real' one?
― If you look at the credits that have been released for the upcoming live-action version of Ghost in the Shell, Mamoru Oshii's name doesn't appear anywhere on it. The clue only that this film is an adaptation ...
The isekai genre goes from swords and sorcery to pencils and paper pushing in this story about an economics student summoned to a fantasy world who becomes a very different kind of hero.
― Have you ever wondered why more of those heroes and heroines summoned to other worlds don't put their knowledge of modern life to work? Sure, in some stories the characters don't have that luxury thanks to convenie...
The first two Zero escape games finally come to PC, with a new ending for 999 - 9 Hours, 9 Persons, 9 Doors. Dustin takes these new ports for a spin.
― The Zero Escape games saw an inauspicious start in 2009 with Nine Hours, Nine Persons, Nine Doors—otherwise known as 999—a mystery slash sci-fi visual novel for the original DS. Coming after a wave of successful adventure game-meets-visual novel hybri...
Things at the office go one shenanigan too far for Luna when Perry offers his expertise where it might not be wanted...
―
Magia the Ninth makes a valiant effort to combine classical music and exorcist action, but it stumbles more than succeeds in these poorly paced volumes. Rebecca Silverman explains what went wrong.
― They say that music soothes the savage beast, but rarely is that taken quite so literally as in Ichiya Sazanami's two-volume manga series Magia the Ninth. The premise of the story will be vaguely familiar...
Justin answers a bunch of short questions on the Gintama dub, anime movie distribution, Japanese greetings and much more!
― A few years ago, Answerman changed up its format a little bit, and we started giving each question its own column several times a week, rather than answering a bunch of questions once a week. The new format's been great -- old questions are easier to find, and I can give new on...
James finds himself enchanted by this zany comedy from KyoAni that flew under the radar, and Paul breaks down all this week's new anime releases!
― I'm off on vacation visiting my extended family this week, so my brain is entirely too frazzled to come up with a clever or interesting introduction. Instead, I'll just jump right into it. Welcome to Shelf Life. Jump to this week's review: Amagi Brillian...
Things heat up both at the Festa and behind the scenes in the third quarter of The Asterisk War. Rebecca Silverman dives back into this magic high school harem.
― Occasionally, I have to wonder if anyone in this series know what the word "fair" means? Granted, that's likely a purposeful question, since the series follows the grand old tradition of dystopian young adult fiction by pitting teens agains...