News

Negima Manga/Film DVD Bundle Gets 57,000 Pre-Orders

posted on

2012-02-07

23:27 EST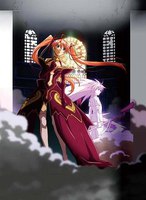 Manga creator Ken Akamatsu reported on Wednesday that the limited edition of his 37th Negima! Magister Negi Magi manga volume has 57,000 pre-orders, despite its 4,980-yen (about US$65) price tag. The manga comes with the DVD of the Mahō Sensei Negima! Anime Final film and 31 "Permanent Pactio Cards" signed by the voice actresses.
Akamatsu also confirmed that the official length of the film's extended home video edition is 76 minutes and 48 seconds, or about 20 minutes longer that the original theatrical print. The manga is ending its magazine run on March 14 after 355 chapters.
---
"Why does incest come up so often as a story element in anime and manga?" you may have asked yourself at some point. You're not alone!
― John asks: In a recent episode of Hand Shakers a character revealed that had romantic feelings for their biological sibling. This is nothing new with series like OreImo, Boku wa Imoto ni Koi o Suru, and the classic Koi Kaze to name a few. Which got me to wonder abo...
The easiest way to comprehend the hugely popular Sword Art Online series - from its soaring highs to its widely-criticized lows - is by understanding the series' author, Reki Kawahara.
― Love it or hate it, Sword Art Online is arguably the most important light novel franchise of this decade. Over 19 million copies have been sold worldwide as of 2016, 6.5 million of those in translation, making it one...
After well over a decade out of the limelight, does this notoriously ambitious fantasy classic still have some bite in it? Jacob Chapman weighs in on this critical darling from 2003.
― As Wolf's Rain finally arrives on Blu-ray at the respectable age of 14 (surviving a decade in anime fan memory is no small feat!), the series may stand out for a reputation that can only be called "emotionally paradoxi...
The final Kenshin film finds success in its terrific action, even if the trilogy is starting to look a little long in the tooth.
― Film trilogies are a tricky thing. It's relatively easy to make a single film with a coherent story - when a single work both introduces and concludes all of a story's narrative variables, you can create a sense of tight congruity throughout. But when a story is split acr...
That phase where you're getting to know your new coworkers can be so awkward - especially if one of them is gunning for your favorite anime.
―
Sexual assault on subway cars is depicted in anime quite often (most recently in Scum's Wish) but how big a problem is it really in Japan? Justin explains.
― Strongman Lin asks: In a fair number of anime (e.g. Scum's Wish, Ore Monogatari), female characters get molested by creepers on the subway. Is this really such a prevalent problem in Japan? And if it is, in the instances of it that I've seen in...
This little-known Gundam movie has long been last to the sands of time, now available on Blu-ray for the first time. But is it any good? Gabriella Ekens finds out, plus all this week's new releases!
― I finally got started on my "watch popular anime that I skipped the first time around" New Year's resolution this week. Since the second season of Konosuba is airing now, it seemed like as good a time ...
There may not be much to the story, but the sharp CG more than makes the experience in this Gantz splatterfest. Theron Martin digs deeper.
― The Gantz franchise has gone through three iterations over the past 17 years: manga, anime series, and a pair of live-action movies. Now its fourth version comes in a 3D CG movie from 2016, which has recently become available on Netflix. But this isn't any garde...
This wide-ranging parody of chuunibyou tropes pushes the envelope in some eyebrow-raising ways, but it's still bound to offer otaku fans a fun read.
― Whether you have a weird sibling or are the weird sibling, families often have dynamics that can feel odd to an outside perspective. In the case of Yuichi Sakaki's family in My Big Sister Lives in a Fantasy World, his older sister Mutsuko suffers from ...