News

2nd Part of Stranger's 5th Anniversary Project Is Budget BD

posted on

2012-04-23

09:47 EDT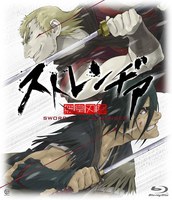 The second part of the three-part Fifth Anniversary Project for the Sword of the Stranger (Stranger - Mukoh Hadan) anime film is a low-cost Blu-ray Disc reissue that will ship on July 27. Special features will include a clip of the actual 35mm filmstrip from the theatrical release, and two audio commentary tracks — one by the director and other staff members, and another by the cast, the sound director, and BONES president and producer Masahiko Minami. The first Japanese Blu-ray release sold for 10,290 yen ($126.13) and included a "making of" feature, the rare pilot, trailers, TV ads, cast interviews, and other bonus material.
The new Blu-ray reissue will retail for 5,040 yen (about US$62).
The official Twitter account for film announced on April 15 that there will be a three-part Fifth Anniversary Project. The first part of the project is a 35mm screening of the film with director Masahiro Ando and Minami in Tokyo on July 21.
The official Twitter account will relay the third part of the anniversary project in the future.
---