News

Bodacious Space Pirates Due February 4 From MVM

posted on

2012-11-21

10:14 EST
Also, Kids on the Slope 'possibly' to be released in May or June 2013.
---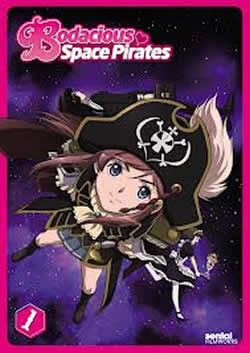 MVM Entertainment tweeted a link to a page on its Anime-on-line store website, giving the release date of the series Bodacious Space Pirates as February 4 2013. MVM had previously said that the 26-part series will come out as two box-sets, carrying 13 episodes each. The DVDs will include both subbed and dubbed versions of the series, with the sub produced by Sentai USA. (ANN has asked for confirmation about whether the February 4 release is the first half of the series.)
The story involves a spirited high school girl named Marika, who is told she has inherited a space pirate ship, and finds herself embarking on a new life as a pirate. The series is based on Yuichi Sasamoto's Mini-Skirt Uchū Kaizoku (Mini-Skirt [Space] Pirates) space-opera novels. The anime version premiered in January 2012.
MVM was also asked about a previously announced licence, the slice-of-life music drama Kids on the Slope. It tweeted that the series would 'possibly' be released in May or June 2013, but that it was still 'early days' on the release date and the possibility of a Blu-ray edition of the title.
---
What did this anime about fictional characters confronting their makers have to say about the creative process? This week in anime, we tackle the conclusion of Sota and Altair's story.
― Re:CREATORS is a story about fictional characters meeting the people who created them, but just how far does its metafictional rabbit hole go? This week in anime, Micchy and Steve follow Sota and Altair's tale all th...
To call the end of Danganronpa "shocking" would be an understatement! Jacob Chapman takes on the controversial final chapter in this SPOILER-FREE review.
― Prior to the release of this (second?) conclusion to the main Danganronpa trilogy, series creator Kazutaka Kodaka was emphatic in several interviews that this "new semester" would be completely open to newcomers. While it would bring closure to th...
It may never grab the spotlight like other long-running JRPG series, but the Ys games have a long legacy and a strong pedigree. With a new game on the horizon, here's everything a beginner needs to know.
― At one time a premier role-playing franchise that stood toe-to-toe against the likes of Final Fantasy and Dragon Quest, a variety of factors prevented Nihon Falcom's Ys from achieving the mainstrea...
It's an original anime by Vampire Weekend frontman Ezra Koenig and famous actor Jaden Smith, along with a celebrity voice cast. What could possibly go wrong? Mike Toole investigates Netflix's latest original.
― They finally did it, folks: they animated Jaden Smith's Twitter account. That was what I thought after hearing Smith's character, Kaz, unwind the first of many bizarre pronouncements, in a bid...
You see it in the credits of anime blurays and DVDs all the time - but what does "video post-production" actually entail? Justin has the answer.
― Craig asked: Just finished watching the third Berserk film, The Advent and in the credits I saw your name. for Video post production. What exactly do you do in terms of post production(clean up, video/audio compression, restoration?)? Do all companies who...
Paul Jensen takes a look at the long-awaited blu-ray of Kyoto Animation's unusual mystery series, along with a rundown of this week's new anime releases!
― I went to a screening of Lupin III: The Castle of Cagliostro last week. It was my first time seeing the movie, and I have to say it was a blast. If you're a Lupin fan or are interested in Hayao Miyazaki's early work as a director, it's definitely...
One of the most compelling adventures in the Haruhi saga finally arrives on Blu-ray! Nick Creamer takes a look at this uniquely engrossing film.
― After the madcap adventures and slapstick comedy of Haruhi Suzumiya's first two seasons, the anime series was capped off with a film unlike anything that had come before. Somber, slow-paced, and introspective, The Disappearance of Haruhi Suzumiya represent...
Mike's quest for unlicensed anime leads him to the strange case of "I Give My All", a racy OVA from the 80s that was very nearly released here... until it wasn't!
― As part of the work I do with the Discotek gang, I occasionally work on some cool shows that were once licensed, but never really released on video in the west—you know, the really good anime, like Fighting Foodons. As the years pass, the...
The inimitable screenwriter behind Hanasaku Iroha, anohana, and Anthem of the Heart just released her autobiography. Kim Morrissy shares the recent director's enlightening story.
― Mari Okada recently became a topic of discussion when it was announced that she was directing an original anime film at P.A. Works. For many, this news came as a surprise, because unlike most anime directors, Okada has no ...
These episodic adventures of modern, everyday witches are charming if a little light on lasting impact. Theron Martin delves into Generation Witch.
― Witches as commonly portrayed in anime and manga – flying around on a broomstick sporting a long pointy hat – are decidedly a Western phenomenon, but that hasn't prevented them from popping up in Japanese media on a regular basis over the years. Generat...
School is back in session for the fall, but you'd better hope your new instructors aren't anything like these terrible tutors!
― It's the final week of summer, although most retail stores skipped straight to pumpkin season a few weeks ago. Deny it all you want, but the back-to-school grind is here which means notebooks, packed community college parking lots, and a handful of new instructors trying t...
Despite being a far-flung film prequel to its source material, No Game No Life Zero might just outshine the original TV series. Kim Morrissy breaks down what makes this movie shine.
― No Game No Life Zero isn't like the No Game No Life you've seen before. It takes all the interesting themes of the original TV series and peels away all the fanservice and frivolities, resulting in a tonally different n...
Ichiro Inuyashiki, a dull-looking elderly employee who has been diagnosed with terminal cancer, is struck by a UFO falling from the sky and reborn with a mechanical body.
― INUYASHIKI LAST HERO Official Website: http://www.inuyashiki-project.com/ Official Twitter: @inu_noitamina Official Facebook: https://ja-jp.facebook.com/inuyashiki/ Introduction Characters Cast & Staff Gallery Premiering on Octob...