News

Vocalist Kiryūin Downplays Golden Bomber's Hiatus

posted on

2012-12-03

16:28 EST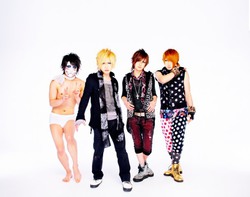 Golden Bomber vocalist Shō Kiryūin (second from the left) downplayed the band's recently-announced hiatus by mentioning on his blog on Saturday that the news about the hiatus was a mistake. Kiryūin apologized for the confusion, and said that after a discussion with his singing teacher it was decided that he can still perform some singing activities. Kiryūin said he will continue to do the activities that he can do.
Kiryūin also posted on his Twitter account on Friday that only his soprano singing voice has been affected, and he assured fans that that in general his body is in good health.
The band had announced that it would be taking a four-month hiatus from January to April so that Kiryūin could undergo treatment for his throat. Kiryūin had already postponed all of the concerts in his solo "Hitori-Yogari 3" tour, which was set to kick off this month.
The visual kei band has performed theme songs for the Ixion Saga DT and Yu-Gi-Oh! Zexal anime and the Skip Beat! PlayStation 2 video game. Kiryūin as a soloist also sang the theme song "Life is Show Time" for the Kamen Rider Wizard television series.
Source: Yahoo! Japan News via Hachima Kikō
---
Sometimes the anime bluray you want sells out instantly,, sometimes it goes on deep discount 3 months after release. How do print runs work?
― Anonymous asks: How do anime companies decide the size of a bluray's "print run"? What goes wrong if they get it wrong and print too many or too few? When a new show is licensed, any and all dubs are made, the subtitles are done, the authoring is in the can, ...
Gabriella Ekens plunges into the wildly creative world of Rie Matsumoto's frantic, fantastical family in Kyousougiga! PLUS: this week's new releases!
― Since I have relatives on both sides of the country, I'm used to the six hour ordeal of flying from coast to coast. Getting stuck in an airport for seven hours last Thursday after missing a connecting flight was a new and special brand of misery, how...
Erika takes a new tack in this middle volume of three omnibuses. It's a good development, but the book has some overall pacing issues.
― Sometimes having the shoe on the other foot can work wonders. Other times, it can make us complacent. That seems to be the major factor at play here in the middle volume of Umineko: When They Cry's sixth arc, Dawn of the Golden Witch - with Battler having switched s...
We've got even more photos and news from every corner of the show floor at this year's Anime Japan! Check out all the exhibitions you might have missed!
― Welcome back to Part II of our photo blowout from AnimeJapan 2017 at Big Sight in Tokyo! Let's get right to it, shall we? BanG Dream is one of those franchises where it's unclear if it's an enormous megahit or just something with an extremely aggre...
Fairy changelings aren't a common subject for manga set in high school, but Species Domain's unique take on the idea is well worth a read. Rebecca Silverman has the details.
― The literature of changelings, fairy children left in exchange for more desirable human ones, has deep roots, with some theorizing that the stories were developed to explain children born with birth defects or conditions like A...
Zac and Jacob are in Japan for AnimeJapan 2017 and managed a live podcast while in Shinjuku! In This Corner of the World, Netflix Death Note and much much more!
― ANNCast Episode 291 - Live from Shinjuku Zac and Jacob are in Japan for AnimeJapan 2017 and managed a live podcast while in Shinjuku! In This Corner of the World, Netflix Death Note and much much more! NOTE: the MP3 version of this show is...
The first day of Anime Japan was absolutely enormous, and we're bringing all the biggest displays straight to your eyeballs in our first look at the exhibition hall!
― The first day of Anime Japan at the iconic Tokyo Big Sight building in Odaiba was hectic, with two sprawling exhibition halls of anime-related vendors and producers offering untold amounts of exclusives and displays of both upcoming pr...
For one reason or another, these anime starring princesses never got "rescued" for release in the west! From fairytales to sci fi to ecchi, there's a princess for everyone in these forgotten gems.
― Over the course of writing this column, I've highlighted many series that remained outside of North American audiences' grasp. This includes mystery stories, magical girls, idols, and all around obscure ...
Its story may not hold much weight under the surface, but if you're looking for kitty cosplay and bondage in a light romance, Spirits & Cat Ears is a breezy read.
― If you're a fan of Inu x Boku SS, Miyuki Nakayama's Spirits & Cat Ears is here to fill in for its absence. It's something of a spiritual successor to that series, with similar art and character relationships – not so similar that it feels...
Senran Kagura: Estival Versus has been ported to PC, which means PC gamers everywhere can finally enjoy the "power butt" pose. But is the port any good? Dustin checks it out.
― Senran Kagura is a series of action games where amply-endowed ninja girls beat each other up until their clothes fall off. Chances are good that you've already made up your mind on the series after that one sentence—it's preci...
You hear the phrase around anime promotional images all the time - "key art". What is key art, and what purpose does it serve? Justin gets into it.
― Mason asks: Oftentimes, in the weeks or months leading up to a new anime premiere, there will be a promotional video as well as what's referred to as a 'key visual' released. While a promo video seems to make sense, what's the point of a key visual? Wh...
Erased's first omnibus gives us a lot more detail than its animated adaptation as it kicks off the time travel mystery.
― We all have that incident, the one we wish we could change. It might be a tiny little statement or a major catastrophe; whatever it is, there's a vague wish that we could relive the moment in order to prevent it from happening, a certainty that if that one thing changed, everythin...