News

3rd Berserk Film's Uncut R18+ Version to Also Run in Theaters

posted on

2013-01-29

05:55 EST
Original R18+ & revised R15+ versions to open on same day, February 1
---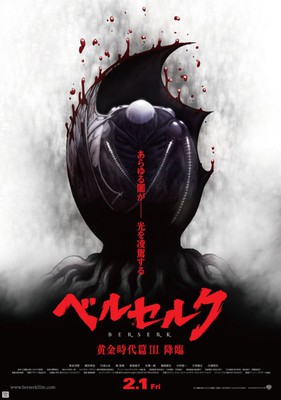 The original uncut, R18+ rated version of the third Berserk movie, Berserk Golden Age Arc III: Descent (Berserk Ōgon Jidai-Hen III: Kōrin), will play in late showings at Tokyo's Shinjuku Wald 9 and Osaka's Umeda Burg 7 theaters starting on Friday. That is the same day that the edited, R15+ rated version of the movie will open in theaters across Japan.
Japan's Film Classification and Rating Committee (Eirin) had given the third Berserk feature film a rating of R18+ for "extremely provocative sexual content" last October. Theaters restrict R18+ films to viewers 18 years old or older. However, a month later, the staff began advertising a revised R15+ version.
The last major anime film with an R18+ rating was the complete edition of Mardock Scramble: The First Compression in 2011. That film had opened one year earlier without some scenes and with a PG12 rating.
Source: animeanime.jp
---
Around The Web
The Fall 2015 Anime Preview Guide has begun! Check back daily for new impressions of the season's biggest shows.
Available Now: The Perfect Insider - Anti-Magic Academy - Dance with Devils - Beautiful Bones: Sakurako's Investigation - Yuru Yuri 3rd Season - Mr. Osomatsu - STARMYU - One-Punch Man - Concrete Revolutio - and much more!
― Welcome to Anime News Network's Fall 2015 Preview Guide! Here's h...
This week: imports pop up with Monster Hunter spin-offs, new anime adaptations, and a modern take on an RPG classic! Plus the latest Street Fighters, Project X Zone 2 additions, and the closest we'll come to another Valkyrie Profile!
― You'll notice that the X Button has a new time slot. It's airing Thursdays, right between Battery Park and The Weber Show! We're in Must See TV territory now, folks! ...
Featuring Kill la Kill has been a privilege and a tremendous excitement for the Omakase team and it's a great way to kick off something we think will change the face of anime fandom. We hope you'll enjoy these gifts as much as we enjoyed creating them!
― The Making of the OMAKASE launch box, featuring Kill la Kill Curator's Corner When we began planning for our first full-on OMAKASE experience, we re...
The noble extermination mission in Nagoya is about to begin!
― Seraph of the End: Second Half Visit the Official Site › Story Characters Trailer Cast & Staff Gallery Broadcast Begins October 2015 (JST) Key Staff Director: Daisuke Tokudo (Episode Director Attack on Titan (Eps. 17, 25), Episode Director Guilty Crown (Eps. 5, 13, 19)) ↑ Top Story Second Half 'Battle in Nagoya' Yuichiro has reunited wit...
With the yen weak against the dollar, does the exchange rate help US anime companies when it comes to licensing fees? Justin explains.
― Branko asks: With the strength of the US dollar right now, I wondered, how much does the value of a currency affect the profitability of an anime when it gets licensed abroad? While a strong dollar hurts US exports, is it actually a benefit to American companies li...
Fans of Director Akitaro Daichi's other works, such as Elf Princess Rane, Fruits Basket and DD Fist of the North Star, will appreciate the way Bokura ga Ita navigates clichés to deliver a romance that is fresh and unexpected. Whether your awkward high school crush is long in the past or sitting across the classroom right now, this is the perfect series to get your heart beating and your pulse raci...
Mamoru Oshii's latest live-action fantasy extravaganza has its roots deep in his previous films; Brian Ruh tries to make sense of it all, but more importantly, is the film any good?
― It's become something of a rule of thumb among some anime fans to avoid Mamoru Oshii's live-action films. On the surface, this impulse is perfectly understandable. Oshii has been widely acclaimed for being one of the fo...
Akari may be the weakest in her class but she will do what ever it takes to score a one on one training session with her idol Aria!
― Aria the Scarlet Ammo Double A Visit the Official Site › Story Characters Trailer Cast & Staff Gallery Broadcast Begins October 6, 2015 (JST) Key Staff Director: Takashi Kawabata (Magic Madoka Magica The Movie: Rebellion) Series Composition: Fumihiko Shimo (Infinite S...
The first half of this popular, gorgeous Disney-esque shoujo fantasy wrapped up earlier this month. Does it capture your heart well enough to warrant a second season?
― The past year or so has been good for shojo romances with strong-willed heroines. Snow White with the Red Hair is just the latest after Yona of the Dawn and The World is Still Beautiful. What sets Shirayuki apart from her fellow heroi...
Justin examines what it takes to make an anime series a hit in the west. It isn't an exact science, however.
― Ahmed asks: As a person who is unfamiliar with the way the anime world works, I've seen enough of peoples' reactions, including several of my friends', to know that Attack on Titan is really popular to the point where I'm slightly annoyed at how much it's being hyped (I just wish that Jojo'...
Paul and Gabriella take in two very, very different shows: A Lull in the Sea and Sabagebu! Plus: an enormous flood of this week's new releases.
― I'm rather fond of the brief lull between anime seasons. For a week or so, we all get to reflect on the ups and downs of whatever shows we followed and scour the latest round of simulcast announcements for the shiny new titles that we're looking forward to...
The magical boys are back in more adventures with their pink wombat friend and Mr. Tawarayama's dead body. It's still a lot of fun, but these releases still only have 4 episodes each.
― Episodic shows can run into trouble pretty early on if they aren't careful, and that's doubly true of episodic formulaic shows. Fortunately Cute High Earth Defense Club Love knows enough to mix up its formula and to p...
Viewster is kicking off their new subscription service, OMAKASE, in style by featuring the acclaimed masterpiece Kill la Kill from Studio Trigger! The first item revealed in the carefully curated merchandise package, part of the OMAKASE subscription, is an exclusive gold-foil hardcover edition of the Kill la Kill manga. If you dare wait (these kind of things tend to sell out), Viewster will reveal...