News

Man Arrested for Selling Pirated Gintama & Other Manga Online

posted on

2013-05-02

00:46 EDT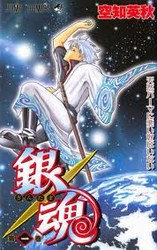 Japan's Association of Copyright for Computer Software reported on Wednesday that Nagasaki police had arrested a 25-year old man under suspicion of copyright infringement of manga. The man is suspected to have used a scanner in order to sell pirated manga on the Internet.
The man allegedly burned digital data of manga scans onto DVD-R and sold them to customers through a website called "50SCANNER." According to the police, the man sold volumes 1 through 45 of Hideaki Sorachi's Gintama manga on one DVD-R for 10,000 yen on January 22 to a man in Tokyo. He reportedly offered 84 other manga as well through his "retail digitizing service for grown-ups."
The copyright claim against the man was made by one of the manga creators and the publisher Shueisha.
---
This week, Mike explores the weird and wonderful world of Gintama, a smash hit in Japan with a slight barrier of entry in the West. So what makes this action comedy so special?
― Earlier this week-- actually yesterday, if you go by column publication date—it was Anime Day at the video games retailer GameStop. This wasn't a major event; honestly, it was just an excuse to hawk some anime-related games ...
The Ancient Magus' Bride continues to find wonder in both its central romance and its magical world. Nick Creamer digs into the details.
― While Ancient Magus' Bride's first and second volumes focused primarily on the magical world surrounding Chise and Elias, the manga's third volume turned inward, highlighting the emotional baggage that inspires both of their actions. This fourth volume essentially...
These seven masters of black-and-white silent scares, from the 70s up to the modern day, are sure to give you a fright!
― Horror, like comedy, is a genre that's hard to recommend without knowing the audience personally. What a person finds scary is very personal, and tapping into that with a written medium is even more difficult. Manga can't rely on jump scares and music cues the same way a film can...
With gorgeous art and bonus details left out of the anime version, the only thing missing from this Gundam Thunderbolt manga is the soundtrack. Lauren Orsini weighs its pros and cons.
― "To all you music lovers out there—no borders, no war. You're tuned to Thunderbolt Station, the pirate radio of freedom!" There's no shortage of work hazards out in the Thunderbolt Sector, where Federation and Zeon so...
Zac and Jacob argue about the emotional honesty of Scum's Wish, plus Tanya the Evil, Ghost in the Shell (2017), Crunchyroll's one million subscribers and much more!
― " ANNCast Episode 286 - Scum As You Are Zac and Jacob argue about the emotional honesty of Scum's Wish, plus Tanya the Evil, Ghost in the Shell (2017), Crunchyroll's one million subscribers and much more! You can listen to the show on o...
God Eater's story starts slipping as it moves into its middle third. Rebecca Silverman explains what went wrong.
― Answers always come with a price. Sometimes it's simply learning something you really didn't want to know, other times, it's the destruction of humanity and the entire world. If that seems like an extreme comparison, it's deliberate – the second half of the God Eater anime takes its burn...
Series expert Brian Ruh takes you on a journey through everything you need to know about the entire Ghost in the Shell franchise - from manga to anime to film - before the 2017 version hits!
― We are currently undergoing something of a Ghost in the Shell renaissance due to the impending Hollywood remake. Regardless of your feelings on the upcoming film, you can't deny that it's a good time to be a Gh...
Two monster girl anime vie for a spot in the top five, as the rankings shift around this winter's hits and misses. Find out where your favorites rank this week!
― Our team of reviewers are following 27 anime series of the Winter 2017 season and readers are rating each episode as the reviews go up. So let's have a look at what ANN readers consider the best (and worst) of the season. Keep in mind that...
Dustin shares his appreciation of the long-running GameCenter CX series, where retro games great and terrible are put to the test. PLUS: Yakuza reprints, Zelda and more!
― There's no shortage of new games out right now, but it's perhaps a shameful admission that I've been spending more and more time digging into the retro side of things. I picked up a lot of early Nintendo Power volumes not too long ...
The Faraway Paladin eschews most of the usual light novel tropes to tell a story with plenty of appeal for fantasy fans. Rebecca Silverman dives in.
― Fantasy light novels have a deserved reputation for following the tropes of MMORPGs so closely as to feel like game novelizations rather than stand-alone fantasy fiction. With most of them falling under the heading of isekai, or "transportation to a pa...