News

Kyudo Boys' Keiko Nishi Launches New Manga in November

posted on

2013-08-15

15:30 EDT
Series to begin in Zōkan
Flowers
on November 14
---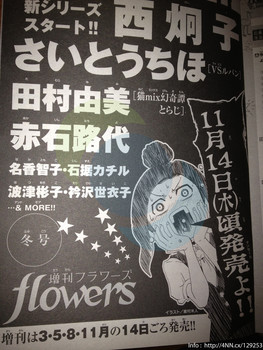 This year's fall issue of Shogakukan's Zōkan Flowers magazine announced on August 10 that Keiko Nishi will start a new manga in the magazine's winter issue, which will ship around November 14. The ad did not reveal any details on the series.
JManga published two volumes of Nishi's four-volume series Kyudo Boys, about the romantic relationships of a group of high school boys, digitally in English before the the site ended service in May. Nishi's Ane no Kekkon manga ranked at #4 on a list of best manga for female readers in Takarajimasha Inc.'s 2012 Kono Manga ga Sugoi! guidebook, and her Otoko no Isshō manga was one of ten titles nominated for the Manga Taisho awards in 2010.
Other authors that will be featured in the winter issue include Chiho Saito with vs Lupin, Yumi Tamura with Neko Mix Genkitan Toraji, Michiyo Akaishi, Tomoko Naka, Akiko Hatsu, Kachiru Ishizue, and Seiko Erisawa. Maito Imura drew the illustration featured in the advertisement pictured above right.
---
The Higurashi franchise turns ten years old this year, so Animate celebrated this June with a special art exhibition, and we've got a detailed look at all the displays.
― Independently published manga and videogames have steadily been gaining popularity in Japan, and a small handful of these independent works have been adapted into anime series. Recent examples range from Ojisan to Marshmallow, Hetal...
Nisekoi continues with an underachieving set of episodes that drive the series further into harem territory. Theron Martin explores what this sequel gets right.
― Nisekoi: is the 12 episode 2015 follow-up to 2014's Nisekoi, and familiarity with the predecessor series is expected. (The intervening OVAs, which are not available in English in any official form, are less important, since some of their ev...
Run for your life from these wicked waifus! They may look cute and innocent on the outside, but these seven girls are definitely too deadly to date.
― The long-anticipated companion piece to 8 Horrible Boyfriends! Let's be fair, some of these women are downright nuts. The term yandere was coined for the sweet-on-the outside-but-possibly-murderous-on-the-inside girl. They'll love you forever, whether...
The latest installment in Kotaro Uchikoshi's ambitious story-driven series is a riveting sci-fi tale that takes no prisoners.
― Zero Time Dilemma is a game that almost didn't happen. Development was put on hiatus in 2012, citing poor sales of the Zero Escape series in Japan as the cause. The previous game, Virtue's Last Reward, ended on a tremendous cliffhanger that looked like it could be forever un...
Zac, Jacob and their guest Nick find themselves emotionally connected by the wounds they endured watching Trigger's sensationally artistic spring series, Kiznaiver! PLUS: was The Lost Village supposed to be funny?
― ANNCast Episode 264: Kiznaiver Fight Zac, Jacob and their guest Nick find themselves emotionally connected by the wounds they endured watching Trigger's sensationally artistic spring ser...
When an American company licenses an anime series, how do they actually "get" the show? Justin digs in to the way your favorite shows get delivered to you every week.
― Shem asks: How do anime studios send and/or accept animation frames overseas? Over internet or physically sending memory disks? What technology are they using? Do anime streaming sites also get the anime masters physically like in Ja...
The bears are coming, the bears are here! On June 28, Funimation will release the complete Yurikuma Arashi, the new opus by director Kunihiko Ikuhara, who's the auteur, provocateur and mad mouldbreaker behind Revolutionary Girl Utena and Mawaru Penguindrum. The twelve-part Yurikuma Arashi will be released as a Blu-ray/DVD combo pack with a Retail Price of $64.98. Yurikuma Arashi takes place in an ...
The best classic anime isn't only on DVD anymore - if you've been looking for a big pile of awesome retro anime to dig into, look no further! Daryl Surat picks 10 of the best classic anime you can watch free right now.
― I was a guest once again recently at AnimeNEXT, where I sacrificed seeing a convention-exclusive episode of Inferno Cop to do what I always do: run panels where I show people video c...
Yona of the Dawn sets a new high bar for eastern-themed fantasy shojo, but not without some hiccups along the way. Theron Martin takes a look at this adventure's highs and lows.
― Based on its first half, Yona of the Dawn may become the new standard-bearer for Eastern-themed shojo fantasy adventure. Despite some irksome quirks, its tale of a young heroine who must become empowered through hardship do...
With an enormous guest lineup, Anime Expo 2016 is bigger than ever and it's right around the corner. We spoke with the SPJA's brand-new CEO about what to expect this year, and all those controversial policy changes.
― 2016 marks the twenty-fifth anniversary of Anime Expo, the country's largest anime convention, hitting a new record attendance in 2015 with 90,500 fans – and they're hoping to crack six...
This week: we talk with the director of the beautiful strategy-RPG Grand Kingdom! Plus Berserk, Mighty No. 9, and the latest in game decorations!
― The X Button takes a short summer vacation next week, as I'm moving. And when you're moving, you go through all of your possessions and realize just how much crap you're keeping. For example, I discovered that I saved almost every Flying Warriors and Lit...
In its final season, Concrete Revolutio fully embraces its fantastical storytelling and biting historical commentary to thunderous impact. Nick Creamer dives into this ambitious series.
― Concrete Revolutio's first season ended in fiery riots, as the student supporters of superhuman vigilantes demanded both greater government accountability and greater superhuman autonomy. But the house won that batt...