News

Live-Action Haganai's February 1 Opening, Stills Revealed

posted on

2013-10-23

03:06 EDT
The live-action film adaptation of Yomi Hirasaka's Boku wa Tomodachi ga Sukunai (Haganai) light novel series will open in Japan on February 1, 2014. Two more stills from the film debuted: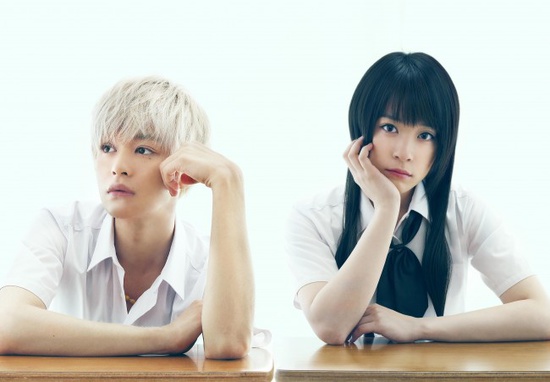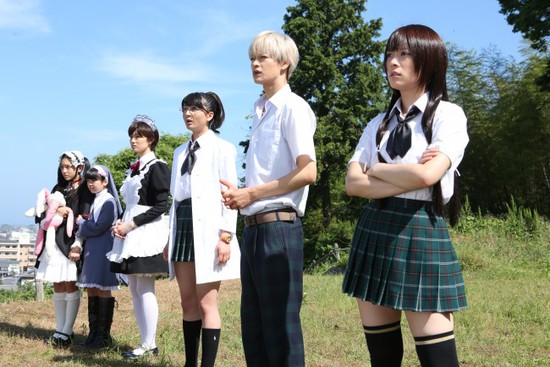 Hirasaka and Buriki's original Boku wa Tomodachi ga Sukunai light novels revolve around Kodaka (Kōji Seto) — a half-Japanese/half-British transfer student whose delinquent-like blonde hair and fierce eyes scare people — and a seemingly perpetually sullen girl named Yozora (Kie Kitano). The two decide to form Rinjinbu, a club for misfits with hardly any friends.
Mio Otani plays Sena, a beautiful girl who treats her male admirers like slaves but has never had any female friends. Sara Takatsuki (Otomen, GTO, Daily Lives of High School Boys) plays Yukimura Kusunoki, a youth who looks female, but claims to be a boy. Mao Kanjō plays the brilliant and perverted Rika Shiguma.
Takurō Oikawa wrote the screenplay and directed the film. Hirasaka stated previously that the the film will be an original story, so as not to recreate the original school romantic comedy light novels.
The light novel series' eight volumes have 6.1 million copies in print. It already inspired two television anime series with video anime spinoffs as well as a manga.
Source: Crank In!
---
The Winter 2017 Anime Preview Guide has begun! Check back daily for fresh reviews of the entire winter anime season.
Available Now: Rewrite season 2 - Winter 2017 Shorts - Scum's Wish - Chaos;Child - Marginal #4 - Onihei - Super Lovers 2 - Miss Kobayashi's Dragon Maid - Kemono Friends - Hand Shakers - ACCA: 13-Territory Inspection Dept. - Gabriel DropOut - Tales of Zestiria the X - ēlDLIVE - Idol Incidents - Interviews with Monster Girls - and much more!
It's a pretty common anime premise: high school-age teenager lives alone. But do Japanese teens actually live on their own? Justin explains.
― David asks: How common is it for Japanese teens to live on their own? You see it a fair bit, in anime and manga: teens living in a single person apartment, one that's either paid for by their family or paid for by part-time jobs. Do teens in Japan do this in ...
An angel at the top of an angel school has descended to the human world! However, she has been acclimated herself to the life of the human world so much that she ends up leading a self-indulgent life.
― Gabriel Dropout Official Website: http://gabdro.com/ Official Twitter: @gabdroanime Story Characters Trailer Cast & Staff Gallery On air starting January 9, 2017 Key Staff Director: Masahiko Ohta (Mi...
Is the fantasy action series Chaos Dragon so bad it's good, or just plain bad? Gabriella Ekens bravely tries to find out. PLUS: all of this week's new releases and more!
― I spent some time playing the new Battlefield game over the holidays, and it reminded me that I have a consistent pattern when it comes to playing multiplayer shooters. I start off slightly bemused by how pretty the game is and ho...
High school student Mari Hayase embarks on a time traveling adventure in search of her missing father, meeting famous inventors along the way.
― Time Travel Girl manages to make a not-incredibly-original premise into an enjoyable enough affair on the strength of its characters and the humanistic look at some of history's greatest achievers. The show requires the audience to overlook some necessarily ...
This otherworldly take on the story of Florence Nightingale continues with more of its gorgeous art and ghostly twists on historical fiction.
― The narrator of Kazuhiro Fujita's The Ghost and the Lady, the famed Man in Grey who is said to haunt the Theatre Royal at Drury Lane, has never been shy about telling us that the story he is telling is a tragedy. And how could it be anything else? At the end ...
The results are in and we have your Daily Streaming Reviews schedule for Winter 2017!
― This season's poll results have been tallied and we've put together the schedule for the Winter 2017 Daily Streaming Reviews! Due to lack of interest in the shows, Anne Lauenroth will be wrapping up her reviews of Trickster and All Out!! this week. This season also marks the return of Classic Streaming reviews, wh...
Warning! This week's List might make you feel old, as several treasured anime classics round off their second decade in history this year!
― This week marked Japan's annual "Coming of Age Day" where individuals who turned the age of majority within the last year put on their very best and celebrate together. Hot spots were filled with smiling 20-year-olds in yukata. If the idea of someone born in 19...
Things have slowed down for these unusual MgRonald's employees since the last catastrophe, but there are still a few divine mysteries to resolve before Satan can let his guard down again.
― They say that it's best not to meet your heroes. There's definitely some truth to that, because once you do, you're forced to realize that they're just people like the rest of us, prone to faults, failings, and be...
In shows like Yu Yu Hakusho, characters in high school are prohibited from having a job after school - is that a real thing? Justin gets into it.
― Skylar asks: Why aren't high school students allowed to have after school jobs in anime? Is this true of all high schools in Japan? Shows like Yu Yu Hakusho and Saiki Kusuo no Sainan (to name a few) have episodes dedicated to characters having to help th...
Zac and Jacob argue about all the best and worst shows of Winter 2017, from Scum's Wish to Monster Girls to Hand Shakers. PLUS: The Crunchyroll anime awards and much more!
― ANNCast Episode 281: Winter 2017 Roundup Zac and Jacob argue about all the best and worst shows of Winter 2017, from Scum's Wish to Monster Girls to Hand Shakers. PLUS: The Crunchyroll anime awards and much more! You can listen ...
High school boy Takuru Miyashiro and his fellow newspaper club members at Hekiho Academy seek the truth behind a series of murders.
― Chaos; Child Official Website: http://chaoschildanime.com/ Official Twitter: @chaoch_anime Story Characters Trailer Cast & Staff Gallery On air starting January 12, 2017 Key Staff Director: Masato Jinbo (Fate/kaleid liner Prisma Illya 2wei Herz!, Fate/kaleid liner Pri...
As Shōwa Genroku Rakugo Shinjū enters its final arc, Anne Lauenroth reflects on the fate of its tragic hero and rakugo as an artform. Is there some hope on the horizon after all?
― The second season of Shōwa Genroku Rakugo Shinjū is upon us, and it's like this wonderful gem of narrative craftsmanship never left. After patiently waiting for us during the nine month intermission (did Yotaro never leav...
This seventh volume makes it easy to see that the anime adaptation ended before the best parts of its story really began. Rebecca Silverman explores further.
― After reading this seventh novel of Is It Wrong to Try to Pick up Girls in a Dungeon, it's easy to conclude that the anime ended before the best parts of the story really began. This second story to take place after the end of the animated ada...