News

Kamisama Kiss Manga Has 3 Million Copies in Print

posted on

2014-01-17

23:48 EST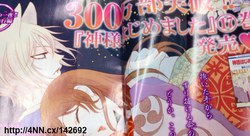 The March issue of Hakusensha's Hana to Yume magazine will announce on Monday that Julietta Suzuki's shōjo manga Kamisama Kiss (Kamisama Hajimemashita) has over three million copies in print.
The story follows Nanami, a girl who finds herself homeless after her father leaves. She comes to the home of a man who offers to let her stay over — only to discover it is a Shinto shrine. The man happened to be a deity who has just transferred his status and his yōkai to Nanami.
Suzuki launched the manga in Hana to Yume in 2008, and Hakusensha will publish the 17th volume in Japan on Janaury 20. Viz Media will publish the 14th volume in North America on February 4.
The series inspired a 13-episode anime, and Funimation streamed the series as it aired in Japan. Funimation will release the series on Blu-ray and DVD on February 11.
---
While the top of the rankings start to solidify, plenty of long-running shounen favorites duke it out for a spot in the center! Find our where your favorites landed this week!
― Our team of reviewers are following 27 anime series of the Winter 2017 season and readers are rating each episode as the reviews go up. So let's have a look at what ANN readers consider the best (and worst) of the season. Ke...
Dustin takes the latest Digimon RPG out for a spin, along with the remake of Princess Maker! PLUS: Capcom's comeback and next week's new releases!
― I like to touch things. No, not in a creepy way. I'm talking about hanging onto physical goods in a world increasingly dominated by digital media. The benefits of digital libraries are clear: no shelf space, portability between platforms, and increased a...
Interviews With Monster Girls is more charming than not, even as its harem elements trip it up on occasion.
― There's almost no way to phrase the premise of this series without it sounding creepy. High school biology teacher Tetsuo Takahashi has always been fascinated by the human variations straight out of mythology known as demi-humans, but he had to give up writing his thesis on them in university...
Do anime fans still watch - or for that matter, create - anime music videos like they used to? Justin refreshes his understanding of the AMV scene.
― Federico asks: Is it just an impression, or are anime fans no longer interested in making and sharing anime music videos? I thought that, with the increasing availability of new series, new music and cheap or otherwise easy-to-use video editing program...
"Alternate history military witch" is a major thing in anime right now, from Tanya to Izetta to Strike Witches. But if you matched these combat-ready witches against eachother, which witch would dominate?
― Numerous anime titles over the years have to some degree dealt with the militarization of magic, with Fullmetal Alchemist, Strike Witches, and The Legend of the Legendary Heroes being prominent ex...
Sword of the Stranger offers a nearly perfect action package.
― Sword of the Stranger is something of a wonderful oddity. Bearing no source material or spinoff potential, it's one of those rare anime-original films that offer an unfiltered vision of a creator or even studio. Blessed with gorgeous art design and animation, it offers an incredibly pure distillation of precisely one thing: the classic s...
Our weekly comic series returns! Preview guide is coming and the office needs a new intern - so it's a good thing Vice already hired someone!
―
Berserk: Band of the Hawk lets you slaughter your way through Guts' most traumatic adventures in classic Musou style - but it isn't without its problems.
― By now, the formula for Omega Force's increasingly prolific line of Musou anime adaptions has proven to be a mostly winning one. Take the basic Dynasty Warriors gameplay, replace Chinese historical figures with an array of fan-favorite characters,...
Our weekly webcomic series rises from the grave with a whole new look! Find out what happened behind the scenes and get a look at the strip's new art.
― So last June we launched Vice & Luna, a weekly webcomic series that followed along in the spirit of Anime News Nina, the site's previous strip (it's 10 years old this year by the way - you can read the whole thing right here and there's even a hardc...
If you watch Japanese TV, you'll hear anime soundtracks - like the OSTs for Evangelion - used as background music on talk shows all the time. How does that happen?
― Henpaku asks: I noticed that certain Japanese TV programs (mostly those showing entertainment specials with famous guests doing weird Japanese people things) use a lot of anime OST. In fact a show just a few days ago used some BGM from ...
One of the most beloved romcoms in recent memory, My Love Story, is out on bluray from Sentai Filmworks, and James Beckett is here to let us know if it holds up. PLUS: all of this week's big new releases!
― We've got a ton of new releases to cover this week, so I'm going to use that to cover for my lack of clever or interesting thoughts to put into this intro paragraph. Let's get right into it, shal...
This four-episode "second season" of Seven Deadly Sins popped up on Netflix - how does it move the story forward, and is it any good? Theron Martin investigates.
― Although this is (correctly) labeled as a TV series, that label can be misleading in this case, as it implies that it consists of more than just four episodes. That is clearly all that it was planned for, however, so what Netflix is listin...