News

Attack on Titan Manga Prints 38.3 Million Worldwide

posted on

2014-04-29

22:48 EDT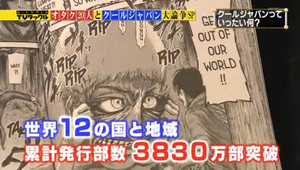 An episode of the TV Asahi program TV Tackle reported on Monday that Hajime Isayama's Attack on Titan manga series has more than 38.3 million copies in print in 12 countries and territories. The "Anime Manga Dake Janai!? Nihon Keizai no Kibakuzai 'Cool Japan' tte Nani?" (It's Not Just Anime and Manga!? What Is This 'Cool Japan' That Could Jumpstart the Japanese Economy?) episode was about the Japanese government's "Cool Japan" initiative and the popularity of Japanese popular culture in other countries.
The market research firm Oricon reported last week that the manga has sold 30.37 million copies in Japan as of April 20. The financial news source Nikkei had already reported in January that Kodansha published 30 million copies in Japan. It had added that the manga was translated into eight languages and published in over 10 countries. In particular, it was a hit in North America (660,000 copies), South Korea (530,000), and Taiwan (420,000).
---
Shy Yamada falls for school track star Kase-san in the first volume of this sugary-sweet yuri series. Rebecca Silverman has the details.
― In the increasingly diverse world of English-language yuri, Hiromi Takashima's Kase-san and Morning Glories stands out as particularly adorable. While it shares some themes with Milk Morinaga's Secret of the Princess in terms of wondering if having a lesbian relat...
Sometimes your first kiss is magical, but if you're an anime character, this adolescent milestone can get too weird for comfort. Here are six first kisses that the smoochers might want to forget.
― A first kiss can be a special, a treasured moment shared between two romantic partners. Or it can be haphazardly stolen by some jerk trying to one-up his friend or caused by a pratfall down a flight of st...
My Monster Secret kicks into high gear with a pair of wild rambling adventures in its fifth volume. Nick Creamer digs into the action.
― The last two volumes of My Monster Secret have seen the manga drifting through a variety of chapter-length adventures, before settling into the more long-form and ultimately satisfying trip to Shiragami's parents' house. In light of the events of volume five, it see...
Zac and special guest Dawn from the Anime Nostalgia Podcast reveal their undying love for Rumiko Takahashi, titan of manga, creator of timeless classics like Urusei Yatsura, Ranma 1/2 and more.
― ANNCast Episode 300 - Rumiko Talkahashi Zac and special guest Dawn from the Anime Nostalgia Podcast reveal their undying love for Rumiko Takahashi, titan of manga, creator of timeless classics like Urusei Y...
We're not used to smash hit anime coming from China, but they have a bonafide success in The King's Avatar - here's everything you need to know about the phenomenon.
― It seems fair to say that every country has its own basic style or flavor of animation. When we think of Asian animated works, most of us go immediately to anime, the Japanese variant, and it certainly is among the most prevalent and a...
Ten years before Princess Elizabeth set out to find Meliodas and the other Sins, her older sister Margaret and Gilthunder struggle to keep a terrible secret in this prequel to The Seven Deadly Sins. Rebecca Silverman investigates.
― If you're a casual fan of Nakaba Suzuki's manga The Seven Deadly Sins or its anime adaptation, you should be aware that this novel is intended to be read either after the...
Attack on Titan races up the charts as the Spring anime season closes out! How did your favorite anime fare in our weekly user rankings?
― Our team of reviewers are following 27 anime series of the Spring 2017 season and readers are rating each episode as the reviews go up. So let's have a look at what ANN readers consider the best (and worst) of the season. Keep in mind that these rankings are base...
Dustin goes a few rounds with Nintendo's noodle-armed fighting game for the Switch just in time for the summer. PLUS: Konami controversy, Rap Rabbit's demise, Sega Forever and more!
― Even covering it from the comfort of a home office, the sheer volume of E3 was positively exhausting. My heart goes out to the poor writers in the trenches, and even more to the poor fans who paid money for the mostly u...
Is this slice of life comedy about convenience store candy a sugar rush worth indulging, or is it just as frivolously forgettable as its subject matter? Nick Creamer finds out.
― Anime has already offered us long-running dramas about baking bread and entire franchises predicated on idols fighting interstellar wars, so it's tough to be surprised by basically any premise these days. Slice of life in pa...
Ever since one Pokemon episode caused an unanticipated medical emergency, there have been viewer warnings in front of many anime on TV. Why are they starting to go away now?
― Chris asks: Back in the day, after that infamous episode of Pokémon gave viewers seizures, many anime would start with an on-screen warning to watch with the lights on and at a safe distance from the TV. A bunch of my late-90'...
Your complete guide to through the best (and the worst) theatrical feature films the Gundam franchise has to offer.
― Spanning 38 years of giant robot battle action and space opera drama, the Gundam franchise has remained hugely popular. It is also, to put it simply, huge. Between TV series, OVAs, and movies, hundreds of hours of anime bearing the Gundam name has been produced. It's a lot to take in,...