Yozakura Quartet ~Hoshi no Umi~ (OAV)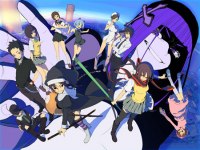 Alternative title:
Yozakura Quartet: Sea of Stars
夜桜四重奏 ~ホシノウミ~ (Japanese)
Plot Summary:
An OVA based on the 'Sea of Stars' (Hoshi no Umi) arc of the manga spanning chapters 26-34 (volumes 5-7). This arc focuses on Rin Azuma, a Jiang-Shi yokai resident of Sakurashin adjusting to her new life in the city and working for a ramen shop. One day her former friend Zakuro Kurumaki invades Sakurashin to capture Rin and convince her to join her in destroying the city with the other yokai hunters as well as Enjin Hiizumi, the main antagonist of the series. Akina Hiizumi and the other members of the Hiizumi Life Counseling Office take action to save Rin, 'tune' the yokai controlling Zakuro and protect the city.
User Ratings:
91 ratings have been given [details]
Opening Theme:
"kid, I like quartet" by UNISON SQUARE GARDEN
Ending Theme:
"Hello hello hello" by SUEMITSU and THE SUEMITH
You can contribute information to this page, but first you must login or register
Japanese staff
Japanese cast




Japanese companies
This encyclopedia is collaboratively edited by the users of this site
# A B C D E F G H I J K L M N O P Q R S T U V W X Y Z
Anime anthology