Dragon Ball: Goku's Fire Fighting Regiment (special)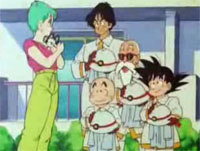 Alternative title:
Dragonball - Gokū no Shōbōtai (Japanese)
ドラゴンボール 悟空の消防隊 (Japanese)
Plot Summary:
Goku is a member of a town-firebrigade and after helping a young girl and her brother with an accidental fire, he teaches them about fire-safety. Goku's brigade is later summoned to rescue Bulma when a fire starts in her apartment.
User Ratings:
47 ratings have been given [details]

 Masterpiece: 4 votes

(sub:4)

 Excellent: 3 votes

(sub:3)

 Very good: 7 votes (sub:3, dub:3, others:1

1 Portuguese subtitled

)

 Good: 6 votes (sub:4, dub:1, others:1

1 Italian dubbed

)

 Decent: 11 votes (sub:6, dub:2, others:3

1 Catalan dubbed
1 Spanish subtitled
1 Polish subtitled

)

 So-so: 11 votes

(sub:8, dub:3)

 Not really good: 4 votes

(sub:4)

Seen in part or in whole by 248 users, rank: #2749 (of 7086)
Median rating: Decent
Arithmetic mean: 6.489 (Decent+), std. dev.: 1.785, rank: #4134 (of 7098)
Weighted mean: 6.135 (Decent), rank: #4905 (of 7098)

(seen all: 6.14)


Bayesian estimate: 6.434 (Decent+), rank: #3899 (of 5353)

Ending Theme:
"Makafushigi Adventure!" by Nozawa Masako and Tanaka Mayumi
Comment:
Unlike the
Goku's Traffic Safety special
, which clearly takes place inside the Dragonball universe, this story takes place in a city that resembles modern (late 1980s) Japan.
You can contribute information to this page, but first you must login or register
This encyclopedia is collaboratively edited by the users of this site
# A B C D E F G H I J K L M N O P Q R S T U V W X Y Z
Anime anthology