Rurouni Kenshin (GN 14 of 28)
---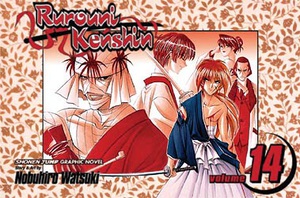 Title:
Rurouni Kenshin
Volume:
GN 14 / 28
Pages:
192
Distributor:
Viz Media
Release date: 2005-05-15
Suggested retail price: $7.95
Age rating: 13+

ISBN-10: 1591167671 1591167671
ISBN-13: 9781591167679 9781591167679

Description:
As the Juppongatana, or "Ten Swords," move to attack those at Aoi-Ya, Kenshin - accompanied by Sanosuke and Saito - squares off against one of his most powerful opponents yet: Shinomori Aoshi, former Okashira or "head" of the Oniwabanshû.

Bound by promises to both return Misao's "Aoshi-sama" to her safely, and to face Shinomori himself in a climactic, decisive battle, the time is now to learn once and for all who has the will to live, who has the will to die... and who has the will to fight.
(added on 2005-01-03, modified on 2005-01-03)
Our week-long gift guide wraps up with the one thing everyone wants: videogames! A smattering of the best games for every otaku on your Christmas shopping list awaits.
― Clannad There are a couple factors that make this visual novel release basically the ideal otaku Christmas gift, so let's run them down: Long-awaited English-language release of the visual novel most fans of the medium will tell you...
The first season of this insanely bloody drama has captured a worldwide audience of hungry fans, but does it live up to all the hype?
― The action-horror series Tokyo Ghoul is quickly turning into one of the few anime you might have heard of even if you don't regularly follow new Japanese releases. The manga keeps topping the New York Times bestseller list, while merchandise has already crept its way...
Anime is overflowing with villains playing God, trying to determine the next stage of human evolution. Here are six times where mankind was the endangered species.
― They say people never change. Humanity, as a whole, seems to have reached its physical limit. We're taller and faster. We climb higher and jump further. In fact, much of the next stages seem tied to possible biotech and enhancing existi...
The blockbuster second-to-last page of our week-long holiday gift guide is here, overflowing with toys, statues, action figures, and much much more!
― Royal Twintails Pillow Have you ever loved a hairstyle so much you wanted to wrap yourself up in an enormous pillow-like representation of it? No? Well here's your chance! This is pretty clearly a novelty item, but I'll be honest – it looks pretty com...
The third season of Symphogear brings all the ludicrous over-the-topness that made the first two seasons such a smash, but how does it all wrap up?
― Symphogear has always been a very silly show, one resolutely dedicated to dramatic absurdity and one-upmanship. In its second season, the show doubled down on its premise by emphasizing everything Symphogear and discarding everything not Symphogear. Wha...
Gobble Up This Naruto Shippuden Thanksgiving Bundle! Combined package available to new U.S. customers through Cyber Monday includes launchbox featuring Kill la Kill and upcoming Naruto Shippuden box. The bundle also includes a free six-month digital subscription to Weekly Shonen Jump, all for $40+S/H. Black Friday comes early to OMAKASE! Viewster has gone all out for this year's Thanksgiving holid...
DVD and Bluray finally arrive in our week-long Christmas gift guide! We've rolled out some awesome limited editions, 2015's best and most elaborate releases and much more!
― Anime itself is a highly personal gift, and it's tough to know exactly what a fan might actually want. Some tips up front if you're buying anime for someone: Ask them what shows they like first and narrow it down. Don't ask what...
This week, Todd scrutinizes some missing pieces of Mario, Sonic, and other popular series! Plus Dead or Alive controversy, Disaster Report's rebirth, and the quest for holiday games.
― This may be the first X Button to arrive on Thanksgiving, due to the new schedule. I'd like to use the opportunity to mention Thanksgiving-themed video games, but I've noticed a problem. There aren't any. It's rare to...
Naruto's teacher Hatake Kakashi takes center stage in this light novel set one year after the Fourth Shinobi World War.
― When it comes to Naruto characters who warrant further exploration, Hatake Kakashi is at the top of the list. Team 7's cool and collected (but oftentimes aloof and nonsensical) leader is one of the franchise's most popular characters. The hidden lower-half of his face was the subj...
Today's the day for tech in our week-long gift guide! Figure out the ultimate streaming package for the otaku on your Christmas shopping list, plus a bunch of fun gadgets and weird stuff.
― The Streaming Bundle The start of any tech gift guide on a site like this is liable to give you a long list of bluray players and high-end TVs, but as any anime fan will tell you, times have changed - all we real...
At nearly 300 episodes, Gintama is most famous for its incredible comedy, but the show has a serious storyline fans love. With a big new arc starting next week, here's a quick and easy way to catch up with the show's real story before the new arc begins.
― Because Hideaki Sorachi's popular revisionist history comedy is so very wacky, it's easy to forget that Gintama has an overarching plot. With the...
As two arcs come to their conclusions, Fairy Tail grows increasingly intense as the characters battle to change the future.
― One of the strengths of Fairy Tail, and indeed other similar shounen series, is the way that it can go from goofy to dead serious in a matter of minutes. The most recent story arcs to receive DVD/BD releases from Funimation, the Grand Magic Games and the Eclipse Gate plotlines...