The Adventures of the Little Prince - DVD Set (DVD)
---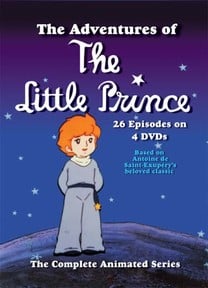 Title:
The Adventures of the Little Prince - DVD Set
Volume:
DVD
Running time:
600
Distributor:
Koch Vision
Release date: 2005-09-06
Suggested retail price: $49.98
Age rating: all

SKU: KOCDV-6339
UPC: 741952633990 741952633990

Description:
All 26 episodes broadcast in North America (Original series was 39 episodes)

The Little Prince lives on the distant asteroid B-612. There he cleans his volcanoes and cares for his magical rose. One day, a space bird named Swifty visits his small planet and shows him how he can hitch rids on passing comets and visit far off galaxies. Meeting new friends at every stop, the Little Prince travels across the universe and learns valuable lessons about honesty, bravery and kindness.

The children's story, The Little Prince by Antoine de Saint-Exupéry, from which this animated series is based, has sold 25 million copies worldwide and has been printed in over 150 different languages. A Jambre Production, The Adventures of The Little Prince has been recognized as both a critically acclaimed children's show and has received the Film Advisory Board's Award of Excellence.

The Adventures of the Little Prince: The Complete Animated Series includes all 26 original episodes of this beloved program as seen on Nickelodeon. The Adventures of the Little Prince: Higher Than Eagles Fly includes the episodes "Higher Than Eagles Fly," "Shipwreck!" and "On Wings of Love" - taking The Little Prince on adventures to the Andes Mountains, Australia and Newfoundland. The Adventures of the Little Prince: Somewhere in Space includes the episodes "Rob the Rainbow," "A Small Alien" and "Somewhere in Space" - following The Little Prince as he travels from his home on B-612 to the Sahara Desert, where he meets the narrators of his adventures, and the Klondike.
(added on 2005-08-14, modified on 2005-08-14)