I''s (GN 7 of 15)
---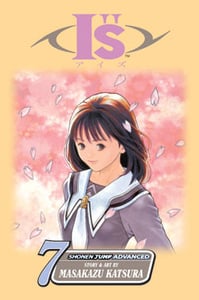 Title:
I''s
Volume:
GN 7 / 15
Pages:
192
Distributor:
Viz Media
Release date: 2006-05-02
Suggested retail price: $7.99
Age rating: 13+

SKU: CTIS-07
ISBN-10: 1421506483 1421506483
ISBN-13: 9781421506487 9781421506487

Description:
In order to plan for a school project, Ichitaka, Iori, and some of their classmates decide to have a sleepover at Nami's apartment. But what starts out as simple fun turns into trouble when Nami decides they'll all play a dare game. The dares rapidly escalate from playful to embarrassing, and Ichitaka is given a dare to French kiss Iori on from of the whole crowd!

Ichitaka has dreamed of wrapping his arms around Iori - but not in front of his lecherous friends. He can't figure out which will make Iori hate him more - going through with the kiss, or refusing to do it. If he succumbs to his desires, will he ever be able to look her in the face again?

Story and Art by Masakazu Katsura.
(added on 2006-01-20, modified on 2006-01-20)
Vegetarianism rarely ever comes up in anime, although meat is almost always on the menu - is it a cultural thing, or something else? Justin gets into it.
― Chris asks: I was wondering if vegetarianism is something practiced by a notable amount of people in Japan. In anime I've only noticed a few cases of characters being vegeterian or vegetarianism being mentioned, so is it correct to assume that it...
Osamu Dezaki's Golgo 13 film is the first to bring the iconic character to life in animation, but does it still hold up today? Paul Jensen take a look. Plus, all this week's new anime releases!
― I tend to drink a lot of tea when I'm writing reviews, so buying a new electric tea kettle a couple of weeks ago has improved my life in a noticeable way. Being able to heat water to exactly the right tempe...
What happens when you try to cram two dozen volumes of manga into twelve episodes of anime? Rebecca Silverman finds out in A Town Where You Live.
― What happens when you take twenty-seven volumes of manga and try to condense it down to twelve episodes of anime? It's an issue that we've seen many times before with mixed results, but in the case of A Town Where You Live, based on Koji Seo (of Suzuka fa...
Don't be scared off by the 1960s publication date - this GeGeGe no Kitaro compilation still holds up, as the yokai boy finds himself up against a variety of spooky villains!
― Drawn & Quarterly's second collection of the late, great Shigeru Mizuki's GeGeGe no Kitaro stories may be named after Nurarihyon, but he actually only features in one chapter. However, his essence definitely permeates the curat...
What's the true definition of "anime?" These internationally-produced animations may surprise you and challenge your own perception of the medium!
― Back in early 2014, I wrote a column about international co-productions with Japanese studios. That column had a general "here's some shows you might not know were animated in Japan or financed outside of Japan" focus, but this column is more of a look ...
"Dinosaurs evolve into hot humans to avoid extinction in this funny send-up of the increasingly crowded monster girl genre. Rebecca Silverman takes a look."
― If your first reaction upon looking at the title of Seven Seas' newest monster girl offering is to think, "Wow, the monster girl genre has definitely gone too far," you could be forgiven. From the outside, My Girlfriend is a T-Rex just looks li...
"Karoshi", or working yourself literally to death, is a phenomenon sometimes mentioned in anime, and it's on the rise in Japan - Justin goes over the basics.
― Vincent asks: There's always some sort of news about employees dying of overtime work in Japanese media. A professor at an university in Tokyo even stated that he thought it was "pathetic for someone to die just from working more than a hundr...
Zac and Jacob do battle with Anno Hideaki's political hot take, Shin Godzilla. PLUS: Miss Hokusai, Yuri!!! on Ice, Girlish Number and much much more!
― ANNCast Episode 273: Shin Godzilla Zac and Jacob do battle with Anno Hideaki's political hot take, Shin Godzilla. PLUS: Miss Hokusai, Yuri on Ice, Girlish Number and much much more! You can listen to the show on our player here, direct-download the M...
Twenty years ago right now some of the most incredible anime ever made were released; Daryl Surat is here to run down the best of them, including Escaflowne, Gundam, Detective Conan and more!
― I've long been of the opinion that the number of great works in anime is a relatively constant thing from year to year. But as I noted in my previous feature, Thirty Years Ago: The Best Anime of 1986, the amou...
Kuromukuro does its best to resolve its many mysteries in its action-packed second half, but does it succeed? Theron Martin investigates.
― Despite Netflix breaking the series into two 13-episode blocks for its subtitled stream, there was no break in Kuromukuro's 26-episode airing in Japan. Hence it's only natural that its second half picks up exactly where last season left off with zero recap. Where...
We're giving away 6 copies of the New York Comic-Con Exclusive Edition of The Attack on Titan Anthology, including one copy signed by the artists and writers!
― Our wonderful friends at Kodansha Comics have given us 6 copies of the New York Comic-Con Exclusive Edition of The Attack on Titan Anthology, including one copy signed by the artists and writers! It's the "most anticipated title of the year" ...
The Fall 2016 Anime Preview Guide has begun! Check back daily for fresh previews of every new show this season!
Available Now: Girlish Number - Fall 2016 Short Anime - Magic of Stella - March comes in like a lion - Occultic; Nine - Poco's Udon World - Long Riders - ClassicaLoid - Kiss Him, Not Me! - Haikyu! Season 3 - Drifters - Lostorage incited WIXOSS - ALL OUT!! - Keijo!!!!!!! - FLIP FLAPPERS - Brave Witches - and much more!