Interest

'Final' Gintama Film Ad Makes Dirty Joke About Ghibli Film

posted on

2013-07-09

10:10 EDT by Egan Loo
Kagura also promotes "Vol. 0" & film strip giveaways, instead of rare
Pokémon
---
A new television commercial began streaming on Tuesday to encourage fans to see Gekijōban Gintama Kanketsu-hen: Yorozuya yo Eien Nare (Final Gintama the Movie: Be Forever Yorozuya), the second Gintama feature film. In the ad, the main lead Gintoki makes a dirty joke about Hayao Miyazaki and Studio Ghibli's upcoming film, The Wind Rises:
In the ad, Gintoki says, "The last Gintama anime movie might not make the wind rise, but something else might rise."
Female lead Kagura then adds that you will not get a rare Pokémon for going, but you will get a notepad (designed to look like manga "volume 0") or one of nine randomly distributed film strips. Moviegoers can collect the different transparent film strips and stack three of them together to create different stories: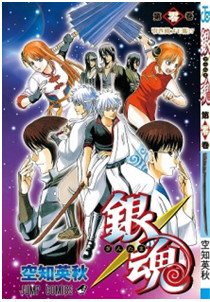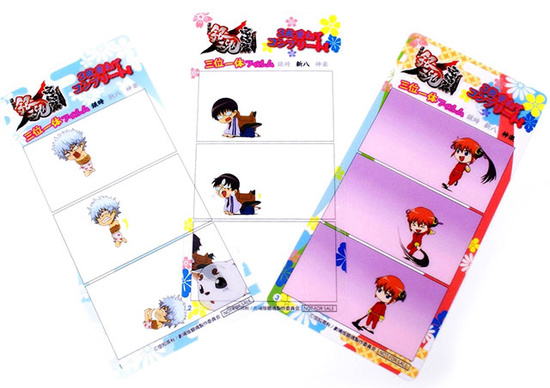 The Gintama film sold 221,469 tickets for 281,859,900 yen (about US$2.786 million) during its opening this past weekend. That is 40% more than the first Gintama: The Movie (Gintama: Shinyaku Benizakura-Hen) earned during its first weekend. With 127 screens, the new film had a per-screen average of 2,210,146 yen (US$21,800), the highest of all the films opening that weekend.
Images © Hideaki Sorachi/Gintama: The Movie Production Committee
---
Konosuba has an extremely unique animation style, but how does the staff of a show decide how it's going to look in the first place?
― Michael asks: Hi, so with some people out for studio DEENs blood for konosubas unique artstyle . I was wondering, who decides on the art style for an anime show? Is it the animation studio itself or does someone else on the committee decide that? A lot of people cred...
After persuading the master to become his apprentice, Yotaro went on to refine his craft and become a star, inheriting the name of Sukeroku III.
― Descending Stories: Showa Genroku Rakugo Shinju Official Website: http://rakugo-shinju-anime.jp/ Official Twitter: @rakugoshinju Official Facebook: @rakugoshinju Story Characters Cast & Staff Gallery On air starting January 7, 2017 in Japan Streaming avai...
It may not be Shirobako or Girlish Number, but Seiyu's Life! offers a behind-the-scenes look at the industry that's bound to please fans of anime voice acting.
― Between Shirobako and Girlish Number came Seiyu's Life!, an "industry insider" series that garnered so little interest during the Summer 2015 season with its tepid first episode that it wasn't picked up for streaming reviews. Funimation also...
Widely known for megahits like Madoka Magica and Bakemonogatari, Studio SHAFT have developed a strong and unique reputation among anime fans - but what is it that truly makes the studio unique?
― There aren't too many anime studios with serious "studio reputations" in the broader anime community. Gainax is one of the big names, though their star has faded in recent years, leading into much of their c...
A little girl with blond hair, blue eyes, and translucent skin. She flies in the sky, shoots down enemies relentlessly, and commands the force. Her name is Tanya Degurechaff.
― Saga of Tanya the Evil Official Website: http://youjo-senki.jp/ Official Twitter: @youjosenki Story Characters Trailer Cast & Staff Gallery On air starting January 6, 2017 in Japan Key Staff Director: Yutaka Uemura (The Mysti...
The producer of the latest Tales game, Tales of Berseria, dishes about what we can expect from the newest installment in this beloved JRPG series.
― The Tales series was long an underdog in North America. Rampantly popular in Japan, the RPG line made far more modest appearances in the West up until Tales of Xillia arrived in 2013 and Namco Bandai's overseas plans for one of the Japanese game industry...
In its second season, Sanrio's magical, musical adventure changes its format up despite recycling some of the first season's story. Is it an improvement or a step in the wrong direction?
― The first season of Show By Rock!! charmed audiences with an electric color scheme, anthropomorphic animal character designs, and toe-tapping musical numbers. Based on a rhythm phone game, it fleshed out this music...
The Winter 2017 Anime Preview Guide has begun! Check back daily for fresh reviews of the entire winter anime season.
Available Now: Rewrite season 2 - Winter 2017 Shorts - Scum's Wish - Chaos;Child - Marginal #4 - Onihei - Super Lovers 2 - Miss Kobayashi's Dragon Maid - Kemono Friends - Hand Shakers - ACCA: 13-Territory Inspection Dept. - Gabriel DropOut - Tales of Zestiria the X - ēlDLIVE - Idol Incidents - Interviews with Monster Girls - and much more!
It's a pretty common anime premise: high school-age teenager lives alone. But do Japanese teens actually live on their own? Justin explains.
― David asks: How common is it for Japanese teens to live on their own? You see it a fair bit, in anime and manga: teens living in a single person apartment, one that's either paid for by their family or paid for by part-time jobs. Do teens in Japan do this in ...
An angel at the top of an angel school has descended to the human world! However, she has been acclimated herself to the life of the human world so much that she ends up leading a self-indulgent life.
― Gabriel Dropout Official Website: http://gabdro.com/ Official Twitter: @gabdroanime Story Characters Trailer Cast & Staff Gallery On air starting January 9, 2017 Key Staff Director: Masahiko Ohta (Mi...
Is the fantasy action series Chaos Dragon so bad it's good, or just plain bad? Gabriella Ekens bravely tries to find out. PLUS: all of this week's new releases and more!
― I spent some time playing the new Battlefield game over the holidays, and it reminded me that I have a consistent pattern when it comes to playing multiplayer shooters. I start off slightly bemused by how pretty the game is and ho...
High school student Mari Hayase embarks on a time traveling adventure in search of her missing father, meeting famous inventors along the way.
― Time Travel Girl manages to make a not-incredibly-original premise into an enjoyable enough affair on the strength of its characters and the humanistic look at some of history's greatest achievers. The show requires the audience to overlook some necessarily ...
This otherworldly take on the story of Florence Nightingale continues with more of its gorgeous art and ghostly twists on historical fiction.
― The narrator of Kazuhiro Fujita's The Ghost and the Lady, the famed Man in Grey who is said to haunt the Theatre Royal at Drury Lane, has never been shy about telling us that the story he is telling is a tragedy. And how could it be anything else? At the end ...
The results are in and we have your Daily Streaming Reviews schedule for Winter 2017!
― This season's poll results have been tallied and we've put together the schedule for the Winter 2017 Daily Streaming Reviews! Due to lack of interest in the shows, Anne Lauenroth will be wrapping up her reviews of Trickster and All Out!! this week. This season also marks the return of Classic Streaming reviews, wh...