News

Fairy Tail, Dragon Crisis, Buddha, Doraemon Promos Streamed

posted on

2010-12-17

10:57 EST
---
The Japanese publisher Kodansha began streaming a 45-second promotional video for the special edition of the 26th Fairy Tail manga volume on its YouTube channel on Friday. This special edition will bundle an original anime DVD, which will recreate the manga side story "Yōkoso Fairy Hills!!" (Welcome to Fairy Hills!) In this side story, the Fairy Tail mage guild member Lucy visits the female dormitory Fairy Hills to find a "shining treasure." The volume will ship in Japan on April 15, 2011.

A new 94-second promotional video for the Dragon Crisis! anime began streaming on Thursday on YouTube. The anime adapts Kaya Kizaki's original light novel series, in which a high school boy named Ryūji is dragged by his cousin Eriko to rescue a girl from black-market dealers. The blue-eyed "girl" turns out to be a dragon who is inexplicably fixated on Ryūji — following him even when he is bathing and sleeping. Ryūji has to protect the girl from the black-market dealers and others. The television series will premiere in Japan this coming January.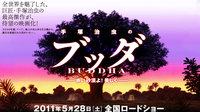 The official website for the anime film trilogy based on the late Osamu Tezuka's Buddha manga is now streaming a full trailer. (In the linked page, select the "映像 -movie-" icon in the top left.) Warner Brothers will release the first film, Tezuka Osamu no Buddha -Akai Sabaku yo! Utsukushiku-, in Japan on May 28, 2011. X Japan performs the ballad "Scarlet Love Song" heard in the trailer.
Director Kozo Morishita, screenwriter Reiko Yoshida, and Toei Animation are adapting the life of the young prince Siddhartha, the founder of Buddhism. Sayuri Yoshinaga will voice the mother of a slave boy named Chapra and provide the narration for the work. Masato Sakai and Junko Takeuchi will play Chapra himself in different stages of his life, and Hidetaka Yoshioka and Ai Orikasa will also jointly play Siddhartha. The first film alone has a production budget of 1 billion yen (about US$11 million).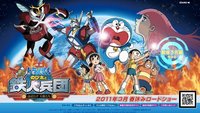 The official website for the Doraemon anime films relaunched on Friday with the second trailer for next year's Doraemon: Shin Nobita to Tetsujin Heidan ~Habatake Tenshi-tachi~ film. The new film remakes the 1986 film Doraemon: Nobita to Tetsujin Heidan (Doraemon: Nobita and the Platoon of Iron Men), in which Doraemon's human owner Nobita comes across a giant robot. Yukiyo Teramoto (Doraemon: Nobita no Shin Makai Daibōken - Shichinin no Mahōtsukai, Boku wa Imōto ni Koi o Suru: Secret Sweethearts - Kono Koi wa Himitsu) is directing off a screenplay written by Higashi Shimizu (Crying Freeman, Futari wa Pretty Cure, Kaidan Restaurant). The film will open in Japan on March 5, 2011.
On Friday, the media company Shogakukan Shueisha Production launched the Gagaga Channel site to stream promotional videos for the light novels in Shogakukan's Gagaga Bunko imprint. In particular, the channel is streaming a rudimentarily animated promotional video for Koroku Inumura's 2009 light novel Toaru Hikūshi e no Koiuta and another video for Romeo Tanaka's 2007 light novel Jinrui wa Suitai Shimashita. Toaru Hikūshi e no Koiuta is the prequel to Inumura's Toaru Hikūshi e no Tsuioku, a light novel with an anime film in the works from Madhouse and TMS Entertainment.


Thanks to keyl for the Buddha news tip.

[Via Saishin Anime Jōhō (link 2), Uri-Sure Matome R, animeanime.jp]

Images © 2011 Tezuka Osamu no Buddha Production Committee
© Fujiko Pro, Shogakukan, TV Asahi, Shinei, ADK 2011

---
Around The Web