News

Hiro Shimono, Kanae Itō Join Hataraku Maou-sama! Cast

posted on

2013-03-08

22:30 EST
---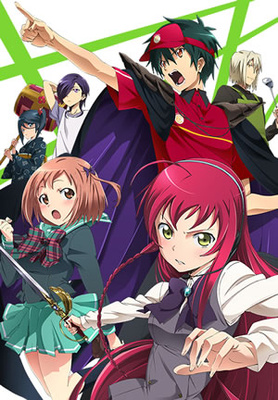 The official website for the Hataraku Maou-sama! fantasy comedy television anime revealed two new cast members for the series on Friday: Hiro Shimono will play Hanzō Urushihara/Demon General Lucifer, and Kanae Itō will play Suzuno Kamazuki. The official website also revealed a new key visual image (pictured at right).
The series will premiere on April 4 on Tokyo MX and several other channels.
In Satoshi Wagahara's original fantasy light novel series, a demon lord named Satan is one step away from conquering his alternate world when he is transported to Tokyo of our world. He ends up having to work part-time at a fast food restaurant to make ends meet. In order to conquer Japan, he (under the Earth name Sadao Maō) has to first move up from a freelancer to an actual employee. Meanwhile, the heroine Emilia has arrived in Japan also, in pursuit of Satan.
Naoto Hosoda is directing the anime at WHITE FOX, and Atsushi Ikariya is adapting original novel illustrator 029's characters for anime. Masahiro Yokotani is in charge of the series scripts. The main cast is as follows:
Ryota Ohsaka as Sadao Maō/Demon Lord Satan
Yōko Hikasa as Emi Yusa/Heroine Emilia
Nao Toyama as Chiho Sasaki
Yuuki Ono as Shirō Ashiya/Demon General Arushieru
[Via Temple Knights]
---
You see it in the credits of anime blurays and DVDs all the time - but what does "video post-production" actually entail? Justin has the answer.
― Craig asked: Just finished watching the third Berserk film, The Advent and in the credits I saw your name. for Video post production. What exactly do you do in terms of post production(clean up, video/audio compression, restoration?)? Do all companies who...
Paul Jensen takes a look at the long-awaited blu-ray of Kyoto Animation's unusual mystery series, along with a rundown of this week's new anime releases!
― I went to a screening of Lupin III: The Castle of Cagliostro last week. It was my first time seeing the movie, and I have to say it was a blast. If you're a Lupin fan or are interested in Hayao Miyazaki's early work as a director, it's definitely...
One of the most compelling adventures in the Haruhi saga finally arrives on Blu-ray! Nick Creamer takes a look at this uniquely engrossing film.
― After the madcap adventures and slapstick comedy of Haruhi Suzumiya's first two seasons, the anime series was capped off with a film unlike anything that had come before. Somber, slow-paced, and introspective, The Disappearance of Haruhi Suzumiya represent...
Mike's quest for unlicensed anime leads him to the strange case of "I Give My All", a racy OVA from the 80s that was very nearly released here... until it wasn't!
― As part of the work I do with the Discotek gang, I occasionally work on some cool shows that were once licensed, but never really released on video in the west—you know, the really good anime, like Fighting Foodons. As the years pass, the...
The inimitable screenwriter behind Hanasaku Iroha, anohana, and Anthem of the Heart just released her autobiography. Kim Morrissy shares the recent director's enlightening story.
― Mari Okada recently became a topic of discussion when it was announced that she was directing an original anime film at P.A. Works. For many, this news came as a surprise, because unlike most anime directors, Okada has no ...
These episodic adventures of modern, everyday witches are charming if a little light on lasting impact. Theron Martin delves into Generation Witch.
― Witches as commonly portrayed in anime and manga – flying around on a broomstick sporting a long pointy hat – are decidedly a Western phenomenon, but that hasn't prevented them from popping up in Japanese media on a regular basis over the years. Generat...
School is back in session for the fall, but you'd better hope your new instructors aren't anything like these terrible tutors!
― It's the final week of summer, although most retail stores skipped straight to pumpkin season a few weeks ago. Deny it all you want, but the back-to-school grind is here which means notebooks, packed community college parking lots, and a handful of new instructors trying t...
Despite being a far-flung film prequel to its source material, No Game No Life Zero might just outshine the original TV series. Kim Morrissy breaks down what makes this movie shine.
― No Game No Life Zero isn't like the No Game No Life you've seen before. It takes all the interesting themes of the original TV series and peels away all the fanservice and frivolities, resulting in a tonally different n...
Ichiro Inuyashiki, a dull-looking elderly employee who has been diagnosed with terminal cancer, is struck by a UFO falling from the sky and reborn with a mechanical body.
― INUYASHIKI LAST HERO Official Website: http://www.inuyashiki-project.com/ Official Twitter: @inu_noitamina Official Facebook: https://ja-jp.facebook.com/inuyashiki/ Introduction Characters Cast & Staff Gallery Premiering on Octob...
Zac and Jacob smack their brooms together and head on a magical journey through Studio Trigger's foray into family-friendly fantasy: it's Little Witch Academia!
― ANNCast Episode 305 - Little Witch Academia Zac and Jacob smack their brooms together and head on a magical journey through Studio Trigger's foray into family-friendly fantasy: it's Little Witch Academia! You can listen to the show on our ...
There have been a LOT of really screwy anime releases, discs with the wrong subtitles and audio tracks, but what's the WORST one? Justin has one in mind...
― Anonymous asked: Just curious, what's the single worst anime home video release you've ever seen? From any era, VHS, DVD, bluray, whatever the single worst one you can think of is. In Japan, the worst release has to be of the film Gundress, whi...
The singer behind the legendary theme songs for Totoro, Laputa and more talks about her incredible career alongside her daughter, who is following in her mother's footsteps.
― Even if you haven't heard of Azumi Inoue, you're probably intimately familiar with her work; Inoue sang some of the most iconic and internationally-recognized theme songs for several classic Studio Ghibli films, including Castl...
"Zettai ryōiki" refers to one of the most popular fetishes in anime that you may never have noticed before! Eric Stimson explains what makes this "absolute territory" of ZR so widespread.
― Anime is rife with fanservice, which often means pandering to fans' favorite fetishes. Some are fads that burst onto the scene and then fade without ever really disappearing, like maids 15 years ago, catgirls 20 y...
Those looking forward to Studio Madhouse's first original movie in years may find themselves disappointed by this sweet yet ultimately clumsy film. Kim Morrissy has the details from its theatrical run in Japan.
― The first thing that you need to know about this film is that it very explicitly revolves around the Shinto concept of kotodama. The word translates literally to "the spirit of words" and re...