News

Manga UK Licenses Live-Action Hentai Kamen Film

posted on

2013-10-29

00:15 EDT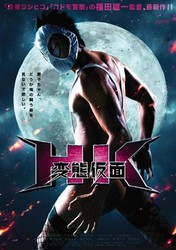 Manga Entertainment UK announced during MCM London Comic Con this past weekend that it licensed the live-action HK/Hentai Kamen film under the title Forbidden Super Hero. The film is an adaptation of Keishuu Andou's Ultimate!! Hentai Kamen manga.
Ryōhei Suzuki (live-action Gatchaman, Mei-chan no Shitsuji, Hana-Kimi, Yankee-kun to Megane-chan) stars in the film as Kyōsuke Shikijō, a high school boy who transforms into a hero by wearing a panties mask — and little else. The movie opened at the Shinjuku WALD 9 theater on April 6, and opened in theaters across Japan on April 13. Andou's six-volume gag manga ran in Shueisha's Weekly Shonen Jump magazine from 1992-1993.
Manga Entertainment UK will host screenings of the film at film festivals in Leeds and Cardiff.
Manga Entertainment UK will also release Evangelion: 3.33: You Can (Not) Redo, Dragon Ball GT, Naruto Shippūden: The Lost Tower and Psycho-Pass.
---
Justin breaks down how exactly your favorite old shows get selected for big fancy high definition remasters on bluray, and why some classics get left in the dust.
― It's a holiday weekend, so we'll take an easy one this time. Nadeem asks: I buy physical media as I am a collector. With that said, I've been trying to improve my collection by purchasing Blu-rays instead of DVDs or upgrading my older DV...
Yutaka Yamamoto's idol singers get their very own prequel movie, out now on bluray from Sentai Filmworks. PLUS: all of this week's new anime releases!
― With all the craziness that's been going on in the last few days regarding anime on Hulu (see this Answerman article for the details), I'm reminded of why it's nice to own stuff on disc. Forget all that stuff about video quality and dependence on a ...
This 2014 follow-up to the 2012 TV series retains the series' storytelling feel and features strong technical merits, but those expecting a continuation of established plot lines may be disappointed.
― Abyss of Hyperspace is the 2014 movie follow-up to the 2012 TV series, at least in the sense that it continues the timeline of the animated part of the franchise; its events are set during a break befo...
Fullmetal Alchemist The Complete Series - Collectors Edition is the ultimate celebration of Fullmetal Alchemist and an essential addition to any anime collection. But time is running out...
― Fullmetal Alchemist is one of the most legendary anime of all time. The adventures of the Elric brothers have resonated with fans all over the world. This Fullmetal Alchemist The Complete Series - Collectors Ed...
Netflix's brand-new Voltron series has Mike remembering Voltes V, another giant robot show with an incredible and bizarre production and release history!
― In a couple of weeks, we'll see a brand new version of Voltron hit Netflix, bringing forth yet another iteration of World Events Productions' localization of Toei Animation's super robot series Golion. This latest version has caught my interest fo...
Takeshi Obata's illustrations from 2001-2006 get the deluxe treatment in this gorgeous artbook.
― Even if you aren't a fan of the series he has illustrated, it is hard to deny that his artwork is impressive. Showing a firmer grasp of human anatomy than many other mainstream mangaka along with beautiful composition skills, Obata's artwork isn't just good manga art, it's good art. While I recognize tha...
The summer is just about here and what better way to spend those long hot months than parked in front of your favorite anime? Here are seven perfect shows to get your summer going.
― Summer is quickly taking hold as temperatures climb and the school year winds to a close. Three months of freedom are knocking on your door. You can spend your time at cookouts, watching blockbusters in the oasis of you...
A Silent Voice's sixth volume is a structurally self-conscious expression of its greatest strength, the generous insights it provides into all of its characters' secret lives.
― It's always an interesting experience when a new volume of A Silent Voice comes out. On the one hand, I immediately want to rush through it - the story is a masterpiece, after all. It has an intimacy of characterization that'...
Zac wants Jacob to explain why Kabaneri of the Iron Fortressis more than just another Attack on Titan - plus Sakamoto, Tanaka-kun and more with special guest Lauren Orsini!
― ANNCast Episode 260: Kabaneri Sauvignon Zac wants Jacob to explain why Kabaneri of the Iron Fortress is more than just another Attack on Titan - plus Sakamoto, Tanaka-kun and more with special guest Lauren Orsini of Forbes and ...
They're an anime staple, embraced by audiences of all ages and types, and are frequently described as "empowering" - but what is it exactly that makes magical girls connect with so many people?
― Sailor Moon just got remade, Madoka Magica was the biggest anime hit of the past five years, and US-made cartoons are getting more mahou shoujo-tastic by the day. I think it's fair to call magical girls, you...
An enormous portion of Hulu's anime catalog disappears suddenly on June 1; Justin unpacks why that's happening and what it means for the industry.
― Michael asks: I noticed quite a few anime titles on Hulu expiring in the coming days. From what I can tell, it's more than usual. Do you think this is a sign of Hulu losing interest in anime as a whole and only want to focus on their American television...
Drawn & Quarterly has curated previously unpublished stories from Shigeru Mizuki's Kitaro manga for its original audience: kids. It's largely successful in this thrillingly gross and creepy volume.
― Before Natsume had his Book of Friends or Nate put on his Yokai Watch, there was Kitaro. Shigeru Mizuki's tales of the yokai boy have been popular since their publication in 1960, and technically even be...