Minna Agechau (OAV)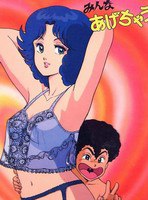 Alternative title:
I Give My All
みんなあげちゃう (Japanese)
Objectionable content:
Intense
User Ratings:
13 ratings have been given [details]

 Masterpiece: 1 vote

(sub:1)

 Excellent: 1 vote

(dub:1)

 Very good: 2 votes

(sub:2)

 Not really good: 1 vote

(sub:1)

 Worst ever: 1 vote (others:1

1 Spanish subtitled

)

Seen in part or in whole by 24 users, rank: #5624 (of 6831)
Median rating: Decent
Arithmetic mean: 6.000 (Decent), std. dev.: 2.6602, rank: #4926 (of 6847)
Weighted mean: 5.954 (Decent), rank: #5171 (of 6847)

(seen all: 5.97 / seen some: 10.00 / won't finish: 2.00)


Bayesian estimate: 6.738 (Good−), rank: #3041 (of 5160)

Vintage:
1987-03-01
1991-08-30 to 1991-09-02 (USA - Premiere (AnimeCon '91))
1991-10-23 (USA - Scheduled; never released)
Comment:
Minna Agechau
was to be
Central Park Media
's first release, but was canceled due to the media uproar, which in part centered around the pair of pink paper panties which were to be included in the release. Sony Music Entertainment (Japan) Inc. bought back all of the copies.
You can contribute information to this page, but first you must login or register
This encyclopedia is collaboratively edited by the users of this site
# A B C D E F G H I J K L M N O P Q R S T U V W X Y Z
Anime anthology