Princess Mononoke - Symphonic Suite (OST)
---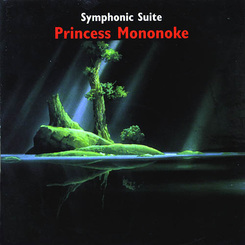 Title:
Princess Mononoke - Symphonic Suite
Volume:
OST
Running time:
48
Distributor:
Milan Records
Release date: 2001-05-15
Suggested retail price: $13.98

SKU: 35944
UPC: 731383594427 731383594427

Description:
Track Listing:
The Legend of Ashitaka

TA TA RI GAMI

The Journey to the West

Mononoke Hime

The Forest of the Deer God

Requiem - The Demon Power

The World of the Dead - Adagio of Life & Death

Ashitaka and San
(added on 2011-11-06, modified on 2011-11-06)
The Fall 2017 Anime Preview Guide SimulDub Edition has begun! Check back in for fresh previews of every new dub this season!
Available Now: Garo Vanishing Line - Juni Taisen: Zodiac War
― Welcome to Anime News Network's Fall 2017 Preview Guide! Here's how it goes: our team of critics write up their impressions instantly, to be posted here as they go along. Each critic will cover as many shows as the...
Does the newest entry in this difficult RPG series still hurt good enough to be worth the challenge? Todd Ciolek finds out.
― Etrian Odyssey games ask a lot. They require you to pace around dungeon grids full of nasty enemies. They require you to map out levels in the tradition of the hardest RPGs of 1986. They require you to try again and again, even after a sudden and vicious encounter wipes out yo...
You see delinquents and gang members of all stripes in anime high school - but are they really a thing in Japan? Justin gets into it.
― Kevin asked: Are gangs really prevalent among high schoolers (off the top of my head, gangs chasing Yusuke in YuYu, Baki, Shinici in Parasyte)? They do exist! They're not THAT prevalent, but they are definitely a prominent part of Japanese society. Every society has...
Naruto's son may be the protagonist of this next generation, but that doesn't mean he'd be the best at his father's job. Amy McNulty explains why Sasuke's daughter is more fit to lead the village instead.
― The original Naruto series stars a young boy with a big dream—the epitome of the Shonen Jump hero. Despite his rambunctious nature and lack of book smarts, Naruto Uzumaki longs to become his vill...
This queen-sized release is an excellent way to dive into a yuri manga that's a cut above the rest. Rose Bridges explores what makes Takako Shimura's creation so special.
― On the surface, Sweet Blue Flowers has all the setup for a classic yuri premise: an all-girls' school full of students blushing at each other, kissing in hallways and against library stacks. The outside world of compulsory heteros...
High school student Haruka Shinozaki enjoyed living such a respectable life. However, the girl he fell in love with wasn't so normal...
― My Girlfriend is Shobitch Official Website: http://majimesugiru-anime.jp/ Official Twitter: @shobicchi_anime Story Characters Cast & Staff Gallery Premiere Date: October 11, 2017 Streaming available at: Amazon Anime Strike Key Staff Director: Nobuyoshi Nagayama (H...
With the arrival of its second season, there's no better time to marathon this action-packed sci fi dramedy extravaganza! We make our case for BBB(&B) and share our hopes for its new season.
― With the arrival of its second season, Blood Blockade Battlefront & Beyond, there's no better time to marathon this action-packed NYC-themed sci fi dramedy extravaganza! This week in anime, Nick and Jacob make ...
This edgy otome game makes its way to English-speaking players on the PS Vita, along with more news on The Good Life and Fire Emblem Warriors.
― Yoko Taro said he hopes to someday make an adult video. Should this be surprising? I don't know. For all its existential despair, Nier: Automata kept things pretty sexy, with 2B's finely-sculpted robo-booty ready to peek out from under her skirt at any momen...
This adaptation of Noriko Ogiwara's novel series finally gives English-language fans a conclusion to the tale, but other aspects of its production have not aged well. Rebecca Silverman gets into the details.
― The title The Good Witch of the West may be familiar to you – back in the day, TokyoPop released the first six volumes of the manga and first two of Noriko Ogiwara's original novels in English....
Western anime fans sometimes carry around a lot of incorrect assumptions about Japanese society thanks to anime, but what can be done about that?
― Hiroki asked: I'm Japanese, and I'm wondering why so many Americans seem to analyze all of Japan through late-night anime that very few people watch. They get a lot of misconceptions, thinking that we won't kiss people we like because we're all shy, and ...
Chart the exciting highs and terrifying lows of Studio Gonzo, one of the most famous, controversial, pioneering (and occasionally frustrating) anime studios in history.
― GONZO is a name that all seasoned fans are acquainted with. That's not due to their longevity, since as a company founded in 1992 they're essentially an average, middle aged anime producer. And to be quite honest, it isn't because o...
This 3DCG mecha series from last spring has finally debuted on Netflix, but was it worth the wait? Theron Martin has the answers.
― What do you get when the creator/director for the Code Geass franchise teams up with the writer behind Gundam Build Fighters? This 12-episode original anime production, which aired in Japan during the Spring 2017 season. After many months of waiting, Netflix has made the...
The bloody war between the twelve warriors of the Zodiac begins... Who will be the last standing in the end?
― JUNI TAISEN: ZODIAC WAR Official Website: http://12taisen.com/ Official Twitter: @12taisen Introduction Story Characters Cast & Staff Gallery Premiere Date: October 3, 2017 Streaming available at: Crunchyroll (sub), Funimation (dub) Key Staff Director: Naoto Hosoda (The Future Diary, Minami...
This season delivered a truly unexpected reboot in the form of a new Kino's Journey anime, so we compare notes on these two versions, what's changed, and why.
― Well over a decade has passed since Kino's Journey was first adapted into anime, but this season brought us an unexpected remake with Kino's Journey - the Beautiful World-. This week in anime, Jacob and Steve compare notes on how the characte...