Interest

Faylan Sings Gundam AGE's 3rd-Generation Ending Theme

posted on

2012-03-26

08:15 EDT by Egan Loo
---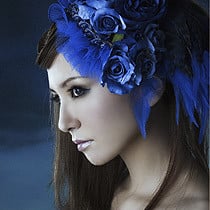 The official website of singer Faylan (Mirai Nikki, Seikon no Qwaser) announced that she is singing the ending theme song for the third generation in the Mobile Suit Gundam AGE television anime series. The song "White Justice" will play during the third story arc starring Kio, the grandson of the first protagonist Flit.
Faylan herself wrote the lyrics, while Noriyasu Agematsu (Senki Zesshō Symphogear, Magical Girl Lyrical Nanoha A's) and Junpei Fujita (The Melancholy of Haruhi Suzumiya, Senki Zesshō Symphogear) of Elements Garden composed and arranged the song, respectively. The CD single will go on sale on May 23.
[Via Jam Guru]
---
Around The Web
Mike gets piledrived AND powerbombed on the mat by an enormous load of wrestling anime.
― Last May, I hopped a bus to New York City, on a mission to explore more Japanese pop culture. I'd previously made similar trips to take in the likes of Tokyo Godfathers and Steamboy and The Girl Who Leapt Through Time, so you'd think that this was some sort of anime thing. A brisk few hours later, I was in Manha...
Seven Seas' latest yuri title might be one of those rare manga that's better the second time you read it.
― Seven Seas continues to be the leading purveyor of yuri manga in English with this latest offering. Where their previous releases by Milk Morinaga or currently out of print titles (such as The Last Uniform) were all more sweet than sexy, Citrus treads some different ground. The story follows Yu...
Were these anime characters separated at birth? Not quite.
― Were these anime characters separated at birth? Not quite. We're used to seeing certain style characteristics to easily signify which character is the tsundere, the quiet bookworm, the gung-ho fighter, or the sneaky villain. With the huge number of anime, light novels, and manga produced each year, there are bound to be some design overlap...
Although this is the end of A Certain Magical Index II, it does not feel particularly conclusive. Granted, this could be because so many more novels exist after this point, but it does take away from the experience of watching it.
― There has been a trend recently of anime being self-aware. While generally not fully metafictional, the wink and nudge to the audience can waver between being clever and ...
Justin just HAS to address Princess Kaguya's Oscar chances. Plus, the weirdness of Japanese names, the lack of Vancouver anime dubs, and what happens to recalled discs.
― Oscar nominations were announced last week, and so I got the usual questions this week about The Tale of Princess Kaguya's chances at taking home Oscar gold. I get these questions every year, so I'm not going to do the whole song a...
Mike Toole joins Zac and Hope to finally decide, once and for all (and this is legally binding) which series is better: Fullmetal Alchemist 2003 or Fullmetal Alchemist: Brotherhood?
― ANNCast 212 - Fullmetal ANNCast: Brotherhood Embedded audio player requires an HTML5-compliant browser. Mike Toole joins Zac and Hope to finally decide, once and for all (and this is legally binding) which series is be...
Silver Spoon's second season is as good as the first, delivering a well-told story that gently takes hold of you and doesn't let go.
― Silver Spoon, based on the manga of the same name by Fullmetal Alchemist's Hiromu Arakawa, is definitely one of the best depictions of farm life in the entertainment world...which means that if you're squeamish, you want to be prepared. Arakawa's story never flinches ...
Shaenon dares enter the vault of Kazuo Umezu's surrealist, ultraviolent horror serial, Cat-Eyed Boy.
― Cat Eyed Boy One of my all-time favorite pieces of comic art is a two-page spread from Jack Kirby's gonzo Planet of the Apes riff Kamandi, The Last Boy on Earth. It's a four-color map of Kamandi's postapocalyptic world, packed with detail and such intriguing labels as "Wild Human Preserve," "Island...
Show off your creative side, and you could win a giant box of goodies!
― Anime News Network is hosting its first ever anime-themed holiday contest, and we want our readers to let their creativity run wild! Our amazing sponsors have donated a ton of fabulous prizes, and we have lots of ways you can win. We know that snow doesn't exactly hit every corner of the globe, so while one of the components of...