News

Yugami-kun ni wa Tomodachi ga Inai Manga Gets Anime Ad

posted on

2013-11-22

18:30 EST
---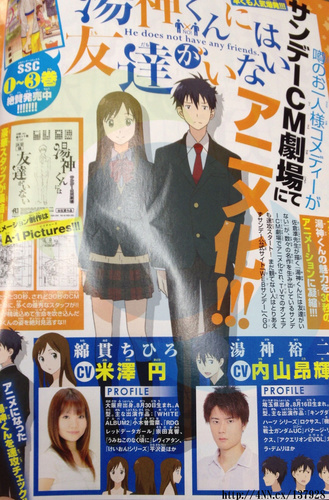 This year's 52nd issue of Shogakukan's Weekly Shonen Sunday magazine is announcing on Wednesday that Jun Sakura's Yugami-kun ni wa Tomodachi ga Inai (He Does Not Have Any Friends) manga will have an anime commercial promoting the manga. The 30-second commercial will feature Madoka Yonezawa (White Album 2, Pretty Rhythm Aurora Dream) as Chihiro Watanuki and Kouki Uchiyama (Soul Eater, Shiki) as Yūji Yugami. A-1 Pictures (The IDOLM@STER, Sword Art Online) will produce the animation for the commercial.
The story of the comedy manga revolves around Yūji Yugami and Chihiro Watanuki, who sit next to each other in class. Unfortunately for Chihiro, the transfer student Yūji is weird... extremely weird. Even though he's the ace of the baseball club, he hasn't adapted to the club at all. He also stands apart from the rest of the class, but seems completely satisfied with being alone.
Sakura launched the manga in Shogakukan's Shonen Sunday S magazine in the magazine's July 2012 issue, and the manga switched over to Weekly Shonen Sunday as of the 48th issue. Sakura is publishing the manga once a month in Weekly Shonen Sunday. Shogagukan shipped the third compiled book volume in Japan in October.
---
Around The Web