×
remind me tomorrow
remind me next week
never remind me
Subscribe to the ANN Newsletter • Wake up every Sunday to a curated list of ANN's most interesting posts of the week.
read more
Interview: Rica Matsumoto
by Chih-Chieh Chang,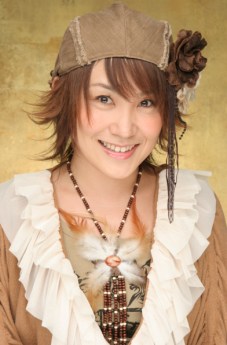 For many anime fans around the world, Satoshi (also known as "Ash Ketchum" by North American fans) of
Pokémon
fame is one of the most recognizable characters in anime history. Veteran
seiyuu
Rica Matsumoto
is the voice behind Satoshi for almost ten years, and has appeared in every installment of the Pokémon
franchise
.
In addition to singing the opening and ending themes of Pokémon, Ms. Matsumoto is also a talented singer and a founding member of the popular JAM (Japan Animationsong Makers) Project, with many singles featured in different anime titles, particularly those filled with energy and motivation a.k.a. "hot-blooded."
Q: On the Internet many fans have expressed their wish that Ms. Matsumoto would have a live concert in Taiwan. Would it be possible?
A: It's highly possible. Mr. Kageyama had already visited Taiwan (on February 5 at Fancy Frontier), and when he returned to Japan I questioned him "why didn't you take us with you?" This time I found out that Taiwan isn't really far away if you take an airplane. I believe that many fans here have already heard my songs on CD. I hope that one day we can be all on the stage, hear my songs, watch my stage performance live, and enjoy the music altogether.
Most roles Ms. Matsumoto have voiced over in animation are boy characters, while for most foreign movies you voice female characters. What's the difference between voicing male and female characters?
When I was little I often had fights with others and went home crying. My parents told me "if you come home crying then don't brawl with others." Later I learned how to calm myself down before returning home and became kind of a child leader (gaki daisho ガキ大将) in the neighborhood, gathering other kids and giving orders. Therefore, when I started voicing Satoshi (of Pokémon) he reminded me of my childhood and I use that feeling to perform his voice accordingly. And as you all can see, I'm female, so when I
dub
foreign movies I can just be my true self and become one with the character. However, I still feel embarrassed with phrases like "I love you" in kissing scenes. After we finish the dubbing, the (movie) company always gives the voice actors a copy of the film. When I give it to my father he refuses to watch those romantic scenes with my voice.

Ms. Matsumoto has just released a new album (KISEKI/Last my wish) which you wrote the lyrics for. Will you put more time and effort on songwriting?

Marvelous! You know a lot about me. Thank you! Of course, I hope there will be more chances for me to compose lyrics and music because I want to share my thoughts and experiences through these songs. As a performer I have the responsibility to spread the performing art through my lyrics and songs to everyone, sending messages of my thoughts and perspectives.
Satoshi and Pikachu are best friends in Pokémon. How is the relationship between you and Ms. Ikue Ohtani, voice actress of Pikachu, offstage?

The anime of Pokémon has entered the 10th year. The main cast has been working as a team both within and outside Pokémon, making us a big family.
Have you faced any difficulty in voice acting?

For me, every single time I do voice acting, it's a challenge. Voice acting is teamwork, so the most important factor is cooperation between different voice actors. Also anime is different from dubbing foreign films because foreign films are already finished and completed while the storyboard of an anime in production may have a few shots less than the final product, so it would be difficult to convey feelings when the dialogue has no image to correlate with.
Do you have any respected seiyuu senpai in particular?

I can learn different things from each and every seiyuu, so I respect all of them. Among all performing artists I respect my father the most, for he has taught me about his acting troupe, his thoughts, cinematography, and many other things.
Songs performed by Ms. Matsumoto have become more and more "hot-blooded" lately.

During the recording of these songs I usually feel energetic. On the other hand, sometimes when I hear those "hot-blooded" songs I sang (such as these in Pokémon) I feel more lively and motivated. Singing on stage is always highly pressurized. However, whenever I step on a stage and see a kid's anticipating eyes concentrated on me (many of my concerts are targeted at kids), a current of strength would flow through my body, especially when kids sing along with me. They are just sooo cute.

There are many pocket monsters in Pokémon. What's your favorite?

Pikachu, of course (laugh)! I also feel for Team Rocket, for in a real society everyone has his/her own goals, and each one of us has different ways to achieve those goals. I don't dislike Team Rocket; it's just the fact that wherever a hero is present there will always be his nemesis.
Are there fan letters particularly memorable?

There was a fan of mine, who has some difficulties with her legs, listened to my song and decided to get surgery. Now she is able to walk almost as well as everyone else, and she sent me a "thank you" letter. Although I could do very little for this lady, I felt that I had walked together with her through the day of her surgery. It would be the best reward for me if my songs could bring my fans a little bit more courage.
You have told the press that you play volleyball and handball. What kind of sports do you play in your spare time?

Back in school I was a member of the volleyball team, and because I was also a fast runner the track team often "borrowed" me to take part in their game. I hold a record in 800-m race of the
City of Yokohama
, but I don't know whether it has been broken or not. Once I even helped catch a burglar [laughs].

How did you form JAM Project? What's the difference between singing alone and singing together as a team?

I had several singles before the formation of JAM Project, but they didn't sell very well. After I sang Pokémon's theme songs as Satoshi my singing ability was more appreciated, and in order to promote anime songs and return my gratitude we formed JAM Project. We hope to bring more anime songs to the world. Also, sometimes singing alone on the stage can be a bit lonely. When singing together with others, I feel that others protect me, and I can rely on those trustworthy friends. If I ever forget the lyrics while I am alone I would be forced to ask fans to sing along, but when we six are all on stage this can be easily covered up. There was one time when I spent too much time on makeup and heard my song start playing on the stage while I was still in the dressing room. I dashed out and was relieved to see that Kageyama-san had already covered my part for me.
Is there any book or movie you have read/watched lately particularly memorable? Anything else you feel interested in?

I have been watching too many movies lately, so I can hardly remember which one is the most memorable (laugh). This morning I visited
PokePark (Taipei)
, and there was the 3-D Pokémon Adventure, and I was very moved. I even wept a little after seeing children's reactions. There are several tear-jerking moments in
Pokemon Ranger to Umi no Ouji Manafi
(the newest Pokémon movie released this July) as well. I'd like to say that I love traveling too, but I knew that almost everyone says, "I love traveling," so I'll skip it. For a more ordinary hobby, I prefer staying at home organizing my belongings and doing house chores (laugh).
---
discuss this in the forum (16 posts)
|
back to Interviews from the 2006 Comic Exhibition in Taipei, Taiwan
Interview homepage / archives