Interest

Vocaloid Study Guides Make Learning History & Science Catchy

posted on

2016-04-23

21:45 EDT by Eric Stimson
Putting rhythm to meteorology and the medieval Japanese monarchy
---
Junior high school students associate learning history and science with leafing through dry textbooks and memorizing facts and vocabulary to pass monotonous tests. The Japanese educational publisher Gakken Plus seeks to address this with its Music × Study Project, which combines the sort of historical and scientific concepts middle schoolers are likely to be tested on with Vocaloid songs written by famous Vocaloid producers.
This 5-minute video summarizes the 20 different songs introduced in the two books (ten songs in each book). They cover everything from the Genpei Wars and the Meiji Restoration to electromagnetism and the properties of water solutions. The first song is an adaptation of the well-known Hatsune Miku song "Senbonzakura," modified to cover all of Japanese history. The songs are written by producers like Rerulili, 40mP, Travolta-P, Kanimiso-P and Toa.
The textbooks are divided into chapters corresponding with a Vocaloid song. The songs can be accessed via smartphone (by scanning markers attached to certain pages), PC or tablet. The books are also packaged with CDs.
They include the lyrics to the usually very fast songs.

They list the terms used in each song and explain them in more detail.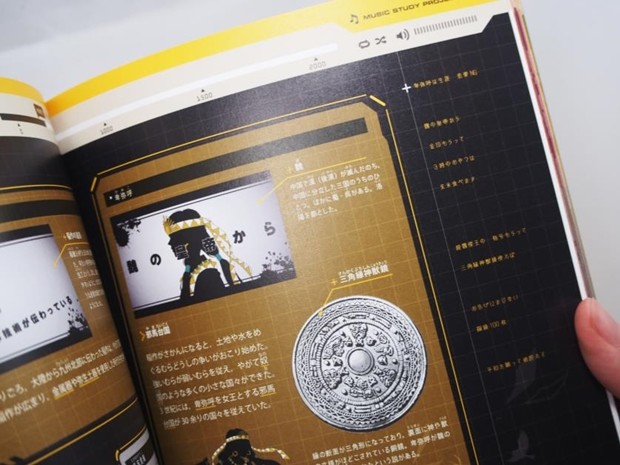 Like any textbook, they have exercises to test your understanding.

A sample song, "Jōmon Sakuretsu Girl," has been posted online. Its name is a reference to "Nōshō Sakuretsu Girl" by the same producer, Rerulili. It describes the Jōmon and Yayoi Eras, Japan's ancient past when it transitioned from a hunter-gatherer society to an agrarian civilization influenced by China.
Even though the Music × Study Project only launched on April 22, it had already conquered the top spots on Amazon.co.jp's "Middle School Society," "Middle School Science" sections, respectively, before they even shipped. They also grabbed the top two spots in the "Education & Test Prep" section. The books cost 1,600 yen (about $14.50) each.
Source: Animate.tv
---