Interest

Pre-Registration Opens for Marvelous' Guns-As-Guys Mobile Game

posted on by Lynzee Loveridge
Mobile giant LINE and Marvelous opened registration for Senjūshi: The Thousand Noble Musketeers mobile game and it has already accumulated 50,000 fans signed up to play.
The game is notable as the latest is in the anthropomorphization craze, launching off the popularity of DMM's Touken Ranbu game featuring sword guys and instead focusing on tanegashima (matchlock rifles and pistols). The official website first introduced firearms from the American Revolutionary War era; Brown Bess, Charleville, Springfield, and Kentucky voiced by Taku Yashiro, Shinnosuke Tachibana, Shouta Aoi, and Yuuki Kaji. The game has now expanded to include French, Russian, Austrian, Turkish, and Japanese characters associated with prominent political figures from the same era.
The French characters are:

Napoleon, representative of the French monarch himself and possibly the 12-pound cannon that shares his name. Voiced by Daisuke Namikawa.
Rapp, better known as General Count Jean Rapp, one of Napoleon's most trusted men. Voiced by Wataru Hatano.
Nicola/Noel, these twins represent Nicolas Jean-de-Dieu Soult and Jean-Noel Santini, both prominent members of Napoleon's campaigns. The former became renown as an art plunderer while the latter was one of his most faithful servants. Voiced by Ayumu Murase.
The Russian characters are: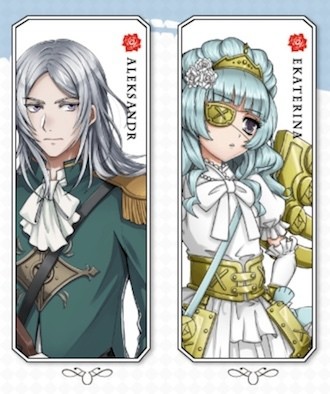 Aleksander Romanov or Alexander I of Russia, was in power during the Napoleonic Wars. Voiced by Ryō Hirano.
Ekaterina Romanov or Yekaterina Vorontsova-Dashkova was a close friend to Catherine the Great. Voiced by Tsubasa Yonaga.
The Austrian (specifically Habsburg) characters are:

Karl Habsburg, most likely a reference to Holy Roman Emperor Charles V who built empires in both Asia and Europe. Voiced by Yoshitaka Yamaya.
Leopold Habsburg, a gun that served the Holy Roman Emperor Leopold I. Voiced by Kenji Hamada.
Margarita Habsburg, based on Margaret Theresa of Spain.Voiced by Natsuki Hanae.
The Ottoman Empire characters are:

Ali Pasha, a common name for Pasha's but perhaps named after Ali Pasha of Ioannina also known as Aslan or the Lion of Yannina. Voiced by Yuuki Ono.
Esen, said to be a musket gun originally from France. Voiced by Ikkei Yamamoto.
Mahmut, a reference to Mahmud II, the 30th Sultan of the Ottoman Empire. Voiced by Makoto Furukawa.
The Siege of Osaka characters are:

Ieyasu, the first Tokugawa shogun and one of the three unifiers of Japan. Voiced by Yuichiro Umehara.
Hidetada, the second Tokugawa shogun and Ieyasu's third-born son. Voiced by Sōma SAITŌ.
Yukimura, the leading general defending during the Siege of Osaka. Voiced by Yoshiki Nakajima.
Voice actors Kenji Nojima, Daisuke Hirakawa, Mitsuaki Madono, and Hiro Shimono are signed on to voice the Modern Gun villains.
[Via Nijimen]
---