Raging Loop Scenario Writer Amphibian
by Kim Morrissy,

Raging Loop is an award-winning psychological horror visual novel developed at Kemco and published overseas by PQube. It's one of the more intriguing new visual novels to emerge in the market, having received endorsements from the likes of Gen Urobuchi and Ryukishi07. The game will launch physically and digitally for Nintendo Switch and PlayStation 4 in Europe on October 18 and in North America on October 22. It will release on the PC via Steam on December 5.

The game's story begins when graduate student Haruaki Fusaishi is traveling on his motorbike in the mountains. His bike breaks down, and Haruaki ends up visiting the settlement of Yasumizu. Red mist moves into the village at night, and he is no longer able to leave. Two bodies are found the next day. A few villagers have inherited the abilities of the five beast guardians who once lived there. The wolves kill one person every day during the feast that has arrived in the village. Until they identify the wolves, the villagers choose one person every day to be hanged.

We had the opportunity to speak to the game's scenario writer Amphibian at Tokyo Game Show and ask him a few questions. Although an interpreter was present, he chose to express himself in English to communicate his thoughts directly. This interview was edited slightly for clarity.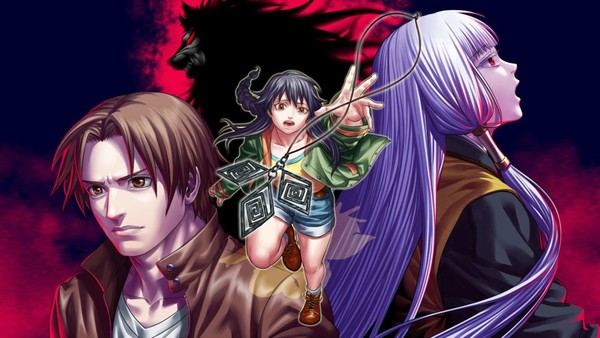 The Jinrou (Werewolf) game is a popular genre in Japan, so how did you try to make Raging Loop stand out among other works?
AMPHIBIAN: The core idea of Raging Loop is that it is a fusion of Japanese tradition and very old legends with the Jinrou game. I think it's unique among other stories with a Jinrou game because they don't have this flavor. It's a very simple Jinrou game with the living flavor of the Japanese tradition.
The game references a lot of Japanese folklore and feels inspired by works of live-action Japanese horror films. Do you think non-Japanese players should try to learn about these things before playing the game, or is it better to just try the game and let the story speak for itself?
Many game developers and translators thought the same, and they decided not to deal with this game. (laughs) But we and our partners thought that some people in the world can understand the flavor of the game. We are challenging the idea that the game's appeal is too exclusive. We can fail, but we'll give it a shot. I also think it is possible because the great pioneer, Higurashi: When They Cry, is already very famous and popular over the world. Our game has a somewhat similar flavor to that game, which is to our advantage.
You don't need to learn about Japanese traditions before playing the game because it is very easily and succinctly explained in the game. I think most Japanese people do not know deeply about such things. Also, there are some kanji tricks - some puns - so if the player has some kanji knowledge, it will be more interesting, but the kanji tricks are also explained in the Japanese text, so it's not a big problem.
Earlier, you mentioned Higurashi: When They Cry, and I was about to mention that there aren't many Japanese horror visual novels in the English market right now, although Higurashi: When They Cry comes to mind. As a creator, how would you feel about being compared to someone so famous like Ryukishi07?
In the beginning, I was like, "I'm so sorry." But now I'm used to it. You see, the novelization that I wrote of the game is divided into seven volumes, and the very first one is recommended by Kinoko Nasu. In October, the seventh and final book will go on sale, and it is recommended by Ryukishi07 himself. This game has attracted a lot of attention. The second book is recommended by Gen Urobuchi. And the third one is recommended by Kazutaka Kodaka, the Danganronpa guy. It felt terrible at first, but now I'm used to it. That is the situation of this game.
Is it scary to become famous overnight?
Yes, yes, yes. That is a nightmare of mine.
When you sit down to write your next work, are you going to make it like Raging Loop, or are you going to go for something very different?
I have ideas. They're not in development yet. I am going to start writing this game. It is going to be similar to Raging Loop, but I cannot disclose any more information.
Since your name is Amphibian, will it have frogs in it?
My major in university dealt with amphibians like newts and frogs. I made a small homage to my normal career in my pen name, that's all. But I have a small regret about this pen name because I cannot search my name on Twitter because there are many amphibian-related words being spoken around the world. Of course, there is a scientific reason for that.
Do you have a favorite amphibian?
I like the Mexican salamander axolotl. I don't touch them anymore because when I tried it for the first time, it died. Touching amphibians is a bit hard for me.
Oh no! Er, back to visual novels for now, as a visual novel creator yourself, what do you think of the trend of parody visual novels in the West? For example, KFC recently announced a Japanese-style dating sim where you can have a romance with Colonel Sanders.
Oh yeah, I saw that! I think that visual novels are a very good way to tell stories, so I think it is a natural evolution of the trend. It can also be said that visual novels are a bit difficult to make money from, so I am happy if there are more platforms and more traders and ways to spread visual novels all over the world.
Is there a worry that if people only think of parody visuals novels, they might not be interested in the horror and the serious drama visual novels?
No, it doesn't matter if those types of work proliferate. They are not our enemy because there really aren't many scenario writers. So parody writers are also welcome. Maybe some of them will be serious writers in the future and they will be our friends.
Right now, it feels like a lot of visual novels in Japan are moving into smartphone games. Do you play smartphone games yourself?
Personally speaking, I am playing Fate/Grand Order day by day, but this is not really game playing, just a custom of mine. If I want to play a game properly, I always use PC. Currently, I am playing Cataclysm. It is a survival horror roguelike game. I think it was developed in the USA. It's really good. I like games from overseas, and I don't play a lot of visual novels usually. I go on Steam and find survival-type games. I like survival games because I can feel my life on the line.
That's interesting. Out of curiosity, are you looking forward to Death Stranding?
Death Stranding? Hmm, I am curious about it as one of the Japanese game developers, but to tell you the truth, I only played the first Metal Gear Solid, so I wouldn't call myself a huge Kojima fan. But I'm still supporting him. He's doing his best, and he's like a senpai in the world of Japanese games.
And finally, do you have a message for your overseas fans?
(laughs) Oh right, interviews have these kinds of questions too. This is hard. Please enjoy it, and please feel free to follow me on Twitter @frogmonger. On Twitter, I can write English more fluently.
Thank you very much for the interview!
---
discuss this in the forum (3 posts)
|