×
remind me tomorrow
remind me next week
never remind me
Subscribe to the ANN Newsletter • Wake up every Sunday to a curated list of ANN's most interesting posts of the week.
read more
News

Funimation Adds Rosario + Vampire, Chaos;HEAd, Regios

posted on by Egan Loo
---

The North America anime distributor
Funimation
has announced at its
Anime Central
panel on Saturday that it has licensed the
Rosario + Vampire
,
Rosario + Vampire Capu2
,
Chaos;HEAd
,
Chrome Shelled Regios
,
Rideback
,
Heaven's Lost Property
(Sora no Otoshimono), and
Gun x Sword
anime series. All of the new titles will ship in 2011 — except for Gun x Sword and Regios, which will ship in late 2010.
Funimation has also announced the English dubbing casts for
Eden of the East
,
Casshern Sins
, and
Shikabane Hime
. The company is offering a "free ride" to Comic-Con International in San Diego this July to the most ardent
Fullmetal Alchemist
fan; fans can enter by posting their video pleas on
YouTube
and
http://www.fullmetalalchemist.com/comiccon/
.
Takayuki Inagaki
(
Desert Punk
,
Indian Summer
) and Gonzo's 2008 Rosario + Vampire television series and its Rosario + Vampire Capu2 sequel
adapt
Akihisa Ikeda
's supernatural school comedy manga of the same name. The story follows an ordinary high school boy who fails to get into any private academy except one — which happens to be populated by supernatural creatures (yōkai) disguised as humans. To survive, Tsukune Aono has to pretend that he is also a yōkai and blend in.
Viz Media
publishes
the manga in North America.

Director
Takaaki Ishiyama
(
Viewtiful Joe
,
Karura Mau
) and the
Madhouse
anime studio
adapted
Nitroplus
and
5pb.
's Chaos;HEAd computer visual novel for television in 2008. In this 12-episode psychological suspense series, a shut-in teenager named Takumi becomes embroiled in a series of mysterious deaths around the Tokyo neighborhood of Shibuya, all of which could lead to a larger calamity.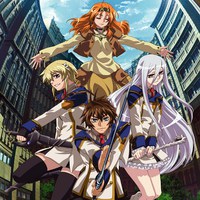 Chrome Shelled Regios began as a series of fantasy academy light novels from
Shūsuke Amagi
, before
Itsuro Kawasaki
(
Sengoku Basara
,
Tsubasa: RESERVoir CHRoNiCLE
The Movie) and
ZEXCS
brought
it to television last year. The 24-episode series takes place in the future when humanity lives in isolated mobile cities called Regios to escape the pollution on the planet. Layfon Alseif enrolls into the Academy city of Zuellni and joins the 17th Military Arts Unit of Nina Antalk.

Atsushi Takahashi
 (
Detroit Metal City
anime) and Madhouse
adapted
the 12-episode Rideback television anime series from
Tetsuro Kasahara
's manga last year. Rideback tells the story of a student named Rin Ogata and her "iron horse" robot motorcycle in 2020, a tumultuous time of anti-government student protests. With her transforming motorcycle and her agility from years of ballet training, Rin joins the fight against the GGP regime that rules the world.

Suu Minazuki
created the Heaven's Lost Property (Sora no Otoshimono) modern fantasy manga before director
Hisashi Saito
(
Bamboo Blade
) and
AIC A.S.T.A.
animated
it for television last year. The 14-episode series centers around Tomoki Sakurai (
Souichiro Hoshi
), an ordinary middle school boy and avowed pacifist. A strange girl often appears in his dream to ask for his help — only he cannot remember her face when he wakes up. Then, his life gets more complicated when an unidentified mysterious animal (UMA) falls out of the skies. The "animal" turns out to be Ikaros (
Saori Hayami
), an angel.
Crunchyroll
simulcasted
this anime in multiple countries worldwide as it aired in Japan.

Code Geass
director
Goro Taniguchi
and AIC A.S.T.A. created the 26-episode Gun x Sword television anime series in 2005. The anime follows a lone man, armed with a a shape-shifting sword and a powerful Mechanized Armor, who hunts the mysterious clawed man who had murdered his bride. Van is accompanied by Wendy, a girl who offers to be Van's new bride if he can help her find her brother.
Geneon Entertainment
had
licensed
Gun x Sword before it ceased its distribution operations in North America.
The English dubbing cast for Eden of the East (with
ADR Director
Mike McFarland
) is as follows:
Akira Takizawa
:
Jason Liebrecht
Saki Morimi:
Leah Clark
Juiz:
Stephanie Young
Kuroha
Diana Shiratori:
Christine Auten
Daiju Mononobe:
John Gremillion
Micchon:
Stephanie Sheh
Haruo Kasuga:
John Burgmeier
Sis:
Lydia Mackay
Kazuomi Hirasawa:
J. Michael Tatum
Satoshi Osugi:
Michael Sinterniklaas
Panties:
Newton Pittman
The English dubbing cast for Casshern Sins (with ADR Director
Jason Grundy
) is as follows:
Braiking Boss:
Paul Slavens
Casshern:
Eric Vale
Luna:
Trina Nishimura
Lyuze:
Brina Palencia
Leda: Shelly Calene-Black
Ohji:
Jerry Russell
Ringo:
Monica Rial
Dio:
Jerry Jewell
Dune:
Jason Douglas
The English dubbing cast for Shikabane Hime (with
ADR
directors
R. Bruce Elliot
,
Terri Doty
and J. Michael Tatum) is as follows:
Keisei Tagami: J. Michael Tatum
Makina Hoshimura:
Luci Christian
Ouri Kagami:
Aaron Dismuke
Rika Aragami:
Cynthia Cranz
Saki Amase: Monica Rial
TAKAMASA
Sōgi:
Joel McDonald
Itsuki Yamagami:
Cherami Leigh
Images © Akihisa Ikeda/
Shueisha
, Rosario + Vampire Project
© 5pb./Nitroplus/
RED FLAGSHIP
© 2008
Chaos;Head Production Committee
© 2009 Shūsuke Amagi, Miyuu/
Fujimi Shobo
/Zuellni 17th Unit
© 2005
AIC
• Team DannChester/
GUN SWORD Partners
© Tetsuro Kasahara,
Shogakukan
/Rideback Production Committee
© 2005 AIC • Team DannChester/GUN SWORD Partners
Update:
More background information and direct link to Funimation's contest added.
---