News

MVM Announces Sankarea for Later in the Year

posted on by Andrew Osmond
Comedy series about a high school boy and a zombie girl.
---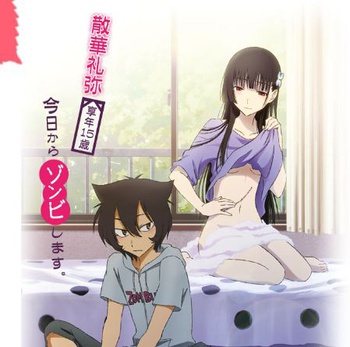 MVM announced on its website that it has acquired the 12-part television anime series Sankarea for later in 2013, though a date is still to be confirmed.
The series adapts Mitsuru Hattori's Sankarea zombie comedy manga, which features Chihiro Furuya, a high school freshman who is obsessed with zombies. Even his dream is to "kiss a zombie girl." Through an unexpected set of circumstances, Chihiro gets to know a pretty girl named Rea Sanka, and together, they try to revive Chihiro's pet cat Baabu who died in an accident.
Chihiro discovers that Rea wants to get away from her many responsibilities by becoming a zombie herself. According to MVM's synopsis, "In an attempt to commit suicide, she drinks a sample of the "resurrection" potion which is created from the poisonous Hydrangea macrophylla flower, though this fails to kill her. Following an argument with her father, she falls from a cliff by accident and dies. However, as a result of the potion, she becomes a zombie who eats hydrangea leaves."
The rock band nano.RIPE (Hana-Saku Iroha) is singing the show's opening theme song "Esoragoto." The anime premiered in Japan in April 2012.
---