News

Tugg Adds Potential Wolf Children Showing Across the U.S.

posted on by Lynzee Loveridge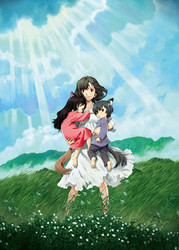 The Tugg platform is selling tickets for showings of Mamoru Hosoda's Wolf Children anime film at 13 locations across the United States. Each location needs to sell a certain number of tickets to guarantee the film will screen there. Tugg is currently listing the following screenings:
October 29 at Sie FilmCenter in Denver
November 04 at AMC Neshaminy 24 in Bensalem, Pennsylvania
November 04 at AMC Loews Freehold Metroplex 14 in Freehold, New Jersey
November 07 at AMC Loews Webster 12 in Webster, New York
November 07 at Landmark Ritz at the Bourse in Philadelphia
November 07 at Regency Charter Centre Cinemas in Huntington Beach, Calif.
November 11 at AMC Loews 600 North Michigan 9 in Chicago, Illinois
November 14 at Showplace Naperville 16 in Naperville, Illinois
November 14 at AMC The Parks At Arlington 18 in Arlington, Texas
November 14 at AMC Town Center 20 in Leawood, Kansas
November 14 at Carmike 13 - Champaign in Champaign, Illinois
November 14 at AMC Elmwood Palace 20 in Harahan, Louisiana
November 14 at Carmike 10 - Rapid City in Rapid City, South Dakota
November 18 at Muvico Rosemont 18 in Rosemont, Illinois (tickets not yet on sale)
November 20 at AMC Mayfair Mall 18 in Wauwatosa, Wisconsin (tickets not yet on sale)
November 26 at Cinemark at Macedonia in Macedonia, Ohio (tickets not yet on sale)
The film ran with an English dub at the Laemmle Town Center 5 theater in Los Angeles from September 27 to October 3.
People in other cities can organize with the Tugg website to bring the film to their local theaters also.
---