News

2nd Sailor Moon Stage Musical's 'Ai no Starshine' Song Shown in Video

posted on by Sarah Nelkin
DVD containing musical, extra video features ships in Japan on January 28
---
The official Sailor Moon YouTube channel began streaming a clip from the musical Pretty Guardian Sailor Moon Petite Étrangère. The clip features the main cast singing the song, "Ai no Starshine" (Starshine of Love.)
The video starts with the line, "Sailor Moon will punish you in the name of the moon!"
A DVD of the musical is scheduled to ship in Japan on January 28 for the price of 7,800 yen (about US$70). The DVD will come bundled with a full-color 28-page booklet, as well as a special features disc with scenes of Chibiusa with Airi Kanda in the place of Kokoro Kuge, an "Usagi x Mamo-chan talk session," footage from the free Ikebukuro Sunshine live event, a "Sailor Guardian Girls' Party" video, a look behind-the-scenes with both actresses of Chibiusa, and a collection of comments from the actors. The main disc will also have audio commentary from the main five Sailor Guardian actresses.
Pretty Guardian Sailor Moon Petite Étrangère is the second new musical based on Naoko Takeuchi's original manga. The cast includes: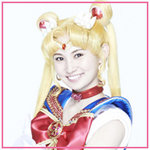 Satomi Ōkubo as Usagi Tsukino/Sailor Moon


Momoyo Koyama as Ami Mizuno/Sailor Mercury


Kanon Nanaki as Rei Hino/Sailor Mars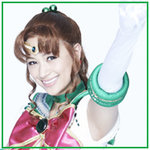 Yū Takahashi as Makoto Kino/Sailor Jupiter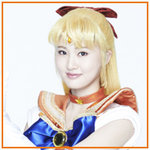 Shiori Sakata as Minako Aino/Sailor Venus


Yūga Yamato as Mamoru Chiba/Tuxedo Mask



Kokoro Kuge (left) and Airi Kanda (right) as Chibi-Usa/Sailor Chibi Moon, who is double-cast.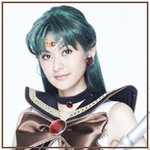 Mikako Ishii as Setsuna Meiō/Sailor Pluto

Erika Mahiro as Prince Demande
Sora Manami as Saphir
Riona Tatemichi as Rubeus
Mitsumi Hiromura as Esmeraude
Yui Itō as Black Lady
Kumiko Saitō, Momoka Kodama, Eriko Aoyama, Ayaka Ida, Yuka Itō, Akino Konno, and Ayumi Nakaoka play various Droids.
The staff list for the musical is as follows:
Director: Kenichi Konno
Scripts, Production: Takuya Hiramitsu
Music: Toshihiko Sahashi (Mobile Suit Gundam Seed, Full Metal Panic)
Lyrics: Lynne Hobday, Takuya Hiramitsu
Choreography: Satomi Tōma, Natsumi Takenaka
Art: Keiko Katahira
Sound Effects: Norihiro Matsuyama
Lighting: Eisuke Kobayashi
Video: Hiroki Arakawa
Costumes: Hiroki Yajima
Hair/Make-up: Keiko Hyō
Action Instruction: Hiroshi Atsumi
Song Instruction: Tadamichi Izumi
Production Assistance: Keiko Iseki
The musical showed in Tokyo between August 21 and 31 before running in Osaka from September 5 to 7. It was also performed in Shanghai.
[Via Natalie Comics]
---