News

New Yowapeda/Yowamushi Pedal Film's Story, Song, Staff Unveiled

posted on by Egan Loo
Manga creator pens new story about Sōhoku High's final race led by Kinjō
---
Gekijōban Yowamushi Pedal (Yowamushi Pedal: The Movie), the brand-new August 28 anime film based on Wataru Watanabe's cycling manga, unveiled its story introduction, staff, theme song performers, and a key visual on Tuesday.

Watanabe wrote the new story for the film:
[Highlight white text to read spoilers for the earlier manga and television anime] After winning the fierce Inter High race, Sakamichi and the other Sōhoku team members receive an invitation to compete in the Kumamoto Hi Province Mountain Range Race towards the end of summer. The top-tier teams from around the country compete in this race, including Sōhoku's rivals Hakone Academy (which yearns to take down Sōhoku), Kyoto Fushimi, and Hiroshima Kureminami — as well as Kumamoto Daiichi High School's team led by Shin Yoshimoto.
On the stage of Kumamoto Prefecture's Mount Aso, the curtain rises for the "final race" of Sōhoku team led by Kinjō.
The television anime's director Osamu Nabeshima is serving as chief director of the film, with Norihiro Naganuma (assistant director and script contributor on Hozuki no Reitetsu) as the film's hands-on director. After performing the second television season's opening theme song, the rock band Lastgasp is returning to contribute the movie's theme song "Link." The other staff members include:
Script: Reiko Yoshida 
Character Design: Yukiko Ban, Yuko Iwasa
Design Works: Yoshio Mizumura
Art Setting: Tomoyuki Aoki, Yukie Inose
2D Works: Chie Nishitani
Art Director: Shunichiro Yoshihara
Color Key: Fusako Nakao
CG Director: Takeshi Sanada 
Director of Photography: Takeshi Katsurayama, Daichi Nogami 
Editor: Kumiko Sakamoto
Sound Director: Takeshi Takadera
Music: Kan Sawada 
Animation Production: TMS Entertainment
Distributor: Toho
The returning cast includes:
Daiki Yamashita as Sakamichi Onoda 
Kousuke Toriumi as Shunsuke Imaizumi 
Jun Fukushima as Shōkichi Naruko 
Hiroki Yasumoto as Shingo Kinjō 
Showtaro Morikubo as Yūsuke Makishima 
Kentarou Itou as Jin Tadokoro 
Tsubasa Yonaga as Sangaku Manami 
Tomoaki Maeno as Juichi Fukutomi 
Hiroyuki Yoshino as Yasutomo Arakita 
Tetsuya Kakihara as Jinpachi Tōdō 
Satoshi Hino as Hayato Shinkai 
Atsushi Abe as Tōichirō Izumida 
Hiroaki Tajiri as Yoshiaki Taura
Tomokazu Seki as Eikichi Machimiya
Hirofumi Nojima as Kōtarō Ishigaki 
Koji Yusa as Akira Midōsuji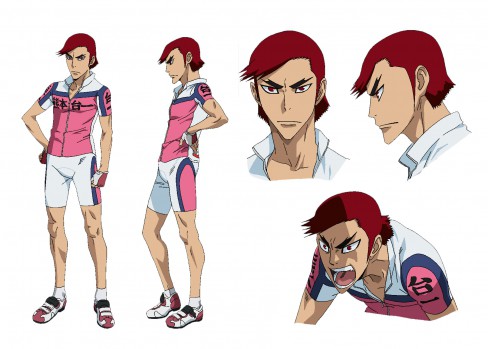 Mamoru Miyano (Free! - Iwatobi Swim Club, Tokyo Ghoul) is playing Shin Yoshimoto, the ace of Kumamoto Daiichi High School. He is a third-year Kumamoto Daiichi High School student who possesses a cheerful yet aggressive personality. He was not able to participate in the Inter High due to an injury, but he still has first-class legs honed on Mount Aso.
Text: Push the pedals
Text: The popular manga series with over 13 million copies in print is adapted to film
Narrator: There are things that are revealed when one pedals. There, there is hot, moving emotion.
Text on calendar: Kumamoto Tournament!
Narrator: There is also a story that no one knows about.
Text: The original creator Wataru Watanabe writes a new, original story
Narrator: Each of their feelings are accepted.
Text: "Become strong."
Narrator: Yowamushi Pedal: The Movie.
The original manga follows Sakamichi Onoda, an otaku at Sōhoku High School. He loves anime and games so much, that he would ride his commuter bicycle to and from Tokyo's Akihabara shopping district in a 90-kilometer (about 60-mile) round trip over steep slopes after school. Onoda's life changes when he encounters his school's cycling team, and he ends up joining the competitive sport of bicycle racing.
The television anime premiered in October 2013, and Crunchyroll streamed the anime outside of Japan as it aired. The first compilation film, Yowamushi Pedal: Re:RIDE, played in a limited two-week engagement from September 19 to October 2 in 10 Japanese theaters last year. It compiled the first half of the Inter High arc from the first television anime season with some cuts of new footage added.
The second season of the anime picked up where the first left off in the Inter High arc in October. A second compilation film titled Yowamushi Pedal Re:ROAD compiles the episodes from the second season, with new cuts of animation. The film will open in select Japanese theaters on June 12 for two weeks only. Its theme song will be "Believer" by Lastgasp.
Source: Comic Natalie
---