News

Ema Skye, Trucy Wright, More to Appear in Ace Attorney 6 Game

posted on by Sarah Nelkin
Nintendo
3DS game ships in Japan on June 9
---
Capcom's official website for its Gyakuten Saiban 6 (Ace Attorney 6) Nintendo 3DS game introduced four new characters for the game on Thursday. The characters include videos that preview the character.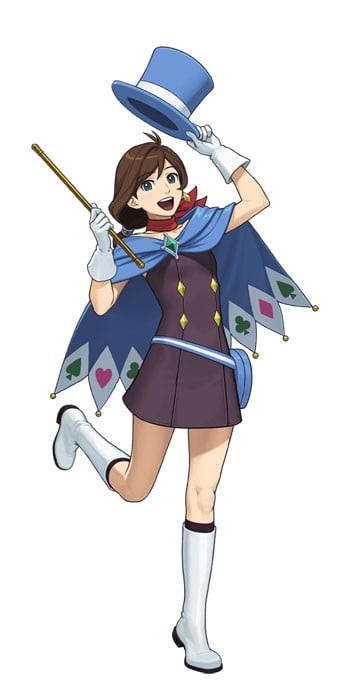 Minuki Naruhodō (Trucy Wright) (voiced by Chieko Higuchi)
An energetic and positive magician girl Naruhodō took in as his adopted child nine years ago. Her magic tricks consist of making things appear and disappear with her "Magic Panties," and ventriloquism with her humorous doll "Mr. Hat." She is now a full-fledged magician, and even has enough skill to be the star of her own magic show at a large venue. She shows off a shocking, large-scale magic trick at this performance. The character's video is located here.
Kokone: Minuki, show me the usual.
Minuki: Piece of cake!
Minuki: Please feast your eyes on the miraculous magic that can swallow up anything!
Minuki: 3, 2, 1... There!
Minuki: Minuki's underpants are galactic!

Akane Hōzuki (Ema Skye) (voiced by Marina Inoue)
A detective who has stood in the same court room as Naruhodō and Odoroki. She loves science and has been aiming to become a forsenic investigator since high school, but has failed the exam over and over again. However, she finally passes, and has reappeared as a full-fledged forensic investigator! She dives into the crime scenes with plenty of energy to spare. The character's video is located here.
Akane: Akane Hōzuki. I'm a forensic investigator.
Odoroki: Huh!? Akane, you became a forensic investigator!?
Akane: That's right! I finally made my dream come true!
Akane: Hey, look at this badge! That's proof that I'm a forensic investigator!


Mimi Nanano
A newbie magician who serves as a bunny during Minuki's act. She respects Minuki as a first-rate magician. The character's video is located here.
Mimi: Yes! Everyone in the courtroom! It's a pleasure to meet you all!
Mimi: I'm a bunny who came hopping over from the land of fairy tales! My name is Mimi!
Mimi: I'd like to show my magic to you all!

Kanenari Shinoyama
A famous producer from Nidomi TV. He appears on TV himself, drawing in viewers. He has an overblown, overconfident personality, but his skill is undeniable. The character's video is located here.
Kanenari: Hey! Wait up, kids!
Kanenari: Did something happen inside? I mean, it's just crazy they wouldn't let me in...
Staff: Oh, Producer Yamashino. There was an accident during the show.
Kanenari: Accident?? Oh, give me a break!
Kanenari: ...Come on, Mimi. Let's go. You have more filming to do, remember?
Mimi: Ah, yes! Mr. Lawyer, I'm sorry!
Kanenari: Well then, Mr. Lawyer, bye-bye! Catch ya later!
The game will ship in Japan on June 9, and it will retail for 5,800 yen (about US$51) for the package version and 5,546 yen (US$48) for the download version. Those who purchase the limited edition of the game will have access to two extra short stories in the game. One scenario will revolve around Phoenix Wright (Ryūichi Naruhodo) in Kurain, and the other will revolve around Apollo Justice (Hōsuke Ōdoroki) in Japan. Additionally, those who purchase the first copies of the game will get special costumes for Phoenix Wright, Apollo Justice, and Athena Cykes (Kokone Kizuki).
The game's theme is a "courtroom revolution." The game is set in a country called the Kurain Kingdom, a "country of mystery and faith." The game contains a "Courtroom of Resignation" where defendants are only told to give up, as the Kurain code of law decrees that the court needs no lawyers. The game will feature two protagonists: Phoenix Wright and Apollo Justice. While Phoenix's story will be set in the Kurain Kingdom, Apollo's story is set in Japan. The "Mood Matrix" system from the Phoenix Wright: Ace Attorney – Dual Destinies game will return in Ace Attorney 6.
Ace Attorney 6 is also in development for the West.
[Via Gematsu]
---