News

Kaiji Gambling Manga Gets Variety Program in December

posted on by Jennifer Sherman
Contestants to participate in "life reversal battles" to win money
---

TBS opened an official website on Friday for a variety program inspired by Nobuyuki Fukumoto's Kaiji manga. The program, titled Jinsei Gyakuten Battle Kaiji (Life Reveral Battle Kaiji), is slated to air at the end of the year.
Participants on the program will take on "life reversal battles" inspired by challenges in the manga. Some of the same games that appear in the manga will appear on the program. The website states, "Different from the original Kaiji, there is zero risk! Even if you lose a match, you will not be burdened with additional debt or take bodily damage." The program's set will also recreate the world of the manga.
The program plans to award the final winner 200,000 yen (about US$1,790) and money earned in games. The website states that participation is open to both "famous and unknown" people who are "dreaming of turning their lives around." An application is currently available through the website.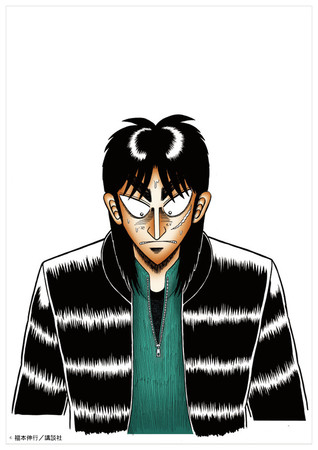 In the Kodansha Manga Award-winning story of the original 1996-1999 Tobaku Mokushiroku Kaiji series, a consummate gambler named Kaiji bets on games ranging from janken (rock-paper-scissors) and human racing to falling pachinko balls and two-player mahjong. There were three Kaiji sequels before Fukumoto launched Tobaku Datenroku Kaiji One Poker-Hen in 2013. One Poker-Hen ended in Kodansha's Weekly Young Magazine in September, and Kodansha shipped the 14th compiled volume on September 6. The original series has also inspired three spinoff manga.
In addition, Kaiji has inspired two television anime series and two live-action films with director Tōya Satō (live-action Gokusen, Gatchaman) and main star Tatsuya Fujiwara (Death Note's Light, Battle Royale's Shuya). Crunchyroll is streaming both anime seasons.
The Kaiji VR ~Zetsubō no Tekkotsu Watari~ (Kaiji VR ~Steel Beam Crossing of Despair~) PlayStation VR game launched in Japan on August 28.
Source: Comic Natalie
---