×
remind me tomorrow
remind me next week
never remind me
Subscribe to the ANN Newsletter • Wake up every Sunday to a curated list of ANN's most interesting posts of the week.
read more
RIGHT TURN ONLY!!
Black and White and Matsumoto'd All Over
by Carlo Santos,

Sometimes I think about
Beck
and wonder, "What if Koyuki had decided to take up classical guitar instead?" Then I stop thinking, because nobody would want to read or watch something like that anyway.
---
DEMON FLOWERS: KURUIZAKI NO HANA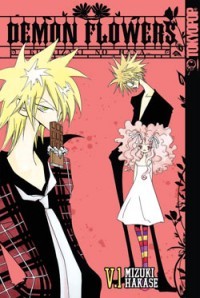 Vol. 1
(by Mizuki Hakase, Tokyopop, $9.99)
FROM THE BACK COVER:
"Long ago, when Japanese gods descended upon humans, their mixed offspring inherited supernatural powers ... and the name 'Kuruizaki no Hana.'
Now, those of the demon world are rising up to wipe out these offspring—led by the cool and confident assassin, Ushitora. He's worshipped as a deadly professional, but when he falls in love with one such gifted boy, Masato, everything changes. Ushitora betrays his people, sacrificing himself to a life on the run, in order to care for Masato and a spirited orphan named Nao.
From Mizuki Hakase, creator of
The Demon Ororon
series, comes a dark, chaotic drama about three lost souls in search of the true meaning of family."
EVIDENCE FOR:
If grades were given out for art alone, this would be an instant ace. The sharp, sweeping lines of Demon Flowers call to mind a fashion designer's sketchbook, except it's got a story to tell. It doesn't hurt to have a couple of
bishounen
in the cast, either. This stylish near-abstraction makes for fast reading, although strangely enough, it doesn't
feel
fast-paced—instead, the artwork just goes with the flow, moving effortlessly through Hakase's dreamlike worlds. Even violent scenes have a brutish elegance to them, as if someone had laid out the blood in the most aesthetic way possible. The story has a stylish subtlety to it as well; the setup may be supernatural, but most of the time is spent just getting to know the characters, looking at the relationships between Ushitora and his two adoptees. Given the subject matter, there could have been many ways for this story to fall into cliché: whiny brooding protagonist, pretentious demon mythology, overly flashy scenes of magical battle. But instead, this first volume sidesteps all that and gives us something like a strongly brewed cup of coffee: dark and bitter within, but with a deceptively soothing aroma.
EVIDENCE AGAINST:
Ah, if only this story had a little bit more substance to go with that style. Volume 1 gets off to a fast start, with Ushitora renouncing his assassin lifestyle within the first chapter—and then stops in its tracks and kills time for a hundred pages while Ushitora contemplates his past, Nao acts all
moe
-moe, and Masato ... plays piano. Or something. Their idyllic fugitive lifestyle makes for good character-introduction material, but it also means zero momentum and conflict until the plot picks up again in the last chapter. What are you going to do for half the book, just stare at the pretty pictures? In fact, even the artwork has its shortcomings, with its overwhelming flatness and whiteness—really, a little shading and toning never hurt anyone—and glaring lack of backgrounds. (Like we're really supposed to believe Ushitora and company live in a house in the middle of nowhere...) So be aware that the stylishness comes with drawbacks as well.
FINAL VERDICT:
It doesn't have to be all action, all the time. Getting to know some intriguing characters, at a gentle pace and in a fluid visual style, can be worth a decent
B-
.
---
SHUGO CHARA!


Vol. 2
(by Peach-Pit, Del Rey, $10.95)
FROM THE BACK COVER:
"Cute schoolgirl Amu has a secret: she has three magical companions. Only these enchanted Guardians know who Amu's true self is, and they'll do anything to help her unlock her heart! They're searching for a magic egg, a powerful weapon that could mean trouble in the wrong hands. To find this egg, Amu will have to change her life—and finally learn to be true to herself."
EVIDENCE FOR:
The best thing since
Sugar Sugar Rune
? Maybe not ... but it's damn close. With the main characters and plot now in place, Shugo Chara starts to hit its stride in this volume, exploring the idea of one's true self. See, Amu's mascot-powered transformations are more than just flashy costume changes—they're changes in personality, and she often wonders if it's a betrayal of herself to switch like that. Intriguing themes like these lay beneath the series' sparkly surface, and that kind of solid foundation makes for good storytelling all around. Even the simplest egg-rescuing mission can become a thoughtful reflection on friendship, dreams, and identity. And if that's not enough, just wait until the last chapter when the bad guys start moving and Amu gets into
real
trouble. A high degree of artistic polish really catches the eye, from the highly fashionable character designs to the multi-patterned backgrounds and borders. Emotion comes out strongly in the art as well, as the linework shifts from delicate and dreamlike, to cute and confident, to ominous and dark. This isn't just cheap eyecandy for grade-school girls—it's a genuine magical adventure, and one that means serious business.
EVIDENCE AGAINST:
Call it deep and intriguing if you like, but much of this volume is still spent in typical egg-of-the-week mode. Yes, it's true that Amu is exploring ideas of self and identity that go beyond that of the average magical girl—but she's still running around bashing evil spirit-things to help innocent citizens in trouble. Serious themes and plot twists could be right on the brink, but no, instead we have to sit through several chapters of repetitive, predictable story structure. And even then, the opportunities for developing other characters goes wasted—Amu spends plenty of time with the school's other students who also carry magical eggs, but instead of getting to know them better, it's still pretty much Amu in the spotlight. Everyone else just gets to play sidekick and show off their one-sided personality traits. Oh, and a warning on the artwork: May Contain Excessive Patterns And Tones. Although it doesn't interfere with the story flow too much, there are sparkles and hearts and random shapes on just about everything, making a lot of the pages look needlessly cluttered.
FINAL VERDICT:
True, the story's still bound by the rules of its genre, but it's clearly yearning to break free. With strong ideas and presentation, this one's an upward-trending
B
.
---
TEKKON KINKREET: BLACK AND WHITE

(by Taiyo Matsumoto, Viz Media, $29.95)
FROM THE BACK COVER:
"Orphaned on the mean streets of Treasure Town,
Lost Boys
Black and White must mug, steal and fight to survive. Around them moves a world of corruption and loneliness, small-time crooks and neurotic police officers, and a band of sadistic yakuza who have plans for their once-fair city. Can they rise above their environment?"
EVIDENCE FOR:
Some manga masterpieces play out like a full-blast symphony. This one, however, is more like a freewheeling jazz solo, herky and jerky and daring. Like the title suggests, it's a world full of black-and-white contrasts: brutal in its violence, but tender in its portrayals of youth and friendship; artistically raw and wild, yet poetic in those very same scenes. The story moves in an upward sweep, starting as a simple buddy-buddy action piece, growing into this gangland war, and ultimately becoming a reflection on the human soul and the choices we make. Protect the city's old ways, or make room for progress? Cling to childlike innocence, or open up to the harsh truths of reality? Matsumoto's distinctive artwork makes this an unforgettable visual experience, where children fly from rooftop to rooftop, and where those rooftops can change from moment to moment, where multiple scenes take place simultaneously just to keep up with the hectic pace of Treasure Town. Like
Michael Arias
says in the introductory interview, it's the city that becomes the true hero of this story. Oh, did we forget to mention the bonus interview with Arias (the Tekkon Kinkreet anime director)? Plus the dust jacket with reversible inside cover, the fold-out color poster, and the oversize page format? You're paying $30 and getting $50 worth of book. Instant bargain, instant masterpiece.
EVIDENCE AGAINST:
Matsumoto's style is not for everyone. Understanding the flow of this story can be challenging, with the hyperactive scene changes and the wonky, perspective-bending art. One moment it's Black and White having a chat, then the yakuza heavies are on the move, then Black and White are in the picture again—sometimes all in the space of a single page. Obviously, Matsumoto isn't interested in telling the story clearly or smoothly—he just wants to make the strongest impact (and most times, it works). The ending also gets a bit too Hollywood, with its awkward shift into an altered-reality, save-the-universe kind of deal. For the previous 500 pages, the whole story has been an urban tale of struggle and friendship, and suddenly it becomes a fantasy battle for one's soul? It's an amazing experience, no doubt, but not exactly a coherent one.
FINAL VERDICT:
Few things have ever been made of such pure art. This is self-expression at its finest, an eye-popping, mind-bending ride worthy of an
A
.
---
TSUBASA


Vol. 14
(by CLAMP, Del Rey, $10.95)
FROM THE BACK COVER:
"The odd group of dimension travelers arrives in a country full of magic seeking a book that may hold the key to finding one of Princess Sakura's powerful memory feathers. But the volume they need turns out to be a national treasure, off limits to the public. Now Syaoran, Kurogane, and the others must brave traps, ravenous beasts, and some of the universe's strongest magicians in order to steal the book. When it comes down to enchantments versus martial arts skills, can the team pull off the biggest caper of their career so far?"
EVIDENCE FOR:
Oh, CLAMP. Just when they've distracted you long enough with the Kurogane side story in Volume 13, here comes a balls-to-the-wall action arc that contains just about everything that's awesome about the series. Syaoran kicks and punches his way to that next feather, Fai whips out his knowledge of magic at all the right moments (perhaps too conveniently? Kurogane suspects something!), and of course,
Mokona
continues to be Mokona with comical taunts and quips. This is more than just fast-paced adventure—it's Tsubasa with afterburners on. Flashbacks to events all the way from Volume 1, as well as shades of conspiracy from behind the scenes, make this a very well-rounded volume. It's strongly focused on the main characters this time, and the overall plotline is definitely going somewhere. Of course, the artwork is a major contributor to this thrilling experience, with swirls and swooshes galore and some of the most beautifully imagined scenery yet. Seriously, that two-page spread of the magical library deserves to be framed, or something. And whoever thought of dressing up Syaoran in a newsboy cap—that's a genius stroke of cute and cool. For true CLAMP lovers, though, this volume's crowning moment comes in the final chapter, when a certain very popular and very unfinished series slides into the picture...
EVIDENCE AGAINST:
If Syaoran and the gang were going to pull off the greatest interdimensional robbery ever, couldn't they have made it more ... elegant? When he boasts about planning to steal the book, one almost expects some kind of slick
Lupin III
/Indiana Jones caper, but instead it ends up more like a brute-force romp through the library's magical defenses. It's still amazing to look at, and still a nonstop thrill ride, but it moves from point A to point B in the most linear way possible. Seriously, what kind of magical defenses don't even involve puzzle-solving at some point? Syaoran's climactic battle against the guardian beast is also kind of a letdown, being staged in a dull, unadorned area (what happened to the lavish library setting?) and finishing up too soon. It's also right around this point that everything gets overrun with swirls and speedlines and debris, and the artwork loses its dramatic effect, turning this great adventure into just another noisy fight comic.
FINAL VERDICT:
It's a little too plug-and-play, but this volume is so thrilling, so cohesive, and so beautifully cliffhangered that the only proper reaction is an
A-
.
---
YAKITATE!! JAPAN


Vol. 7
(by Takashi Hashiguchi, Viz Media, $9.99)
FROM THE BACK COVER:
"England. France. Germany. What common thread binds these three nations together? Answer: each is famous for producing unique, distinctive, delicious bread. But what of the island nation of Japan, home to rice and delicacies of the sea? Is there not a doughy, gastronomic delight they can claim as their own? The answer was no... until now! Kazuma Azuma, a 16-year-old boy blessed with otherworldly baking powers, has taken it upon himself to create Ja-pan, the national bread of the land of the rising sun!
The main competition in the Pantasia Rookie Tournament is finally over with Kazuma coming in first and pulling off a mind-blowing upset for Tsukino's South Tokyo Branch. But wait, what of Kazuma's rival/baking brother-in-arms Kawachi? Not content to simple sit on the sidelines, Kawachi challenges the dangerous and deadly Kai Suwabara for the third-place title. Suwabara claims that he can bake a French bread that's so good it literally dances. Can Kawachi counter Kai's terpsichorean treat with a loaf of bread that sings?"
EVIDENCE FOR:
For some readers, the best thing about this volume is obvious: the Pantasia Rookie Tournament is finally over! As fun as the tournament was, it's good to see the story move in a new direction from this point, because that arc was seriously starting to drag. Still, Kawachi's match provides plenty of the usual fun and action: competitive spirit, wacky judge reactions, and ridiculous yet fascinating bread trivia. The middle of the volume, meanwhile, is a nice change of pace as it digs into more serious territory—the Pantasia ownership rivalry between the three sisters, a company takeover plot, and a changing of the guard at the South Tokyo branch where Kazuma works. The storyline's getting deeper, and so is the competition: the later chapters see Kazuma and friends head off France for more training and another contest, which provides plenty of new opportunities for the series' trademark humor and silly puns. Hashiguchi delivers it all with his usual clean, confident artwork, which gets detailed when it needs to be (usually in big crowd scenes) and nails the timing on just about every visual gag. Kawachi with an afro? Still funny after all this time.
EVIDENCE AGAINST:
Someone's got to have the guts to say it: this is the weakest volume of Yakitate!! Japan so far. It only catches the tail end of the Pantasia Tournament, and there isn't enough time to really get into the France/Monaco arc after all the plot development in the middle. True, the corporate intrigue helps to thicken the storyline, but it's presented in a suspenseful and serious manner, with little of the energy and humor that makes the series so much fun. The money-wrangling ways of Shigeru (Pantasia South Tokyo's newest employee) seems particularly out of character, considering that the tone of the story is supposed to be about the obsessive joy of baking bread. Once they get to France, the culture-shock humor and training portions eat up too much time, and the main characters don't get to start preparing for the international competition until the last couple of chapters. So that's basically the problem: not enough excitement and fun, too much plotting and preparing. Heck, there's not even that much bread trivia this time. Seriously, when I read a bread-baking manga, I want to see some bread being baked, not corporate bakeshop wars.
FINAL VERDICT:
Considering the high standards set by this series, it's a shame to see it drop in quality because of a storyline shift. Just let it go with a
B-
for now and hope that things pick up again next volume.
---

VAMPIRE KISSES: BLOOD RELATIVES


Vol. 1
(by Ellen Schreiber and rem, Tokyopop, $7.99)
FROM THE BACK COVER:
"The absolute last thing goth-girl Raven and her vampire boyfriend, Alexander, need is another hitch in their nighttime-only romance—but dark trouble hovers on the horizon when Raven and Alexander discover four freshly dug graves filled with empty coffins. When a crew of sketchy vampires takes up residence in Dullsville's lonely graveyard, Alexander finds this motley bunch led by his very own blood-sucking cousin, Claude Sterling. Shocking! Claude and his creepy crew can only spell out more problems for the pair, especially when Raven finds them in daylight in the very last place she could ever imagine. What could Claude and his invaders be doing—or searching for—in Dullsville?"
EVIDENCE FOR:
It's too bad this volume went to the presses before they could slap
"illustrated by the winner of the 2007 Kodansha International Manga Award"
on it. But even this
franchise
-based quickie (100+ pages) puts rem's considerable talents on display, with her mastery of atmosphere and expression elevating some typical teen fare. Strong contrasts and shades of black accentuate the series' more gothic moments, and the artwork's crisp lines and twists of perspective also add dramatic flair. The detail in the character designs is also a delight—here's someone who clearly loves to play illustration dress-up—and you only ever need to look at their faces once to know exactly how they're feeling, whether it's fear, anger, love, or amusement (and there is indeed a light sense of humor to go with the dark themes). The actual story has its strong points too, mostly in Raven and Alexander's dealings with dark forces—flip to any of the graveyard scenes and watch the suspense as they try to unravel past mysteries and escape supernatural dangers.
EVIDENCE AGAINST:
Oh wow ... I think I just realized why horror is my second most hated genre after fantasy. When it's good, I'll gladly praise it, but when it's cut out of cardboard, painted by numbers and completely mailed in, it is absolutely maddening. The setting of the Vampire Kisses universe is absolutely crawling with irksome clichés that are probably awesome when you're 13, but pure Kryptonite once you're old enough to write reviews for a website. Let's see, cheesy self-descriptive town name? Check. Pretentiously named lead character and wish-fulfilment stereotype to go with it? Check. Idiotic prep-goth high school dichotomy, unlikable best friend, and aesthetic sensibilities stolen from Hot Topic? Gyah! There isn't enough room in the back of a human skull for the level of eye-rolling that this deserves. It's kind of sad to see a talented comicker wrangled into doing work-for-hire for My First Anne Rice or whatever the hell kind of pop-lit this is. Please, Kodansha, hurry up and publish those international contest entries so we can see what a winner really looks like.
FINAL VERDICT:
There's some slick artwork and suspense to be had, but enjoying it will require an incredible tolerance for faux-horror clichés, or perhaps, the naïveté of youth.
---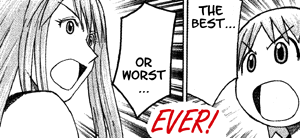 Here's another one of the all-time greats! Strap yourselves in for a journey of discovery with one of the
Best Manga I've Ever Read:
THE MUSIC OF MARIE

(by Usamaru Furuya, Gentosha, ¥1200 ea.)
The Music of Marie is one of the most beautiful works of art ever made. Period. There are many manga-ka out there with top artistic skills in certain areas: great character designers, great background artists, great line-and-inkers, great shaders and toners, great layout artists—but only Usamaru Furuya brings it together at every level. Marie is a complete triumph of the imagination, with its breathtaking landscapes, colorful societies, and steambaroque (cogs and gears, curls and swirls) sense of technology. With so much detail and richness in every panel, it's instant visual ecstasy; Furuya may be the only artist alive who manages to out-Miyazaki Miyazaki.
But what of the story? Set in a distant retro-utopian society, this two-volume piece tells the tale of a boy named Kai who possesses extraordinary hearing—so much so that he can hear the cosmic "music" emanating from Marie, a giant mechanical goddess that orbits over the land. Kai's longtime friend Pipi is in love with him, but it looks like she can never overcome Kai's unique fascination with the goddess. Thus begins the challenge of understanding Kai ... and even Kai doesn't quite understand himself. The characters are few and the storytelling is straightforward, but it's still a deep and thoughtful work, one that muses on ideas of technology, culture, love, and most interestingly, religion. This isn't the stereotypical "dress up as priests and fight supernatural powers" kind of religion, either; Furuya has built a world where every aspect of society is uniquely developed. In Kai's town, technological achievement is seen as a form of worship, with Marie as its central deity. As his connection with her deepens, so does the philosophy behind the story. Is he having a relationship with a machine? Is he having a relationship with a god?
It's as if all the things we know in the real world—science, commerce, culture—have been distorted through a lens to create something strange yet beautiful. Perhaps, for us mere mortals, this window into Furuya's imagination is a sacred experience in itself.
---
discuss this in the forum (31 posts)
|