×
remind me tomorrow
remind me next week
never remind me
Subscribe to the ANN Newsletter • Wake up every Sunday to a curated list of ANN's most interesting posts of the week.
read more
The X Button
Saber Rattling
by Todd Ciolek,

There'll be no X Button next week, since I'm taking a vacation. But don't worry. I'll make sure that my next column covers all of the important video-game sights in my hometown of Dayton, Ohio! I might not be joking, either. I'll have to see if Vacs 'N Videos is still open. Where else can you buy old Sega Genesis games and get your Bissell wet-dry repaired in one convenient stop?
In the meantime, we can enter Capcom's Mega Man Legacy Collection Contest. The anthology will arrive on the 3DS next year, and the Mega Man Amiibo trinket will unlock ten fan-created challenges, the winners of a contest currently underway. Fans have until September 25 to submit their ideas by splicing together ten sections of various Mega Man games.

I'm going to suggest a challenge consisting entirely of those empty rooms that regularly appear in Mega Man levels and do nothing more than provide momentary respite from the attacking robot hordes. It will convince the world that video games, or at least Mega Man games, are true art.
NEWS SPECIAL: THE REST OF THE TOKYO GAME SHOW
KARIN KANZUKI JOINS STREET FIGHTER V, CACKLES ABOUT IT
Speaking of contests, last year I ran one that asked readers to vote for their most-wanted characters in the new Street Fighter games. The top choice? Karin Kanzuki, the haughty, extensively curled rich-girl rival of scrappy schoolgirl Sakura. Clearly Capcom was motivated by the X Button's vast influence, because Karin is the latest addition to Street Fighter V.

Of course, Karin got in because she's a persistently popular character and one of the few Street Fighter Alpha regulars who hasn't reappeared in Street Fighter IV or V. Technically, she's the creation of Masahiko Nakahira, having debuted in his Sakura Ganbaru! manga, but that makes little difference to Capcom. Karin's in Street Fighter V, her wardrobe having switched to full tights and frilly long sleeves instead of the Sakura-like attire she wore in Street Fighter Alpha 3. She still laughs obnoxiously and pounds her opponents with enhanced versions of her Alpha 3 moveset, completely with Street Fighter V's rainbow contrails and flashes.

I'm glad to have Karin back in Street Fighter, but two things bother me. I generally don't mind the visual style used in Street Fighter IV and V. The big hands and exaggerated physiques are cartoonish and verge on the grotesque, but they make the characters unique without running into the not-quite-there attempts at realism that make so many big-budget games age rapidly. Karin, however, is the first one that looks awkward in the Street Fighter V fashion. It's at odds with her hand-drawn Alpha 3 version, which made her a petite contrast of dainty Nellie Oleson ringlets, elegant posturing, and vicious multi-hit punches. The new version of Karin looks outsized and drained, like she's in Rule of Rose or a Silent Hill game.

Secondly, Karin just isn't the same without Sakura, and Sakura might not make it into Street Fighter V. The game will have sixteen characters at launch, and that leaves four remaining slots—two of them for all-new characters. Sodom is a likely choice for one of the returning spots, as he's the only Alpha character who hasn't shown up in Street Fighter IV or V (not counting Eagle, Ingrid, or the perpetually underrated Maki). The other familiar face? Probably Blanka, Alex, or Urien, if rumors are true. Sakura could make it in as a later DLC character, but that goes for just about anyone.
NI-OH IS REBORN IN SEVERAL WAYS
Ni-Oh appeared long dead. Koei announced it back in 2004, envisioning a Sengoku-era RPG based on an unfilmed Akira Kurosawa script called Oni. Then problems set in. A companion film, one to be directed by Kurosawa's son Hisao, never materialized, and neither did Koei's game. Over ten years later, Koei is now Koei Tecmo, and Ni-Oh is now a PlayStation 4 action game in the works at Tecmo's Team Ninja.

Some things haven't changed. Ni-Oh is still set in the warring-states period, and its hero is still a blond samurai named William. He roams a demon-plagued land and uses a variety of weapons, most of them holding powerful spirits that can emerge during special attacks. The game also has an online element filched from Dark Souls; a player can see little sword cairns where other players died, and it's possible to trigger zombie battles by touching these remains.
Ni-Oh sounds like a pastiche of many games, Onimusha and Dark Souls chief among them, but it's visually striking and carries a pedigree rarely seen in games. After all, what was the last game that borrowed from Kurosawa's legacy?

Oh, that's right. Ni-Oh can only go up from there.
PERSONA 5 PROFILES PROVOCATEURS Persona 5 showed off a lot at the Tokyo Game Show: a new trailer, new details about characters, and a new delay. It'll now arrive next summer in Japan and later in North America, but its latest revelations are intriguing. The trailer shows its teenage thief protagonists escaping a pyramid-filled desert, exploring mist-shrouded castles, and sneaking around a city where all sorts of inhuman ugliness lurks. Most intriguing are the paintings that apparently lead to larger worlds…including the Egyptian sands. It's like Super Mario 64 with more psychosexual demons!

After showing more rakish shots of the game's hero (above) and his masked comrades, Atlus also introduced the fifth member of the player's roguish troupe. Yusuke Kitagawa is an honor student and the apprentice of a respected painter, and he joins the player-named protagonist, the crass Ryuij Sakamoto, the semi-foreign blonde Anne Takamaki (she's one-fourth American!), and a cartoony talking cat named Morgana. The five of them band together to investigate twisted adults and force them to confess their crimes. I'm sure this somehow connects to demons, as is the wont of every Persona game, and the underlying theme of breaking apart society's constraints.

If it's hardly the first piece of the Shin Megami Tensei series to unfold in an urban setting, Persona 5 has a refreshing aura in its opening shots of red-skied cities and chases across glowing ballrooms and mystic galleries. I was hoping its playable cast would expand past the teenage element, as Persona 2 and Catherine did, but it might be enough if the Persona 5 leads at least act like adults.
KONAMI MIGHT FINALLY STOP MAKING GAMES, BUT NOT YET
Meanwhile, Konami spent the Tokyo Game Show fending off rumors that they've finally given up on interesting video games. For months Konami faced reports of draconian policies and general apathy toward the game industry, and the eve of the TGS brought about news of Konami scuttling every triple-A game series except for Pro Evolution Soccer. Then Konami circled around and assured inquiring fans that no no no, they're still planning new Metal Gears, Silent Hills, Castlevanias, and so on. They just didn't have anything to show at the Tokyo Game Show.
Konami still looks sickly. The producer of the company's Fox Engine, which powers the new Metal Gear Solid 5, is no longer with Konami, and bets are on as to how long Metal Gear creator Hideo Kojima sticks around. Konami now seems to be all about smartphone games, health clubs, pachislot diversions, and the unstoppable tide of Yu-Gi-Oh! merchandise.

Why do we still care? Well, Konami defined a good chunk of my childhood, or at least a good chunk of the section of it squandered on video games. Contra, Castlevania, and their sequels were mainstays of the NES. More kids knew the Konami Code than the Vice President's name. And we even liked Konami through its Ultra Games label, which the company instituted to pump out even more games under Nintendo's licensing rules. And if Konami had deigned to release Konami Wai Wai World (above) in North America, I'm sure many of us would've loved it.
Most of Konami's biggest series faded or fled a good while ago. Castlevania disintegrated, leading producer Koji Igarashi to Kickstart his new Bloodstained series. Suikoden slid into mediocrity years ago, and it was never the same after the second game, anyway. Contra and Gradius petered out, but they inspire plenty of shooters today. Silent Hill trudged through middling installments, and it may well re-emerge once Guillermo Del Toro picks up the pieces of his P.T. demo and tries to make a survival-horror game by another name. Metal Gear is the only piece of Konami's garden still growing, and it seems like Kojima is getting tired of the series.
So if Konami finally confirms that they'll cease working on big-budget games, it won't be like coming home and finding a new hamster dead in its cage. That hamster was very old, kids.
CROWFUNDING FILES: CHASERS, RIDERS, CROSSES
BATTLE CHASERS
Status: Funded
Platforms: Xbox One, PlayStation 4, Windows, Mac
Ends: Saturday, October 10
Joe Madureira's Battle Chasers comics made it abundantly, painfully clear that their creator loved video games. Madureira emerged as a standout artist by bringing a manga flavor to X-Men and Spider-Man, and on his own he devised a big fantasy saga that scavenged anime, manga, and games even more. The references in Battle Chasers are all about, from the wargolem Calibretto's resemblance to Chrono Trigger's Robo and Darkstalkers' Huitzil to the fact that the preposterously top-heavy rogue Red Monika had sidekicks named after Capcom artists Bengus and Akiman.
Original or not, Battle Chasers might've succeeded if it had gone someplace. New issues were delayed so much that fans accused Madureira of spending more time playing games instead of drawing comics, and the series stopped after nine of them.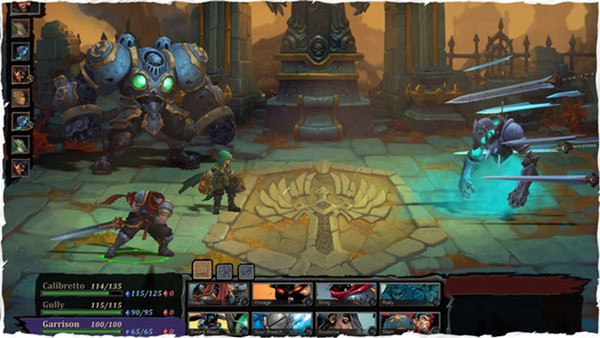 Well, Madureira now wants Battle Chasers to be the video game he probably intended from the start. Having designed characters for Darksiders and the never-made Dragon Blade, Madureira is working with Airship Syndicate on Battle Chasers: Nightwar, an RPG in the vein of classics like Chrono Trigger. The player's party includes the major characters from the comic: Gully and her huge combat gloves, Calibretto and his built-in weapons, Garrison and his generic Berserk-ish huge sword, Dholan and his old-guy sorcery, and the devious, still-overstacked Red Monika. They're exploring a region called the Grey Line, and its dungeons are hostile depths where defeat robs the player of everything except characters' equipment. Battles run on initiative meters, blue and red mana stockpiles, and random effects. It may turn out to be a satisfying RPG—so long as the story actually gets underway.
Battle Chasers: Nightwar may be long overdue, but the developers have a lot to show for their Kickstarter. We even get samples of the animated cutscenes that'll pop up during the game. Running on that promise and the unfulfilled curiosities of Battle Chasers fans, the Kickstarter already passed its funding. The stretch goals even include a new party member, who I trust will be named after another Capcom artist. "Kinu" has enough of a fantasy ring.
CROSS FATE
Status: Unfunded
Platforms: Windows, Mac
Ends: Wednesday, September 30
Tactical RPGs with branching storylines and other visual-novel conventions? We have plenty of 'em. Tactical RPG visual-novel hybrids with combat mecha? Not so many of those. In that light, Studio XF8's Cross Fate fills a niche rarely paid attention outside of Sakura Wars or maybe Baldr Force, neither of which comes to North America very often.

Cross Fate unfolds in a spacefaring future, with the player cast as the commander of a unit out to recover a secret weapon. The characters are a round of career military brats, young geniuses, and former street orphans with names like Natalie Axelle and Ikarane Delerin (the spunky lower-class Jaqueline Smith even works at a burger joint). They chat in little scenes with dialogue boxes and cutout portraits, and the game ropes in voiceover work, including Mike "Dr. Eggman" Pollock for a narrator. The battles pit Variable Troopers against each other in 3-D environments, and the machines are customizable little robots that look like Gundams and Layzners and other anime-esque mecha shrunk down to Medabots proportions.
It's not a bad attempt, but Cross Fate stands well short of its goal with only a week to go. Is it the primitive battle scenery? Is it the slightly awkward look of some of the character portraits? Or is this just one of those projects that doesn't stand out from the big-name pitches and the unmitigated train-wrecks?
SABER RIDER AND THE STAR SHERIFFS
Status: Unfunded
Platforms: Nintendo 3DS, Windows, Mac, Linux, and Dreamcast
Ends: Monday, October 5
In terms of long-running ambitions, a game based on the Saber Rider and the Star Sheriffs anime series is hard to top. Project lead Chris Strauss dreamed it up over ten years ago, and it went through at least two failed attempts. A side-scrolling DS game shown in 2011 fizzled as Firehazard studio broke up and Turrican designer Manfred Trenz left the project, and a more recent 3D shooter similar to Sin and Punishment went further along before it fell apart.
"We got into talks with a German publisher," Strauss said. "Talks went ahead and everything looked good, until they backed out at the last minute. Later we found out that they went bankrupt and the 3D version never happened. Soon after this, the games business changed very much towards indie development and so on. Kickstarter is almost standard today."

The Kickstarter is the boldest move yet for Strauss and his team. Their Saber Rider game is back to its roots of side-scrolling action games, promising a 16-bit atmosphere that emulates Sunset Riders, Contra, and other esteemed shooters. Twelve stages are planned, all four Star Sheriffs (including April Eagle) will be playable, and the game will offer shooter interludes and first-person boss battles against giant Renegade mecha. Even in the primitive mock-up shots, it looks like the game that every Saber Rider and the Star Sheriffs fan wanted back around 1993.
Yet it's a suspiciously large project, considering its funding goal. Its primary platform is the 3DS, but it's also planned for the PC, Macs, Linux, the Dreamcast, the PC Engine/TurboGrafx-16, and, should enough money roll in, the Wii U, the Xbox One, the PlayStation 4, and the Super NES. Some of the other stretch goals are modest, including the original German voice cast and some new lines from Peter Cullen, but the project also aims to craft an Amiibo version of the main Ramrod mecha.

This isn't the first time that the project looked to crowdfunding. According to Strauss, the 3D version of the Saber Rider game took in about $10,000 through a German campaign. While the English section of the current Kickstarter doesn't mention the former funding, the German translation does.
"It basically says that all the supporters from back then are automatically involved in the new Kickstarter," Strauss said. "They get their game and the new rewards based on what they gave back then. To include them was important to us. To ignore them would have been very unfair! After all they were the first to believe in our project. Now that the game finally can be a reality on Kickstarter, we want to share this with them too."
ALSO RUNNING:
Tiny and Tall: Gleipnir picks a very important piece of Norse myth. It's not Ragnarok, Odin's vision quest, or that story where Thor dresses up as a blushing bride. It's the tale of the dwarves who forged Gleipnir, the mystical chain that binds the wolf Fenrir (a.k.a. Fenris). Pins' adventure game tracks two dwarven smiths on their quest for Gleipnir's rare and bizarre components, and it looks like a charming take on a relatively depressing stretch of Norse legend. You know, Fenrir was just a bigger, meaner version of that pet rabbit no one wants around three months after Easter.
The realm of first-person survival horror gets two interesting Kickstarters this month. Gray Dawn is the visually impressive tale of a priest investigating the death of an altar boy and the exorcism around it. Allison Road, apparently unrelated to the Gin Blossoms single, is starkly reminiscent of Hideo Kojima and Guillermo Del Toro's aborted P.T. demo.
Years ago, when the My Little Pony: Friendship is Magic craze was new and inexplicable, a bunch of fans began making a 2-D fighter with the show's pastel horses. Hasbro gave them the ol' cease-and-desist, but the team put a lot of their work into Them's Fightin' Herds, a fighting game featuring characters and a world designed by Friendship is Magic producer Lauren Faust. It looks colorful and inventive, partly because it's among the rare games where you can play alpaca, deer, and sheep.
And if you want some crowdfunding controversy, I suggest the Retro VGS, a console that offers cartridge-based games free of online interference (or bug fixes, for that matter). It's built with the same casing as the ill-fated Atari Jaguar, and most of the games are either available elsewhere or just unimpressive. An experienced game-system hobbyist posted about his unflattering experience with the project's organizers, and his impressive solo efforts drew bitter ripostes from the Retro VGS organizers on their Facebook page. Much like the Atari Jaguar that this new console resembles, the campaign is a mess.
Meanwhile, the Unsung Story Kickstarter has backers in a fuss. It isn't so much the game's delay from 2015 to June 2016; Kickstarter backers expect those by now. It's the game's apparent switch to a player-versus-player approach. Playdek rolled out the Kickstarter with a promise that Yasumi Matsuno, of Final Fantasy Tactics and Tactics Ogre fame, would write a strategy-RPG full of medieval plottings and borderline unpronounceable names. The Kickstarter wavered on just how involved Matsuno would be, but most who backed it figured that, at the very least, they'd get a strategy game with a strong, Matsuno-scripted storyline. Now Playdek revised the game so that it'll debut as a PvP beta, with single-player campaigns following. Amid backer complaints and demands for refunds, Playdek hastily assured us that the game will remain a narratively vital strategy game—and insinuated that no one's getting their money back.
I'm not calling for Playdek to return my contribution just yet. I don't see any other Matsuno-affiliated RPGs these days, so I'll stick with the project a little longer. But this bait-and-switch doesn't sit right.
NEXT WEEK'S RELEASES
PERSONA 4: DANCING ALL NIGHT

Developer: Dingo/Atlus
Publisher: Atlus
Platform: PlayStation Vita
Release Date: September 29
Labrys: Still Ignored
MSRP: $49.99 / $79.99 (special edition)

Enjoy this last crossover hurrah, Persona 4. By this time next year we'll likely have Persona 5, and then it'll be the one to spin off into fighting games, dungeon crawlers, and ridiculous dancing games. Of course, most of those offshoots are likely to include the Persona 4 characters, and Atlus will probably put out another Persona 4 remake, where you finally have the option of playing as a heroine, at the game's tenth anniversary. But don't get a big head over being the most popular branch of the Shin Megami Tensei tree, Persona 4.

Silly as it may seem, Dancing All Night goes through the trouble of sticking itself into the series plotline. About a month after the events of Persona 4, rumors once again purport that a strange video, this one on a website, sweeps its viewers off into oblivion. Its first victims appear to be the Kanamin Kitchen pop singers, friends of Persona 4 singer/detective Rise Kujikawa. The ensuing mystery ensnares Rise, Yu, Chie, and the rest of the Persona 4 teenage sleuths, leaving Yu's uncle Ryutaro, his cousin Nanako, and Rise's idol compatriot Kanamin to figure out just where everyone went.

Dancing All Night is a rhythm game, naturally, and it finds characters strutting to nearly thirty tracks, including Persona remixes and all new Shoji Meguro songs. Gameplay puts the Persona 4 heroes in dance battles against shadow entities, and it's accomplished by matching button presses to the on-screen cues and underlying beats. It's a game unashamed of nonsense, whether it's the bearlike spirit guide Teddie posturing in a leisure suit or Yu's robo-demon Izanagi avatar rocking out on an electric guitar. Multiple costumes await for every character, and the game stars the main cast of Persona 4 as well as supporting characters Nanako, the otherworldly Margaret, the all-new Kanami, plus downloadable extras like Tohru Adachi, Marie, and Hatsune Miku.

There's a story mode as well as a free-dancing mode, complete with voice acting. Some fans are harshly disappointed that Laura Bailey isn't voicing Rise for Dancing All Night. Personally, I'm more dismayed that Atlus continues to neglect Labrys from Persona 4 Arena in all of these spin-offs, perhaps due to petty timeline issues. But I stand alone there.
ALSO AVAILABLE:
Final Fantasy isn't the only series permitted an apparent belief in awkward numerology.
Samurai Warriors 4-II
expands on
Samurai Warriors 4
with countless additions. Some are major, like the 13 new storylines for characters or the Endless Castle modes, which combine various challenges with sheer tests of survival. Other changes are minor, like new Awakening skills or customizable mounts. It's out for the PlayStation 3, PlayStation 4, PS Vita, and PC, but only the PS4 edition comes in a special set with a wallscroll, soundtrack, and artbook. Oh, and a box to hold 'em.
There are many, many good PlayStation titles available on the Japanese PSN but absent on the American side, and the two Mega Man Legends games are chief among these unjust exclusions. They're fantastic games that always deserved more attention, and the PlayStation Network would be the perfect ground for introducing them to more players. Well, that's no longer a problem for Mega Man Legends. It'll hit the PSN, with PlayStation 3 and Vita compatibility, on September 29 for $9.99. That's more than the PSN version of the spin-off The Misadventures of Tron Bonne, but less than you'll pay on eBay. And what about Mega Man Legends 2, which is steadily climbing from excessive to ridiculous in the eBay pricing hierarchy? Well, I suggest buying the first if you want the second.
---
---
discuss this in the forum (27 posts)
|
this article has been modified since it was originally posted; see change history