This Week in Games - Technical Failures
by Heidi Kemps,

Another fairly low-key week here at TWIG, so I'm going to use this opportunity to talk about old games. And by old games, I mean really old games.

Like, Donkey Kong 3 level old.

Donkey Kong 3 is a pretty radical gameplay departure from the first two games: it has a lot more in common with Namco's Galaga. Because of this, it's often considered the black sheep of the Donkey Kong series… even though, taken on its own, it's a pretty fun little game. I mean, how many opportunities do you have to play a greenhouse employee blowing bug spray up Donkey Kong's taint?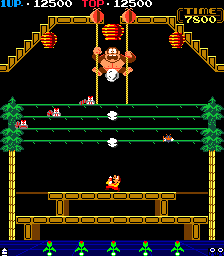 The reason why the gameplay shifted so dramatically becomes a bit more apparent once you read about the legal issues Nintendo had with Donkey Kong programming contractor Ikegami Tsushinki. It seems like Nintendo just wanted to wipe their hands of the whole mess and make a drastically different Donkey Kong game completely free of any of Ikegami's influence, and they certainly succeeded. (The legal wrangling is also why we're unlikely to see a re-release of arcade Donkey Kong or DK Jr.)
Why do I bring this up? Well, a very interesting little historical artifact was just released to the internet. See, the late, great Hudson Soft and Nintendo had a very cozy relationship in the mid-80s: Hudson was the first licensee to make games for the Famicom, and they also secured the rights to do ports of Nintendo games to existing Japanese PCs of the time. But the PCs of the day lacked a lot of the specialized hardware that made arcade and Famicom games unique, so Hudson often had to compromise to get the games onto these systems. This resulted in legendary disasters like Super Mario Bros. Special, but also some really interesting ports that take Nintendo properties in unexpected new directions.
This game that was found, dumped, and released online is called Donkey Kong 3: The Great Counterattack for the Sharp X1. It's based on Donkey Kong 3... but it's utterly bizarre. As Stanley the Bugman, you're stuck on a single plane (instead of arcade DK3's multi-tiered levels) booty-blasting a balloon-bound DK and bountiful bombadier bugs because of… reasons, I guess? Also, as the levels progress, the areas you fight in get really, really weird, taking you on a true journey of over time and space.



I don't think I realized this until now, but I love this sort of strange, surreal reimagining of a classic game. Can we get more reimaginings of classic arcade games with this sort of aesthetic? It's amazing.
THE YAKUZA 6 DEMO IS OUT… WAIT, whoops
I will never understand why companies think that releasing a "demo" with the content of the full game, only locked after a certain point, is a good idea. Not only is it a tremendous waste of bandwidth and space, clever jerks have proven, time and time again, that they can find unintentional exploits to get past the programmed-in walls and enjoy the rest of the game for free. It's happened since the days of floppy disk PC shareware and it's never stopped.
Oh, the Yakuza 6 demo came out on PSN yesterday. Guess what Sega did?
Yup, the "demo" was all thirty-six gigabytes of Yakuza 6, only designed so that people couldn't progress after a certain point. Well, guess what – they found a way around that, and once the exploit began to spread, Sega acted quickly to take the demo down from PSN.
On the one hand, I'm annoyed that Sega didn't realize that people would look for exactly this kind of exploit, given the long history of these things. But I'm also irritated that people are either bragging about getting a "free game" and/or moaning about not being able to download it in time, because the Yakuza series is fantastic and deserves all the monetary support we can give it. Sadly, I feel like the lesson Sega will take away here won't be "don't just wall off the full game because jerks will find exploits", it'll be "don't release demos because people are jerks." Sigh.
CHRONO TRIGGER HAS A SURPRISE STEAM RELEASE… Oh…. Oh no :(
Nothing gets RPG nerds into a tizzy like the mere mention of the words "Chrono Trigger." It's a game that's beloved by practically everyone and has held up spectacularly over time – yet, after the incredibly divisive sequel/fanfiction Chrono Cross, Square-Enix has done practically nothing with it aside from a DS remake with some forgettable additions.
So when a Chrono Trigger Steam release got a surprise announcement, the internet practically exploded in a frenzy of retro-fueled joy, eager to once again buy and experience a classic RPG.
That didn't last long.
Yes, Square-Enix just haphazardly re-ported a mobile port and plopped it onto Steam yet again. This after the Steam ports of Final Fantasy V and VI got a lot of backlash for doing the exact same thing. As expected, the initally excited internet did not react well to this revelation.

Honestly, I don't understand S-E's approach to classic re-releases at all. Chrono Trigger gets a lousy mobile port to PC, Secret of Mana gets an unnecessary 3D overhaul… but then again, Final Fantasy IX got a really nice PC and PS4 version with a bevy of significant improvements, and FFXII Zodiac Age's fantastic revamp is exemplary. The quality of these reissues is all over the damn place, and that's why it's incredibly frustrating.
FIGHTING GAME INFO ROUNDUP: IVY SWINGS BACK INTO SOUL CALIBUR VI, MORE FIGHTING EX LAYER DETAILS COMING, ALSO HORSIES
New about the highly-anticipated Soul Calibur VI continues to trickle out at a steady flow. Recently, we had the not-at-all-surprising return of be-hooded, scythe-wielding Zasalamel and the sultry, sexy Ivy to the game's cast. Both of the characters look… well, pretty much how you'd expect. There's not many surprises here in how they look and play, but it's great that they're returning nevertheless.
Still, I wonder if Ivy's going to have a less revealing 2P outfit like in the older Soul Calibur games, or if they're going to go the more SCV route and show off her skin in a different way. Either way, here's hoping that her return forces the jerks at the Soul Calibur wiki to stop deleting the most important page on the site.
Meanwhile, developer Arika held a special stream related to Fighting EX Layer earlier this week, revealing the full character model for Blair Dame, showcasing the artist formerly known as Cracker Jack, and teasing Shadowgeist.
Fighting EX Layer is slated to be a digital-only release for now, with single and multiplayer modes (though the single-player mode won't be an elaborate story mode – probably just a simple vs. CPU arcade mode). It will come in two editions: a $40 "lite" version that includes 12 characters and a limited selection of five Gougi skills decks for the fighters to select from, and a $60 "standard" edition with 15 Gougi decks and an additional character, Hokuto. Buyers of the cheaper version can download additional Gougi decks as DLC. In addition, there will be color packs for each character as one-time DLC purchases. There's a lot more info in the stream I linked (which is in both Japanese and English, so I really recommend checking it out.)
My feelings about the game and DLC announcements are a bit mixed. Arika displayed a lot of openness and honesty on their stream, explaining that they are a small developer and making a fighting game that's not based on a huge existing franchise is really tough and risky and that this is the way they feel they can best sell and support the game. But will consumers already soured by lousy DLC practices listen? DLC Gougi calls to mind the gems from Street Fighter X Tekken, and bitterness over that game's DLC scheme helped cement its initial poor reputation, Now we've also got controversy over Blazblue X Tag Battle's DLC scheme causing further annoyance. It just seems like a very bad time to announce anything DLC-driven, even if it's clear that Arika just wants to make a fun old-fashioned fighting game, gosh darnit.

Unrelated to all of that, though, I'm annoyed at Blair Dame's face. It's far too cute-looking compared to her older, more hardassed appearance and doesn't really fit her physical build well. If we can get Chun-Li a facelift in Marvel vs. Capcom Infinite, certainly we can convince Arika to fix Blair, right? Right?
Finally, there's a bit of news related to Them's Fightin' Herds. Never heard of this game? Well, it's the result of many long years of development from a group who was originally making an impressive-looking fangame based on My Little Pony: Friendship is Magic. Of course, when outlets began running stories about the game, the lawyer crew at Hasbro came down hard, forcing them to drop the colorful horses. After that, original Friendship is Magic creator Lauren Faust stepped in to create some original character designs for them to use, and the Lab Zero crew let them use elements of the engine they had made for Skullgirls. Even with the help, however, it took the team five years to see Them's Fightin' Herds to Steam early access, which should give you even more of an idea of just how challenging fighting game development can be.
Why do I bring this up? Because this scrappy little game's been getting a lot of love and support from other devs in the fighting game sphere. Lab Zero prepared a bunch of Skullgirls-themed costumes for the hooved combatants to use, while Arc System Works has given them some adorable little outfits based on popular Guilty Gear and Blazblue characters. It's nice to see larger, more established developers give support to smaller games, even if it's just letting a llama dress like Jin Kisaragi.
INTERVIEW: SNK ON SNK HEROINES: TAG TEAM FRENZY
SNK's been pretty busy lately. This year marks their 40th anniversary of SNK's inception, and one of the games they're working on to celebrate their legacy is SNK Heroines: Tag Team Frenzy, published in North America by NIS America. We had the opportunity to ask the developers a handful of questions about the upcoming title.
What was the idea behind SNK Heroines? Is it directly based on SNK Gals Fighters?
Yasuyuki Oda, Producer: This concept came from wanting to create a new title using the female characters of SNK, who are very popular. It's not a true sequel to Gals Fighters, but you could call it a spiritual successor.
It looks like dress-up will be a big part of the game. How are you designing the character outfits? Can you tell us how players will earn the various customization options?
Oda: The costumes in this title are ones that some characters don't want to wear, or are maybe embarrassed to wear. Play the main story of the game to find out why!
Kaito Soranaka, Director: By battling, you can acquire in-game currency. You can use that to buy items you like.
Can you tell us a bit about the gameplay systems? How does this game differ from other SNK fighters like KoFXIV?
Soranaka: With the unique win/loss condition where you defeat your opponent by hitting them with a special skill, or the mind games you can play by utilizing items and monitoring the gauges, this title will give you an enjoyable experience that's different from any other fighting game. The battle system is completely different than KOF XIV. For example, there is a guard button in this game that can be used at any time. Also, there is a Life Gauge and a Spirit Gauge that is used for special skills and Dream Finish. And even with the characters that have already been announced, the knockback from their normal and special attacks are different than KOF XIV, so you can combine special attacks to create a combo.
Why did you opt to include an 'easy operation' function?
Oda: We were conscientious of pad play. We wanted to lighten the difficulty that came from adding elements like items and gauges.
This is SNK's first fighting game on the Nintendo Switch. Why did you decide this game would be a good fit for the console?
Oda: It is typical to start on a new console with a port, but as SNK, we wanted to do something with more impact that would surprise everyone.
Since the game is coming to PS4 as well, will there be any differences in terms of graphics, framerate, etc?
Oda: We are currently optimizing it so that they are the same.
SNK is now 40 years old, and this game is part of the company's anniversary celebration. Do you have any other games or events planned to highlight the company's legacy?
Oda: We have many plans in progress. Please look forward to them.
What do you think the fundamental "essence" of SNK is, and why do you feel fans are so strongly attached to the company?
Oda: I believe it's the unique ideas and alluring characters. I'm very thankful that titles that are over 20 years old are still seeing support.
NEW RELEASES
This week is pretty sparse, giving us a bunch of ports of existing titles onto different platforms. If you're a PC person, you'll be able to play the excellent Puyo Puyo Tetris this week. You'll also be able to play a faux-MMO through Cyberdimension Neptunia: 4 Goddesses Online. Switch owners will be getting a port of the excellent indie horror adventure game Detention, which I strongly recommend if you haven't played it before.
---
discuss this in the forum (19 posts)
|
bookmark/share with:
RightStuf - Anime, Manga and More
Mike embarks on a voyage to the Great White North to discover Canada's history of English anime dubs both great and terrible!
― One of the best things about anime being a fairly hot ticket in global entertainment is the multitude of ways it just suddenly shows up, be it in theaters, on TV, or online. Once upon a time, you could keep track of pretty much everything that was being aired and screened in...
We get stories about hapless teens getting spirited away to another world all the time, but what do the native citizens of those fantasy kingdoms think of these interlopers? This quirky light novel series offers their perspective.
― Oh look, another novel about a regular Japanese teenager summoned to a game-like fantasy world as a hero in order to defeat one of those apparently ubiquitous demon lords...
Sometimes scheduling problems lead to recap episodes or unplanned hiatuses, and sometimes they result in an entire show's artwork slipping into insanity. Here are seven of the most memorable animation meltdowns.
― There's a lot of variables that can cause an anime television production to go off schedule and affect the quality of a show. Poor animation quality is not always, or even usually a reflec...
When a traffic accident lands an office worker in the body of an otome game villainess, is there anything she can do to change her fate? Rebecca Silverman finds out.
― If the male-oriented isekai story tends to land our reborn boy protagonist in a position where he becomes the king of his own personal harem, then the female-oriented version is that she gets plopped down in the middle of her favorite ...
In North America we usually bust out the skeletons and draculas in October, but in manga, it seems like summertime is a much spookier season. Deb is ready to explain why!
― Why is Summer considered the season for spooky stories in manga, not Autumn / October like it is in North America? Much as Halloween at the end of October is the holiday that anchors the season for spooks and ghouls in North Amer...
ANNCast is back with the audio from our panel at Otakon 2018, featuring special guest Mike Toole! Zac and Mike take a quick tour of 20 years of ANN history, followed by a Q&A session with the audience.
― ANNCast Live at Otakon 2018 ANNCast is back with the audio from our panel at Otakon 2018, featuring special guest Mike Toole! Zac and Mike take a quick tour of 20 years of ANN history, followed by a...
Studio TRIGGER's tokusatsu re-imagining SSSS.GRIDMAN hits this October, and we've got a fun and fascinating in-depth chat with two of the show's staff - animator Masaru Sakamoto and animation director Masato Takeuchi.
― It's a big year for Studio TRIGGER director Akira Amemiya. After helming two well-received short series (the adorable Space Patrol Luluco and the cult smash Inferno Cop), Amemiya has ...
Kazuya Ide, producer for visual effects and animation studio Shirogumi Inc, chats about revisions, his new CG anime from the director of Code Geass, what it takes to put together a CG anime, and the future of animation in Japan.
― Kazuya Ide is a producer for Shirogumi Inc., a visual effects and animation studio in Japan with a decades-long legacy - you've likely seen their work in Shin Godzilla (or ...
Romance and leisure butt heads for the heroine of this grounded and relatable dramedy for adult women. Rebecca Silverman has the details.
― At first blush, Tokyo Alice looks like a manga version of the stereotype that women just love to shop more than anything else in the world. And that is part of what's going on here – Fu Arisugawa is a shopaholic, specifically addicted to brand names and expensive...
Revue Starlight jumps 14 PLACES on the chart to challenge Attack on Titan for the throne! Find out how your favorite shows performed in our weekly user rankings.
― Our team of reviewers are following 27 anime series of the Summer 2018 season and readers are rating each episode as the reviews go up. So let's have a look at what ANN readers consider the best (and worst) of the season. Keep in mind tha...
J.C. Staff megaproducer Yuji Matsukura has over 120 anime titles to his name, from Food Wars to A Certain Magical Index - so when fans lined up to ask him questions at Otakon 2018, the results were unpredictable - and fascinating!
― Food Wars fans came in droves to J.C. Staff producer Yuji Matsukura's panel at Otakon this year in Washington, DC. Matsukura is a legendary producer, with 120 titles unde...
There's some unsettling news coming out of visual novel publisher Sekai Project right now - Heidi files some editorial commentary on what we might expect. PLUS: Zelda-flavored Diablo on Switch, Fist of the North Star and more!
― Hey, you know what makes any day more exciting? A whole lot of exploding Fist of the North Star heads. Thanks, Sega! Now that we've had our dose of Kenshiro, let's move on to...
Hanebado! came on strong as the world's most melodramatic badminton anime, but has it taken those heights of angst too far? Micchy and Steve hang on for dear life through this series' wild mood swings.
― Hanebado! came on strong as the world's most melodramatic badminton anime, but has it taken those heights of angst too far? This week, Micchy and Steve hang on for dear life through this series' wild...
In the growing catalogue of LGBTQ+ manga, That Blue Sky Feeling's thoughtful tone and respect for its characters makes it a must-read. Rebecca Silverman has the details.
― Rumors are the lifeblood of many a school or workplace. Sometimes there's nothing malicious behind them, but other times the rumors can be socially or emotionally devastating to their subjects. That's what Dai Noshiro is convinced ...