This Week in Games GDC Edition: Spike Chunsoft Powers Up
by Heidi Kemps,

Oh jeez, this week has been exhausting. I've got a whole mess of news to report and and some interesting new releases to discuss, but I've actually spent most of this week running around Game Developers Conference in San Francisco. I got some hands-on previews of cool stuff you'll see seeing here on ANN over the coming days, but really, my favorite part of GDC is seeing developers give candid talks about the games they help create.

While I had to miss presentations about the development of Splatoon 2 and ARMS (I'll have to catch archives of these at some point), I did see talks given about the development of NieR Automata, the original Sonic the Hedgehog, and NBA Jam. Did you know NBA Jam was rigged to give the Pistons an advantage against the Bulls because programmer Mark Turmell came from Detroit? Seriously! I livetweeted a bunch of observations from that panel here, and a lot of people seem to be enjoying the thread.
I think my favorite talk so far was from storied game creator Yoshio Kimura, whose recent mobile action/puzzle game, Million Onion Hotel, has gone severely underappreciated. It's on sale right now, so you all should pick it up! I also livetweeted his panel, so go have a look!
There's a lot happening both in and outside the bubble of GDC right now, so let's have a look at some of the news. But first…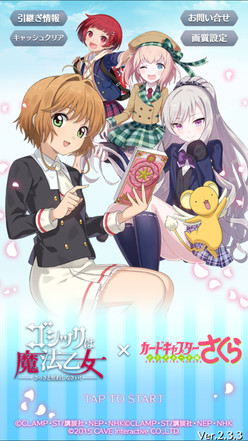 Hey, I get to talk about Gomaotsu again! Yep, the game's doing a collaboration with Cardcaptor Sakura: Clear Card right now. It's mostly a cosmetic thing, and I haven't seen much in the way of recruitable characters besides Sakura in various outfits. Where's Syaoran? Maybe he'll show up later on in the event – as much as Gomaotsu wants to sell you on waifus, it does offer up some dude familiars from time to time.
SPIKE CHUNSOFT IS LEAPING INTO WESTERN PUBLISHING IN A BIG WAY
Up until now, many of Spike Chunsoft's games like the Zero Escape series, the Danganronpa series, and Shiren the Wanderer have come out courtesy of other publishers. However, the company is making their first serious foray into global console game publishing this year. They've already done a few Steam releases, but 2018 will see the first PS4 and Switch games published under the Spike Chunsoft company name.

Four games have been announced so far: 428: Shibuya Scramble, Steins;Gate Elite, Pixeljunk Monsters 2, and Zanki Zero: Last Beginning. While we've known that a localization of 428 has been in the works for a while, it's finally shaping up for a proper summer release. Steins;Gate Elite, a remake of the beloved visual novel with redone visuals and animations from the anime series, also seemed like a localization lock, though Spike Chunsoft doing the publishing is a bit of a surprise. Pixeljunk Monsters 2 comes out of nowhere, and while it's a remake of a pre-existing game by well-loved indie studio Q Games, it's a really big overhaul, with completely new visuals to complement the tower defense action. Zanki Zero is the latest project from many of the Danganronpa staff, featuring a cast of eight characters trapped on a ruined island in a bizarre survival sim/dungeon crawler hybrid where people die and are reborn many, many times over.
I'll be doing more in-depth previews of some these games in the coming days, but I'm really exited for all of this stuff. There's still not much news about things like Kenka Bancho Otome or Kōtarō Uchikoshi's new project… but things are just getting started at this publisher, so I think we'll be a seeing plenty of interesting stuff down the line.
YAKUZA KIWAMI 2 IS COMING WESTWARD
We only have a month until the official release of Yakuza 6! Woo! To celebrate the game's impending release on our shores, Sega held a special event in LA over the weekend showcasing various pieces of art related to the series. At the showcase, they also dropped the announcement that Yakuza Kiwami 2 – an enhanced remake of Yakuza 2 – will also be coming to the west.
Yakuza 2 is a pretty big fan favorite, as it takes Kiryu out of his comfort zone in Kamurocho for the first time by introducing Dogenzaka, a fictional area of Osaka, and putting him in the middle of an East-versus-West conflict. Kiwami 2 looks to expand on the story and gameplay significantly. Most importantly, we have an all-new scenario with playable Goro Majima, which automatically makes everything 200% better.
Alas, there's still no word on Hokuto ga Gotoku coming westward, but I feel like that might be a thing for an E3 announcement. Sega's been on a tear with announcements lately between this, Valkyria Chronicles 4, Shining Resonance, and the next thing on our news list, so they've got to be saving stuff for the big summer event.
EVERYBODY'S SUPER SONIC RACING, MOST LIKELY
Great news! There's more Sonic Mania updates coming! Ray the Squirrel and Mighty the ARMADILLO are playable! The old-school Sonic fan in me couldn't be more delighted, as they were the sole classic Sonic Friends missing from Mania. Plus, there's a bunch of neat new animated Sonic Mania shorts coming from Tyson Hesse and company!
This all was announced at the Sonic SXSW panel, which seems to be a yearly thing now. That wasn't all, though: A mysterious logo was partially unveiled, showing just the Sonic wing-logo in shadow and a lit-up letter "R."
Speculation is that this is another in the Sonic and Sega All-Stars Racing series of games. (I mean, "Racing" is pretty visible on the silhouette, so it's obvious it's something with that word in the title, and the trailer is basically car images and revving noises, so it's obviously not the Sonic Labyrinth remake everyone's been clamoring for.) I would not be displeased with this, as those games are fantastic fun and deserve so much love. Just give me a Fighting Vipers cameo, please. Please?
LITTLE DRAGONS CAFÉ IS OBSCENELY CUTE
Yasuhiro Wada, the original creator of the Harvest Moon series, hasn't exactly had the best track record since leaving publisher Marvelous to form his own publishing house. His first independent title, the 2013 3DS game Hometown Story, was a dull mess, earning the dubious honor of portable kusoge of the year from Japanese netizens. Birthdays the Beginning was an interesting an ambitious concept, but a chore to play. (Here's hoping the Switch version, Happy Birthdays, fixes up its problems.) After seeing the screenshots and concepts behind Little Dragons Café, though, I'm thinking that maybe he's finally managed to recapture that original Harvest Moon magic.
A pair of twins find that their mother has fallen into a deep fairytale sleep, and to wake her, they must raise a dragon into adulthood. That's quite a task by itself, but since Mom's comatose, they also have to take over running the family café. Will the pair be able to raise their new reptile friend while keeping the café afloat? Can they raise crops and make tasty new recipes to keep customers coming by and feed their hungry, growing lizard? It sounds like an interesting mix of farming game, business sim, and pet raising, and the screenshots are just friggin' adorable as heck. Look at that lil'guy!

Aksys has already picked up Western publishing duties for this one, and preorders list a release date of August 24th, so get your dragon hugs ready before summer's done.
FIGHTING GAME ROUNDUP: NEW BLAZBLUE TAG CHARACTERS, GERALT CONFIRMED, AND NAJD JOINS THE KOF TOURNAMENT
As the release date for Blazblue X Tag Battle draws ever closer, more and more characters get revealed for the Most Ambitious Crossover Event in History. Aigis, Jubei, and Carmine are the latest three unveils for the game, and they're all confirmed to be DLC fighters.
Hey, remember a couple weeks ago where I pointed out the rumors of Geralt from The Witcher being the Soul Calibur VI guest character? Well, we got confirmation late last week in the form of a new trailer, and he looks like he's going to fit in just fine. I'm quite intrigued to see how he plays!
Meanwhile, the third DLC character for King of Fighters XIV has been revealed, and she's a new face designed by a series fan from Saudi Arabia. She looks incredibly cool, and going by her character reveal trailer, she'll be a lot of fun to use, too.

Oh yeah, there's a Smash Bros. Switch exhibition happening at E3 this year, too, where we'll likely get our first big glimpse of the game. Please, don't start arguments about whether or not Smash is a fighting game or I swear to god we are going to turn this car around and go right back to Winnipeg
NEW RELEASES

OUT NOW: ATTACK ON TITAN 2 (PS4, XBOX ONE, SWITCH, PC)
So rather than waste time writing up another blurb about this one, how about I just point to my review here on ANN where I go into detail? Go check it out.

NI NO KUNI II: REVENANT KINGDOM (PS4, PC)
Ni no Kuni II is a very different game from its predecessor. It's got a different cast of characters, a world that's changed considerably from that of the original game, and an action-based battle system that's a complete departure from the weird pseudo-Pokemon thing the original had going. Yet there's a definite familiarity to it: former Ghibli designer Yoshiyuki Momose and frequent Ghibli composer Joe Hisaishi are both involved, contributing character designs and and music respectively. The result is a game that looks and feels like "what if Ghibli made a video game," only it's technically not Ghibli.
Anyway, I've made my feelings on Level-5 as a developer known elsewhere, so it's probably not surprising that I feel quite ambivalent towards this game. Hey, if you dig it, that's cool, but personally, I'd rather play Attack on TITAN 2… or the next release.

DETECTIVE PIKACHU (3DS)
We might not have the Dai Gyakuten Saiban games yet, but we do have what's probably the next best thing: a talking, sleuthing Pikachu and his human buddy solving mysteries together. This game's been getting a lot of attention since it was announced, even inspiring folks to start a petition to get Danny DeVito to voice Pikachu. (Spoilers: he's not the voice of Pikachu and online petitions do jack squat.) The game itself is a traditional adventure game, and the reviews that are out so far say it's pretty easy – which isn't too surprising, given the broad age and skill range the Pokemon games tend to target. Still, it's Pikachu. As a detective. What's not to love?
---
discuss this in the forum (10 posts)
|
RightStuf - Anime, Manga and More