News

Occultic;Nine Is Not 4th Science Adventure Title

posted on

2012-12-31

19:31 EST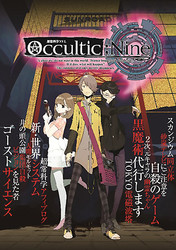 Chiyomaru Shikura, the multi-creator known for Steins;Gate and the other "science adventure" games, asked people on Monday to spread the word that his latest work, Occultic;Nine, is not the fourth science adventure title. He did add that the novel can be considered the fourth Chiyomaru Shikura title after Chaos;Head, Steins;Gate, and Robotics;Notes. He also recommended, perhaps half-jokingly, "Okan" (a homonym for a slang for "mom") as the title's shortened name.
The story follows nine idiosyncratic individuals, including a black magic proxy/medium and a dōjin manga creator. Little incongruities that occur around these nine eventually lead to larger, unimaginable events that may alter what is considered common sense in this world.
Pako (Rental Magica) will be illustrating Occultic;Nine. The novel's imprint will be the new Overlap Bunko, which will launch on April 25. The other Overlap Bunko creators include Kannagi director Yutaka Yamamoto, Ben-To creator Asaura, and returning Infinite Stratos creator Izuru Yumizuru.
---
Everyone's irritated by filler, so why do American companies even bother dubbing those episodes and releasing them? Justin gets into it.
― Oni asks: Why do American companies dub, and show, filler episodes? I'm talking like Naruto, Bleach, One Piece, why do they bother? These shows have MASSIVE backlogs, both Naruto and One Piece are like 4-5 years ahead of the US Toonami broadcasts at this point, w...
All about Japan's legendary all-female theater troupe, which has delighted audiences for generations with lavish, impeccable stage productions of some of your favorite anime - including Rurouni Kenshin!
― Anime fans might not think about this too often, but there have been stage productions of popular anime, manga, and video game titles as early as 1966 with Sazae-san. In recent years, the number of ...
It's a licensed collection of doujinshi about Okayado's Monster Musume! It's an odd release, but for fans of the original, there are definitely stories to enjoy.
― I'll admit that it's a bit of an oddity – Okayado's harem comedy Monster Musume is already rife with fanservice and largely functions as a slice-of-life story about everyman Kimihito's forced coexistence with a variety of hot monster girl ...
The monthly mystery subscription service Loot Anime has done the fusion dance with Crunchyroll to form Loot Anime x Crunchyroll. To celebrate, we're announcing our latest theme: UNITY.
― The monthly mystery subscription service Loot Anime has done the fusion dance with Crunchyroll to form Loot Anime x Crunchyroll, a new partnership with new powers that will benefit subscribers of both platforms! Loo...
This week: it's an import recap with Gundam, Digimon, and a deadly, mist-filled castle! Plus The King of Fighters, Cave shooters, and Nintendo's next move!
― I think I'll get my inevitable Valkyrie Profile update out of the way at the start of this column. I'm still playing Valkyrie Anatomia, the mobile-game series prequel that hit Japan last month, and I'm still enjoying it. I concluded long ago th...
This ethereal boys-love film, appearing in a limited theatrical engagement beginning May 6th, dives right into the love confessions and intimacy and never turns back.
― When I first heard Aniplex was going to start screening a critically and financially successful boys' love movie produced by A-1 Pictures in theaters, I was pretty puzzled. Boys' love, shonen-ai, yaoi, however you want to slice it, is...
It's time for our mega-annual reader survey! This survey helps ANN adjust our news and editorial, and it also helps us pay the rent. We really appreciate you taking a few minutes to fill it out.
Everyone's got one: the enormously popular and beloved anime series or movie that they just didn't fall in love with like everyone else. Our critics confess theirs, and we're dying to hear yours!
― This question can be tough to answer: what's the one beloved anime masterpiece, the show or movie or OVA or whatever it is where you feel like you're the only person who just doesn't get it and didn't fall...
The Eclipse Spirits arc remains lackluster in its finale, but the rest of the filler episodes on these discs are pretty funny as Fairy Tail indulges in some lighter fare before things get serious next set.
― It's the little moments that make this set of episodes, which finishes up the Eclipse Spirits storyline and then embarks on a series of one-off episodes (plus a two episode mini-arc), none of whi...
How well do YOU remember the anime of the 1990s? Here are 10 more classic shows - but can you recall them all?
―
The Spring 2016 season rolls along and while Kabaneri of the Iron Fortress hangs on to its #1 position in the cumulative rankings, there's a new challenger to the #1 spot in the weekly chart!
― Our team of reviewers are following 24 anime series of the Spring 2016 season and readers are rating each episode as the reviews go up. So let's have a look at what ANN readers consider the best (and worst) o...
Despite some frustrating aspects, this second series is, overall, a slight improvement on the first.
― With nine months in between its first and second parts, Date A Live II is more a second series than a second season. Either way you look at it, it is still a direct continuation, one which assumes intimate familiarity with earlier material and provides recap only in bits and pieces. Hence I do recom...