News

Singer Elisa to Resume Music Career This Year

posted on

2013-01-08

13:05 EST
Railgun/Hayate singer releases new single, opens new Twitter account
---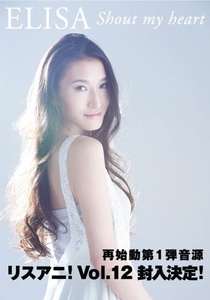 The singer Elisa announced on her official website on Tuesday that she will resume her singing career this year. Elisa had put her music career on hold due to fatigue in September 2011. Her agency noted at that time that exhaustion and fatigue had been building for about half a year, so she took the time off to take care of her health. At that time Elisa also deleted her Twitter account.
On Tuesday, the singer opened a new Twitter account and thanked her fans for following her and congratulating her return.
Elisa will be releasing her new single CD Shout my heart as an extra bundled with the 12th volume of the Lisani! magazine on January 25.
Elisa performed anime theme songs for ef: a tale of memories and ef: a tale of melodies, Hayate the Combat Butler, Nabari no Ō, A Certain Scientific Railgun (both the television series and the OAV), The World God Only Knows and The World God Only Knows II.
[Via Ota-Suke]
---