News

Rock Band Uverworld Expands to 6 With Seika's Return

posted on

2014-03-29

08:00 EDT
---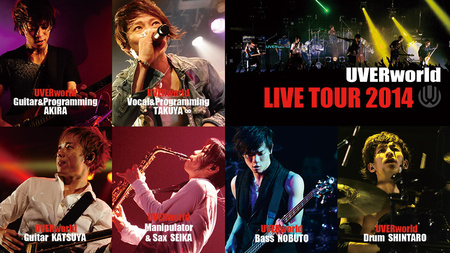 Japanese rock band UVERworld announced on its website on Wednesday that saxophone player and manipulator Seika will become a full member of the band after previously being a support member.
Band members Takuya∞ (vocals), Katsuya (guitar), Nobuto (bass), and Seika were middle school classmates. Seika was originally a full member of the band when the band formed in June 2000, but he then left before Uverworld's major debut to become a supporting member.
Uverworld launched two countdowns on its website earlier this week, with the first countdown ending to announce Seika's return as a full member of the band. The second countdown ended on Thursday to announce that the band would play at the Kyocera Dome in Osaka on July 5 as a part of its live tour 2014.
The rock band has performed theme songs for Bleach, D. Gray-man, Blue Exorcist, Mobile Suit Gundam 00 Second Season, Toward the Terra, Star Blazers 2199, and Blood+, among others.
Source Yahoo! News via 0takomu
---