×
remind me tomorrow
remind me next week
never remind me
Subscribe to the ANN Newsletter • Wake up every Sunday to a curated list of ANN's most interesting posts of the week.
read more
Anime Spotlight: UPOTTE!!
by Justin Sevakis,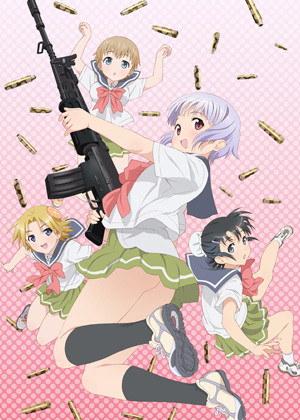 April 2012 (Japan
Niconico
Premiere)

Key Staff
Director

Character Design & Chief Animation Director

Series Composition

Animation Production
Introduction
Somewhat unusual day-to-day story of heartwarming 'n cute "gun" girls!
The long-awaited new work announced by Kitsune Tennoji, 16 years after "Eden's Bowy", his hit title that sold over 2 million copies, was animated!! Now, he delivers an unexpected military comedy with guns personified as girls!
Every rifle has been given a personality and quirks based on their traits, and together they rampage and shoot their way through school life in this unusual school girls comedy!
Story
A military comedy anime of guns personified as soft, cute, gun-girls!
The rookie teacher posted to Seishou Academy is suddenly sent to the hospital… And that's natural because his students are assault rifles!?
This is a gun-comedy about beautiful, unique gun-girls running wild in school!
Characters
A middle-school assault rifle manufactured by Belgium's Fabrique Nationale, and this story's protagonist. Since those around her often play dumb, she naturally ends up delivering the punch-lines.

"I can't help it, I have a skeleton stock!!"

Funko's best friend, manufactured by the American company, Colt. She tends to lack precision or care for details. She has a foul mouth, but she's caring. For some reason she speaks in an Osakan dialect.

"But I only came with 3-rounds bursts mode!!"

A proud lady, manufactured by Switzerlands's SIG company. Her grades are top notch and she's an honor student, but a bit out of it at times. She sports exceptional firing accuracy at mid-range, and doesn't like to lose.

"If you can't aim from ridge to ridge, you're useless."

Eru (L85A1)
VA: Misato

Manufactured by the UK's Royal Small Arms Factory. She's silent and hides big boobs. She seems to have settled into being the pitiful character lately...?

"(Nod, nod)"

Faru(FAL L1A1)
VA: Mina

Manufactured by the UK's Royal Small Arms Factory. She's a battle rifle and Funko's older sister. She excellent grades, popularity, and she's beautiful. She's a leader in the high school division and the first one to call FNC "Funko" (apparently).

"It's a match, Funko."

Manufactured by America's Springfield company, and older sister to Ichiroku. She's beautiful if she stays quiet, but she's crude and rowdy. She likes corny jokes, and leaves many disappointed.

"Give in, completely!"

Manufactured by Germany's Heckler & Koch. Despite her strict appearance, she is actually very caring. She has lots of little sisters, and a very naughty finishing move. Her sniping skill is top class, and she often wears dark pantyhose.

"Let's settle this!"

Manufactured by America's Armalite company, Ichihachi is Ichiroku's cousin. She's a member of the class next to Funko and the others as well as Funko's roommate in the dorms. She's probably the one with the most common sense.

President of the middle school's student council. She wants to get to know Funko better, but she can't seem to shorten the distance between them.

Manufactured in Taiwan. In Team Combat she pairs with Agu, making Ichiroku suffer.

Homeroom teacher for Funko and the others. He was appointed to Seishou Academy unaware about the others, and the only human character. He's bound to encounter lots of misfortune…
Cast
Funko (FNC)

Iori Nomizu

Ichiroku (M16A4)

Misuzu Togashi

Shigu (SG550)

Kaori Sadohara

Eru (L85A1)

Misato

Faru (FAL L1A1)

Mina

Ichiyon (M14)

Saeko Zōgō

Jisuri (G3A3)

Mami Kosuge

Ichihachi

(AR18):Aya Gōda

Agu(AUGA1)

Shizuka Furuya

Tei(T91)

Yuka Iguchi

Genkoku

Takayuki Kondō
Staff
Original Creator

Kitsune Tennoji
(Published in Monthly Shōnen Ace/4-Koma Nano Ace)

Director

Takao Kato

Character Design
Chief Animation Director

Akio Takami

Series Composition

Naruhisa Arakawa

Gun Design

Military History Advisor

Prop Design

Art Director

Art Setting

Color Design

Director of Photography

Offline Editing

Sound Director

Sound Effects

Sound Production

Music

Music Production

Animation Production

XEBEC

Production

Upotte!! Partners




©2012 Kitsune Tennoji/Kadokawashoten/Upotte!! Partners
---
discuss this in the forum (283 posts)
|
this article has been modified since it was originally posted; see change history
back to Anime Spotlight Spring 2012 - The List
Anime Spotlight homepage / archives