Anime Spotlight - The Eccentric Family
by Justin Sevakis,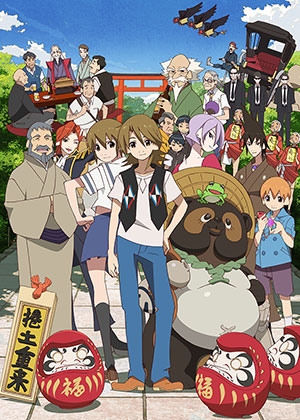 July 7th, 2013 (JST, Japanese Premiere)


Key Staff
Original Work: Tomihiko Morimi

Director: Masayuki Yoshihara

Series Composition: Shōtarō Suga

Animation Production








Introduction
Popular author Tomihiko Morimi's novel "Uchoten-Kazoku" is getting its long-awaited anime adaptation! Kōji Kumeta of "Sayonara, Zetsubou-Sensei" and "Joshiraku" proposes character designs for another's work for the first time. The animation production is being handled by P.A. Works, who has brought many masterpieces into the world such as "True Tears," "Hana-Saku Iroha," and "Tari Tari"!
Set in Kyoto, this uproarious, sophisticated comedy-drama featuring a jumble of humans, tengu, and tanuki is finally revealed!
Story
In Kyoto, humans, tanuki, and tengu live side-by-side.
The Shimogamo family lives in Shimogamo Jinja's Tadasu no Mori. The father, Soichiro, used to be the head of tanuki society, but without warning one day he was made into tanuki stew, and no one knows how it happened.
He left four sons behind: Yasaburo, the third son who inherited a rich strain of his great father's "idiot blood"; Yaichiro, the diligent eldest son who has a tough time pulling through in a pinch; Yajiro, the second eldest who secludes himself in a well as a frog; and Yashiro, the timid youngest brother who shows his tail at the drop of a hat. They all live happily with their mother, a serious Takarazuka fan, with the motto that, "What is fun is good." After taking care of Professor Akadama, a retired Great Tengu, being manipulated by the beautiful Benten, a human girl with divine powers, and fighting air-battles against their rivals, the Ebisugawa family, in the night sky over the Daimonji Gozan Fire Festival, the Shimogamo family suddenly finds itself in a desperate fix.
Will the truth behind how their father got stewed be revealed?! What does fate have in store for this strongly bonded family?!
Characters
| | |
| --- | --- |
| | The third son of the Shimogamo family who inherited a rich strain of his great father's "idiot blood." |
| | The diligent eldest son who struggles to carry on his father's legacy but has a tough time pulling through in a pinch. |
| | The second eldest who has no motivation and secludes himself in a well as a frog. |
| | The timid kid brother who shows his tail at the drop of a hat. |
| | A beautiful, seductive young woman who can fly through the sky at will thanks to divine tengu powers. |
| | The Shimogamo mother who tenderly watches over her four sons and absolutely loves the Takarazuka arts. |
| | Once the head of tanuki society, the father of the Shimogamo family was made into tanuki stew by The Friday Club. |
| | Yasaburo's ex-fiancée who has a most foul mouth and absolutely refuses to show herself. |
| | A Great Tengu who once wielded incredible power, but has now come down in the world. |
| | The uncle of the four brothers who opposes them as he tries to expand his family's influence in tanuki society. |
| | Soun's idiot twin sons who speak in confused four kanji compounds. (By the way, their real names are Gojiro and Gosaburo Ebisugawa.) |
| | A member of The Friday Fellows who talks of his love for tanuki even as he eats tanuki stew. |
Cast
Yasaburo Shimogamo

Takahiro Sakurai

Yaichiro Shimogamo

Junichi Suwabe

Yajiro Shimogamo

Hiroyuki Yoshino

Yashiro Shimogamo

Mai Nakahara

Benten

Mamiko Noto

Mother

Kikuko Inoue

Soichiro Shimogamo

Bon Ishihara

Kaisei

Ayane Sakura

Professor Akadama

Hideyuki Umezu

Soun Ebisugawa

Nobuo Tobita

Kinkaku

Shūya Nishiji

Ginkaku

Kosuke Hatakeyama

Professor Yodogawa

Takehiko Higuchi
Staff
Original Work

"Uchoten-Kazoku"
GENTOSHA
by Tomihiko Morimi

Original Character Design

Kōji Kumeta

Director

Masayuki Yoshihara

Series Composition

Shōtarō Suga

Script

Shōtarō Suga
Ryou Higaki

Character Design
General Animation Director

Kosuke Kawatsura

Art Directors

Director of Photography

Color Design

3D Director

Editing

Music Producer

Music Production

Sound Director

Animation Producer

Line Producer

Animation Production

P.A. WORKS

Produced by

Uchoten-Kazoku Committee




©Tomihiko Morimi , GENTOSHA / Uchoten-Kazoku Committee
---
discuss this in the forum (146 posts)
|
this article has been modified since it was originally posted; see change history
back to Anime Spotlight Summer 2013 - The List
Anime Spotlight homepage / archives