Anime Spotlight - Problem children are coming from another world, aren't they?
by Justin Sevakis,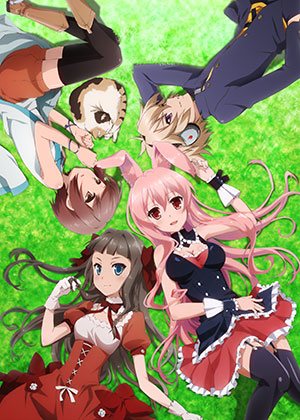 January, 2013 (Japanese Premiere)


Key Staff
Chief Director - Keizou Kusakawa

Director - Yasutaka Yamamoto

Series Composition - Noboru Kimura

Character Design - Naomi Ide

Animation Production





Introduction
An exciting fantasy tale caused by the extremely lovable Black Rabbit and the world's greatest problem children summoned from another world!
Sneaker Bunko's popular battle fantasy is getting animated!!
"Problem children are coming from another world, aren't they?" is a hit light novel series published in Sneaker Bunko, a publisher greeting its 25th anniversary in 2013.
Written by Tarō Tatsunoko and Illustrated by Yuu Amano, this battle fantasy in another world is getting its long-awaited anime! Three problem children: Sakamaki Izayoi, Kudou Asuka, and Kasukabe You, are suddenly summoned to another world known as "Miniature Garden". Together with their summoner, Black Rabbit, the three of them set on their new adventure full of battles, laughs, and sexy moments!
Story
One day, Sakamaki Izayoi, a boy who was tired of his world, received a single invitation, reading "Abandon all, and come to 'Miniature Garden'".
But the moment he opened that letter, he found himself in a completely different world! Around him was a quiet girl with a cat, Kasukabe You, a domineering rich girl, Kudou Asuka, and the one who summoned them, Black Rabbit.
As Black Rabbit tried to explain the rules of the Minature Garden, Izayoi decided to try and defeat the Demon King!? Without anyone even asking him to!! And thus, the three problem children set out to challenge the Demon King in order to rebuild the small community, "No Name".
Characters
Problem Child 1— An arrogant young boy who tries to solve everything with his fists. He posses the gift called "Code: Unknown".

A black rabbit with perfect looks, and a devoted yet simple and indomitable personality. She is the one who summoned the problem children to her world.

Kudou Asuka
VA: Bridcut Sarah Emi

Problem Child 2- A beautiful, rich young lady. She is capable of manipulating others with her spoken words.

Problem Child 3— A quiet young girl with the gift of speaking to animals.

At 11 years old, he's the oldest of the kids left in "No Name". He helped maintain the community even after its decay.

A cute young girl with fox ears and two tails. She's one of "No Name"'s older members, like Jin , and she takes care of the community's children.

Leader of the community, "Thousand Eyes". She's a celestial spirit of winter nights, and she holds a great deal of power, But she often uses it for sexual pranks on cute girls like Black Rabbit…
Cast
Izayoi Sakamaki

Shintarō Asanuma

Black Rabbit

Iori Nomizu

Asuka Kudou

Sarah Emi Bridcut

You Kusakabe

Megumi Nakajima

Jin Russel

Hiromi Igarashi

Lily

Shiori Kikami

Shiroyasha

Satomi Arai
Staff
Author

Tarō Tatsunoko

Original Illustration

Yuu Amano
(Vol 1-5 on sale now from
Sneaker Bunko! (Ongoing))

Chief Director

Keizou Kusakawa

Director

Yasutaka Yamamoto

Series Composition

Noboru Kimura

Character Design

Naomi Ide

Creature Design

Prop Design

Color Setting

Art Director

Kunihiko Inada

Director of Photography

Yasuyuki Ito

Editing

Music

Shirou Hamaguchi

Music Production

Sound Director

Sound Effects

Recording Studio

Recording

Sound Production

Opening Theme

"Black ☨ White"
by Iori Nomizu (Flying Dog)

Ending Theme

"To Be Continued?"
by Kaori Sadohara (Nippon Columbia)

Animation Production

diomedéa




©2013 TarouTatsunoko・Yuu Amano・KADOKAWASHOTEN/Project No Name
---
discuss this in the forum (165 posts)
|
back to Anime Spotlight Winter 2013 - The List
Anime Spotlight homepage / archives