ANN Annual Pumpkin Carving Contest
October 27, 2006

Check out all the entries here!

Thanks to everyone who entered the contest! We had a great time looking at all the entries!

Congratulations to the winners, listed below.

Grand Prize

firefly
Runners Up

AisuruMirai

Enrique Roche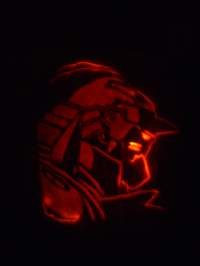 Kate Bernd
---
Anime News Network Pumpkin Carving Contest
It's that time of the year again! The time when you can show off your cosplaying skills to the general public, eat as much candy as you want to, and justifiably jump out of shrubs to frighten neighborhood children. Of course, it also means that it's time to whip out the cutlery, the creativity, and dive into pumpkins ripe for carving.
Anime News Network and Funimation are excited to give you the chance to win some dark delights. All you have to do is show that you're the pumpkin carving master. (Need inspiration? Check out last year's
entrants!
The Prizes:
GRAND PRIZE
Moon Phase vol. 1 + Artbox
Trinity Blood vol. 1 + Artbox
3 RUNNERS UP
Moon Phase vol. 1
Trinity Blood vol. 1
The Rules:
Send us TWO pictures of your anime-themed pumpkin carving to halloween [at] animenewsnetwork [dot] com. All photos must be in JPEG format. One must be a shot of the carving in action, the other must be a shot of the pumpkin in the daytime, with a sign next to it that says "Anime News Network."
The use of Photoshop and other image editing software is not allowed, except for cropping and resizing (no contrast touch-ups, etc.) Pumpkins MUST be carved or shaved, however the use of paints, markers and other marking devices are allowed. Please try to use real pumpkins.
Contest ends, and all entries due by November 2, 2006 at 11:59 PM eastern standard time. All entries will be posted on ANN; the winners will be notified by email.
The Fine Print: Although unlikely to happen, Anime News Network reserves the right to cancel this contest at any time. Contest is open to any and all residents of the planet Earth and neighbour parallel dimensions, but prizes will only be shipped within the continental United States and Canada (So if you win, but you live in Antarctica, you have to arrange to have it sent to someone living in the appropriate area, and they can send it to you.) Winners' names will be posted on AnimeNewsNetwork.com, their mailing addresses will be provided to our shipping agent of choice (ie: USPS) and no one else. Winners' addresses and e-mail addresses will be erased once the prizes have been shipped. Non-winners' names, e-mail and mailing addresses will not be given out to any one and will be erased when the winners have been confirmed. Non-winners will not be contacted, spammed or harassed in any way. We reserve the right to retroactively add new rules when and how we see fit.
---
discuss this in the forum (50 posts)
|