×
remind me tomorrow
remind me next week
never remind me
Subscribe to the ANN Newsletter • Wake up every Sunday to a curated list of ANN's most interesting posts of the week.
read more
Sakura Con 2010

Day 3

by Crystalyn Hodgkins,

Overheard at the convention:
"I once heard someone describe steampunk as a 'junkyard threw up on Abraham Lincoln' look" - Carl Gustav Horn at the Dark Horse Comics industry panel
Day 3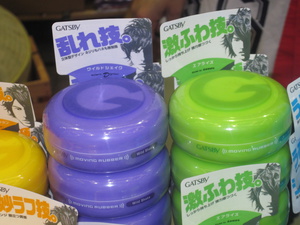 The lines at Sakura-Con were pretty well organized throughout the convention. There was some confusion at having to check in all your belongings before the
Trigun
premiere, but in general, there were only lines for large events, and the lines were organized without much issue. The Exhibition Hall at the convention was packed with dealers of all kinds, and in my ongoing search of the weirdest crap at a convention, I found a booth selling kilts, and another one selling hair wax, in case you want to look like a
Tetsuya Nomura
character. Or
Gackt
. Even
Media Blasters
, who are seemingly hanging on by a thread, had a booth selling their wares. The artist alley, on the other hand, was a huge disappointment. There were very few booths taking up space in a very large room, which made the lack of artists all the more apparent. It seemed like some artists were located in the Exhibition Hall instead, where they seemed a bit out of place.
At the closing ceremonies, it was announced that the Charity Auction raised more than $27,000 for the Make-A-Wish Foundation. Go rich otaku!

At Noizi Ito's press conference, she was able to answer more in-depth questions that should have been asked at her regular Q&A panel, had it not been for marriage proposals and all that. Here are some highlights from that Q&A session. Ito was invited by the supervising editor to do the character designs for
The Melancholy of Haruhi Suzumiya
novels after seeing drawings she had posted on her home page. Ito usually receives a near-finished novel when she is designing characters for that novel, and in turn she has little bearing on the plot of the novel. For games, however, she has a bit more input. As far as her involvement in the animation character design process, the character designer of the anime will send her designs to look over, and she will usually make small changes such as length of hair or an angle of a ribbon. During the character design process, if a character doesn't come to mind immediately, she usually does something else like take a walk to get through the creative block. If she is still having trouble, she will have the editor contact the author of the work to give more information, and sometimes the author will even give a rough sketch for her to work off of. Ito also said she thinks she is too old to be cosplaying anymore, but when she was younger she used to
cosplay
as Sakura from
Sakura Taisen
.
Dark Horse Comics Industry Panel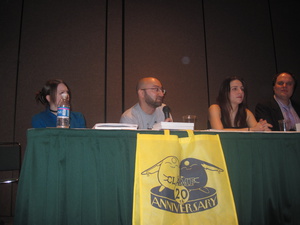 While Dark Horse Comics did not have any announcements to make at Sakura-Con, the had a lot of free volumes of manga to give away at their
panel. Carl Horn gave a rundown of all of Dark Horse's manga releases from now until August, and hosted a Q&A session. In that session it was revealed that
Bride of the Water God
is a surprising hit for Dark Horse. It was also revealed that
Cannon God Exaxxion
and
Reiko the Zombie Shop
are both on an extended hiatus because of low sales. The new
CLAMP
project is still going strong, however it was delayed because CLAMP said their work on
xxxHOLiC
was taking longer than they had previously planned.
Voice Acting in Video Games

This particular panel had a great lineup of guests, including
Vic Mignogna
,
Troy Baker
,
Richard Epcar
,
Ellyn Stern
and Japanese
voice actor
Ryo Horikawa
. Horikawa's English proficiency helped the panel to run more smoothly, although Horikawa did also use translators at times. The panelists each discussed how acting for video games is different than acting for anime. Touched upon were the differences in amount of action sounds, the differences in lipflap matching, and the emerging trend of using motion capture for video games. Horikawa chimed in often and explained how voice acting is both the same and different in Japan, for both video games and anime, and the American voice actors asked questions of Horikawa and vice-versa. Unfortunately the panel derailed somewhat quickly into a "how to become a voice actor" panel, but the insight given regarding the differences in video game acting, how the Japanese and American systems are different, the interplay between the American and Japanese guests was well worth it. Horikawa even said he was interested in trying American voice acting some day because he could see the passion the American voice actors had towards their work.

Takahiro Yoshimatsu, as an animator, animation director and character designer, has an impressive resume. He's worked on Trigun and the new
Trigun: Badlands Rumble movie
,
Ninja Scroll
,
Dragon Ball
and
Dragon Ball Z
,
Basquash!
,
Kiba
,
Black Cat
, and many more. He admitted he's created more than 200 characters throughout his career thus far. In a very sparsely populated room, Yoshimatsu answered a few questions about his work so far in the anime industry, then handed out and autographed Trigun posters at the end of the session. Some highlights from the panel: Yoshimatsu and Trigun creator
Yasuhiro Nightow
worked closely on the character designs for the Trigun
movie
, and gave input on each others' work. Yoshimatsu said in character design, the silhouette of a character must be instantly recognizable to be a successful character. He also admitted that hair styles give him trouble, because he feels like he's exhausted all the hairstyles that could exist. He also walks around and looks at people to get inspired. Yoshimatsu said that he at first thought it would be strange working on the Trigun project again after so many years, but it never felt like it had been that long when he started his designs. He said Trigun must have been with him the whole time, which is probably because he's always hanging out with Yasuhiro Nightow. He also reiterated what
Satoshi Nishimura
said during the movie Q&A, that if the fans keep asking for more Trigun, it might happen, and he would personally love to see that happen. Lastly, Yoshimatsu commented on how character designs are becoming more and more complex as time passes, and how that's becoming a real problem in the industry.
---
back to Sakura Con 2010
Convention homepage / archives