Thermae Romae (GN 2)
---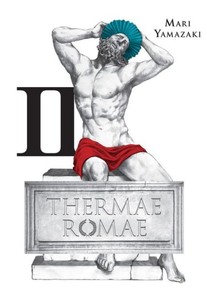 Title:
Thermae Romae
Volume:
GN 2
Pages:
384
Distributor:
Yen Press
Release date: 2013-05-21
Suggested retail price: $34.99
Age rating: 17+

ISBN-10: 031623219X 031623219X
ISBN-13: 9780316232197 9780316232197

Description:
Whenever Roman architect Lucius is suddenly submerged in water, he always surfaces to find himself in the land of the "flat-faces," a people whose appreciation for the public bathhouse matches that of even the mighty Romans! Little does he realize that the land of his watery journeys is in fact the Japan of 1,500 years in the future!

Observing the strange practices of these foreigners has allowed Lucius to revolutionize the Roman bathhouse, and public opinion on his innovations - and on Aelius Caesar, the emperor-to-be to whom these marvels are attributed - soars. But those in the Senate maintain strong reservations about the suitability of the emperor-to-be, and they mean to cut off the flow of support at its source: Lucius!

Story and art by Mari Yamazaki.
(added on 2012-09-05, modified on 2012-09-05)

The complete manga that inspired the award-winning film is finally available in English. Rose Bridges compares this edition to its adaptation and as a work of historical fiction on its own.
― When I saw the film version of In This Corner of the World at Otakon this year, I was impressed and thrilled, but also struck by its odd plot structure. Nearly all of the film's driving narrative is in the third...
All of the news headlines from this weekend's Anime NYC event in New York City, plus our cosplay galleries and plenty of photos from around the convention floor!
― November 17-19, 2017, New York City Cosplay Galleries Cosplay Gallery Day I Cosplay Gallery Day II Photos From Around The Convention Floor Day One Headlines Viz Media Licenses Mazinger Z Infinity Film Viz Media Licenses That Blue Sky Feel...
With Legend of the Galactic Heroes finally available streaming, it's time to dive into the incredible, sprawling and legendary world of 1980s space opera anime!
― After decades in relative obscurity in the west, HIDIVE began streaming Legend of the Galactic Heroes, a 110-episode OVA space epic that started in 1988. The series languished on shared fansubs for nearly 30 years, likely in part to its gi...
The novel that inspired this season's zodiac-themed battle royale proves that the book isn't always a richer experience than the adaptation. Lynzee Loveridge examines this paper-thin story.
― As an anime fan, it's hard to ignore the works of NisiOisin. The anime adaptation of his Monogatari novels is renowned for the symbiotic relationship between studio Shaft's art style and the author's indulgent c...
Director Tomonori Sudou and Noriko Shitaya, the voice of Sakura, share their feelings on this ambitious movie adaptation of Fate/stay night's final route.
― On November 10th this year, Fate/stay night: Heaven's Feel I. presage flower premiered at the Ace Hotel in downtown Los Angeles to thunderous excitement from attending fans, one week before it would open in theaters across the USA. We sat down wi...
It's time for a speed round! Netflix original anime, Japanese daylight savings time, anime spinoff justification and much more!
― Looking at the Answerman inbox, it looks like it's time for another one of these. Samuel asks: Does Japan observe Daylight Savings? Please be more broad than a simple YES or NO. No. Heh, sorry, couldn't resist. The answer is still "no, and they never have." Every once in ...
Our FATE FRIDAYS feature continues with the mythic inspirations between the heroes of Fate/Zero. How do characters like Alexander the Great and Gilles de Rais compare to their real-world counterparts?
― Welcome back to our compendium on the legends behind Type-Moon's hit Fate franchise! Part one was all about Fate/stay Night, and you can read it here. This time, I'll be covering F/SN's prequel series...
The first movie in this two-part shojo adaptation beautifully realizes a bygone era in both Japanese history and classic manga. Kim Morrissy reviews this uniquely charming romance film.
― Haikara-san ga Tōru translates roughly to "Here comes a modern woman," but the film itself is a blast from the past. It's an adaptation of a 1970s shojo manga, which was set in the Japan of the 1920s. Even the origi...
Land of the Lustrous snatches this week's top spot while Mr. Osomatsu continues a precipitous plummet. Find out where your favorite episodes ranked with our readers!
― Our team of reviewers are following 31 anime series of the Fall 2017 season and readers are rating each episode as the reviews go up. So let's have a look at what ANN readers consider the best (and worst) of the season. Keep in mind t...
The first half of Fate/Apocrypha has finally landed on Netflix! We break down the best and worst of everything this series has to offer compared to its predecessors so far.
― The first half of Fate/Apocrypha has finally landed on Netflix! This week in anime, Jacob and Steve break down the best and worst of everything this series has to offer compared to its predecessors so far. Disclaimer: The views ...
This experienced Toei animator shares his thoughts on the industry and the Kemono Friends controversy.
― During this year's Japan Weekend Madrid in Spain, animator Eisaku Inoue sat down with us for an interview about his work and the current state of the anime industry. As an animator for Toei, Inoue has worked on franchises such as One Piece, World Trigger, Saint Seiya, Digimon, and Dragon Ball Z am...
With Fire Emblem Warriors out recently from Omega Force, it seems like there's nothing you can't make more Musou. Heidi Kemps breaks down what from Koei-Tecmo's catalog is worth checking out and which games you should skip.
― Koei-Tecmo's Omega Force development team might be the busiest people in the game industry. They've taken an extremely successful gameplay formula from their Dynasty Warriors ga...
For a kids' show about a match three cellphone game, this series can be surprisingly entertaining for all ages. Rebecca Silverman has the details.
― There's a stigma around anime series based on games that could hold particularly true for Puzzle & Dragons X. It's based not just on a game, but on a Candy Crush-style match three cellphone game. That makes it all the more impressive that not only does t...
Looking for new manga to read? Our guide to this fall's biggest, brightest new manga has you covered!

Available Now: Attack on Titan: No Regrets Deluxe Edition - Shiver - Splatoon - Astra Lost in Space - Neo Parasyte M - In This Corner of the World - Polar Bear in Love - ACCA - Spirit Circle - Forbidden Scrollery - Card Captor Sakura: Clear Card - and much more!
― Welcome to Anime News Network's Fa...