"New People" First Floor/Theater
by Evan Miller,


First Floor/Theater

As you can see, the line to get in New People was pretty massive. You can also see here that a lot of these people are wearing frilly dresses and gazing longingly towards the second floor, where the Baby The Stars Shine Bright store is located. We'll talk a bit about that craziness in a moment, but first, let's talk about how this place looks.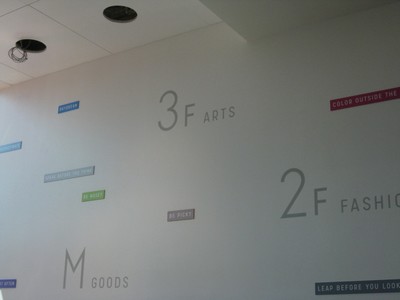 In keeping with the alternative culture flavor of its many attractions, it should come as no surprise that the west wall of the main lobby is adorned with phrases like "stay out late" and "talk to strangers.*" The lobby includes a little cafe space, which sells a variety of cookies, coffees, and bento boxes. The prices are a little steep (a bento box will set you back about ten dollars), but nothing is prohibitively expensive, and the portion sizes are decent. There are also chocolate truffles for you chocolate addicts out there.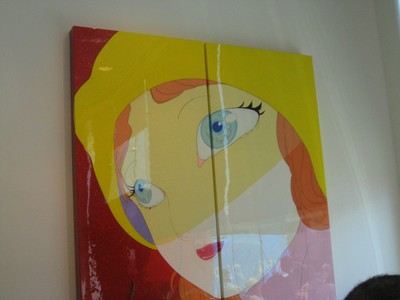 The lobby also features this painting by Yoshitaka Amano, whose work is currently featured in the art gallery on the third floor. Downstairs is the Viz Cinema, a 143-seat movie theater for film screenings. Unfortunately, the theater was off limits during the center's first open hours (but I've been told it's pretty comfortable). So, instead of heading downstairs, I opted to head up to the top of the center and work my way down. Upon entering the stairwell, I discovered that it too is adorned with random drawings on the wall by "Noritake." The most amusing of these was this fellow:

A few more photos of the first floor are below. Otherwise, join me as we climb to floor number three!
* - For the record, the center wall does not include any truly controversial phrases like "set things on fire" or "drink in public," so don't get any wacky ideas, okay?
---
this article has been modified since it was originally posted; see change history
back to "New People" Grand Opening in SF
Feature homepage / archives