Jason Thompson's House of 1000 Manga Special Guest Edition: Love Song and Four Shojo Stories
by Shaenon K. Garrity,


House of 1000 Manga Guest Edition:
Love Song and Four Shojo Stories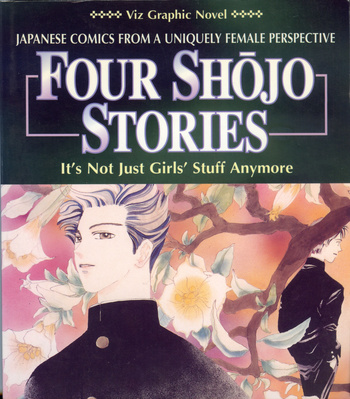 It's the 1980s, and nobody in the U.S. has heard of manga for girls. Well, almost nobody.  Two English-language volumes of The Rose of Versailles, published in Japan for students learning English, trickle into the U.S. A fan translation of From Eroica With Love makes the rounds at American sci-fi conventions. Shojo influences a handful of American artists, like comic-book prodigy Colleen Doran, who is introduced to Eroica through her friend Leslie Sternberg and finds similarities between shojo manga and her own comic A Distant Soil. As Doran will tell PULP magazine many years later, "here I discovered, on the other side of the planet, there was this entire world populated by young women who did comics, drew the way that I drew, liked the things that I liked, and they were a hundred times more successful than any of the men in American comics."
And somewhere in this teacup zeitgeist was Matt Thorn, who found his calling in life in the 1980s when first looking into a Japanese edition of Moto Hagio's The Heart of Thomas. Reading untranslated shojo manga and interviewing Japanese girls and women about their experiences with manga, Thorn soon became the foremost English-language expert on shojo manga, largely because no one else wanted to be.
In 1990, Thorn started working for Viz as a freelance translator. Although he was never a full-time staff member, he was influential in pushing Viz to publish shojo at a time when no American publisher wanted to touch the genre. In addition to translating short shojo manga for Viz's magazines, he wrote a column called "Girls' Stuff" for Animerica, in which he discussed the history of shojo manga and interviewed shojo artists. And so American fans were introduced to manga for female readers through an offbeat selection of shojo and josei stories with only two things in common: they were published by Shogakukan, Viz's parent company in Japan, and Matt Thorn liked them.
Thorn had good taste in manga—probably too good. Although Viz made a game effort at selling shojo, creating an imprint called Flower Comics (after Shogakukan's josei magazine Flowers), only one of the first generation of licenses, CLAMP's X, caught on with readers. A stylish action series, X had crossover appeal with male readers and otaku of all stripes. The same couldn't be said of most of Viz's other shojo titles, a buffet of eloquent, decidedly feminine short stories in a variety of genres. Fans of Akira and Oh My Goddess! didn't know what to make of this stuff.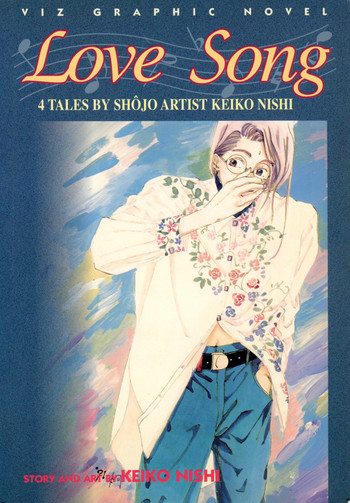 Nonetheless, Viz published two collections of shojo short stories, Four Shojo Stories and Love Song, edited by Trish Ledoux and Annette Roman, both now long out of print and prized by shojo fans today. Reading these two books now, about 20 years after their publication, it's remarkable how unusual they remain. The American manga world is now awash in shojo, but stories like the ones in Four Shojo Stories and Love Song remain rare gems. And of the three artists featured in these collections, only Moto Hagio has had anything else published in English.
Hagio has the standout piece in Four Shojo Stories, her classic sci-fi novella "They Were 11," one of the most popular things she ever did in Japan. Taking its inspiration from an old Japanese ghost story, it follows a group of space-academy students on a test mission gone wrong: an explosion strikes the ship, disease sweeps through the group, and they seem to have a terrorist among them. Hagio intersperses the action with quiet moments that develop the characters, most memorably Frol, a hot-tempered cadet from a race of androgynous aliens who must become either male or female when they reach adulthood. Hagio's first work after The Heart of Thomas, "They Were 11" is drawn in a cartoony, shonen-like style reminiscent of Hagio's then-roommate Keiko Takemiya.
"The Changeling," by Shio Satō ("Salt Sugar," the pen name of Chiyoko Satō), is another science fiction story, but a quieter one. Lin, a space explorer accompanied only by her shipboard computer, comes across a "seed planet," one of countless worlds colonized by early astronauts and then forgotten. This colony, cultured and peaceful, seems to be flourishing ("A planet full of beautiful men and women? Not bad"), but references to an extinct "noble race" that once oppressed the people suggest dark secrets under its elegant surface. Imagine a cerebral "Star Trek" episode drawn in a sketchy but attractive old-school shojo style, complete with pretty, long-haired men, and you're close to the feeling of "The Changeling."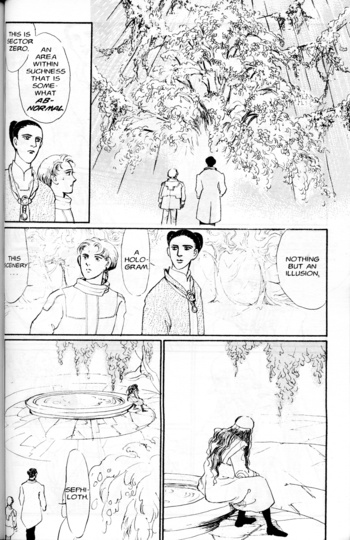 That leaves Keiko Nishi, the josei artist whose stories comprise half of Four Shojo Stories and the entirety of Love Song. In an Animerica interview with Thorn, Nishi explains that her family didn't allow her to read manga growing up, pushing her to become a teacher like her father. She took a manga-drawing correspondence course, received encouragement from instructor Keiko Takemiya, and eventually quit her teaching career to be an artist.
Matt: Did you switch from teaching to manga because you wanted to draw manga, or because you just didn't want to teach?
Nishi: I just didn't want to teach. To be honest, for I long time I really didn't like drawing manga.
Matt: So when you were writing "Promise" and your other earlier works, you didn't enjoy what you were doing?
Nishi: No.
Matt: It's incredible that you were able to draw such... intense manga with so little motivation.
Nishi: Manga was an outlet for me. It was a difficult time for me, and, in a way, I took out my feelings on my manga. It's only in the past year or so that I've really begun to enjoy my work. I'm very happy about that.

Thorn isn't kidding when he calls Nishi's stories "intense." The title story of Love Song, which has haunted me since I first read it over a decade ago, is about a beautiful, cold woman who mistreats her masochistically devoted boyfriend and has never recovered from her first romance, with another woman. This is agonizing emotional territory, as Nishi contrasts between the protagonist's sun-drenched nostalgia for her lost love and the cruelty she shows in her dysfunctional present relationship: "And when did I ever say I loved you, anyway!?" she screams wildly. "I don't remember ever falling in love with you!"
Not all Nishi stories are this harrowing. "The Signal Goes Blink, Blink" is a sweet story about a shy boy who develops healing powers and is exploited by a cynical agent as "the Miracle Boy." "Jewels of the Seaside" is a tongue-in-cheek, Shirley Jackson-like Gothic horror story. But her two stories in Four Shojo Stories—"Since You've Been Gone," a snapshot of a man having an affair, and "Promise," which adds a supernatural twist to the story of a teenage girl feuding with her single mom—hit a little harder, with slim, dark-eyed characters who seem to be all exposed nerve endings. The title of the last story in Love Song, "The Skin of Her Heart," about an introverted young woman working in a space colony, evokes the fragile agonies and ecstasies of Nishi's stories.
In the end, shojo manga came into its own. In 1997, Tokyopop launched a shojo boom with its translations of Sailor Moon and Magic Knight Rayearth. By the mid-2000s, shojo manga like Fruits Basket were among the bestselling comics in America. Matt Thorn now runs the Fantagraphics manga line; this year, he finally translated The Heart of Thomas.  And yet it's still a rare pleasure to find manga as intelligent as those in Love Song and Four Shojo Stories, or as intense, or as strange.
---
---
discuss this in the forum (16 posts)
|